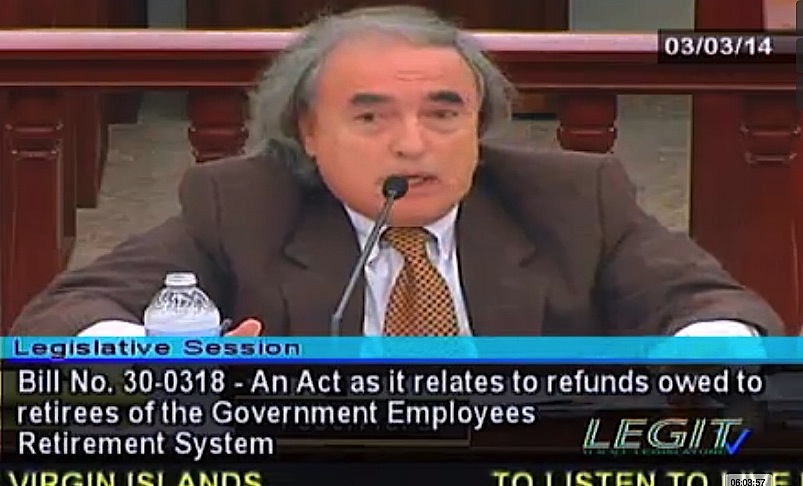 The Government Employee Retirement System will cough up about $1.5 million in retroactive employee contributions to more than 4,000 retirees, with checks averaging $328, if legislation passed in session Monday becomes law.
The Legislature was called into special emergency session by a petition from 10 of the 15 senators to consider the bill sponsored by Sens. Shawn-Michael Malone, Alicia "Chucky" Hansen and several others. The measure was first submitted to the Legislature for consideration three years ago, and GERS supports it, GERS Administrator Austin Nibbs told the Legislature Monday evening on St. Thomas.
Attorney Joseph Arellano and a number of retirees have been pushing for legislation or other action to get this payment, which stems from retroactive government pay increases negotiated but never paid by the government.
In 2010, the government borrowed $45 million from the Insurance Guaranty Fund to pay $36 million to about 10,000 current and former government employees. That sum accounts for roughly 16 percent of the retroactive pay contractually due each government employee.
The cost of the loan and other expenses account for the difference in what was paid out and what was borrowed.
Taxes and employer and employee pension contributions were taken out of that total, enabling those GERS members who are currently employed by the government to increase their potential annuities. But V.I. law does not allow pensions to be increased after retirement, nor is GERS allowed to return employee contributions for retirees who are receiving pensions. So those employees who were already retired received retroactive salary payments that were reduced by employee GERS deductions even though the employee contributions will not affect their annuities.
According to Nibbs, GERS received a total of $7.1 million for employer and employee pension contributions. Of that, about $1.5 million has been identified as the retroactive employee pension contributions for 4,618 retirees who had left government service at the time of the retroactive payments, Nibbs said. Sums range from a low of 30 cents to a high of around $3,000, with an average of around $328. "GERS is in full support of this amendment" to pay those retirees, Nibbs said.
"We submitted legislation three years ago to the 29th Legislature and it died there," Nibbs said. Asked whether the retirees should get interest for the time they waited, Nibbs said yes they should be paid, but GERS is not at fault and cannot afford statutory interest of 9 percent, which he said would amount to around $136,000.
The money is now being held in a bank, at a much lower interest rate, and calculating and processing the 4,618 payments, plus more complicated arrangements for 318 retirees who have passed away, have cost GERS time and money. So paying 9 percent would mean draining resources from GERS even as GERS continues to head towards bankruptcy by 2022, Nibbs said.
An amendment from Hansen specified that GERS would pay interest of 9 percent on the refunded retroactive employee pension contributions.
All 14 senators present voted in favor of the amended bill. Sen. Clarence Payne, the one absence, sent a letter saying he also supported the measure.
Senate President Malone said legislation to address GERS' massive unfunded liability and impending bankruptcy would be addressed in committee hearings March 17.