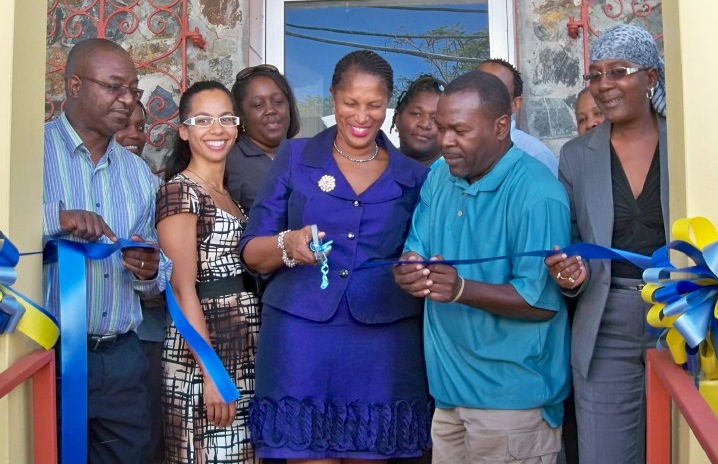 Folks from the east end of St. Croix in need of medical care will soon have an easier commute, as Frederiksted Health Care's fourth site at the Northshore Health Center in La Grande Princesse will be open by appointment beginning Monday.
Masserae Sprauve Webster, chief executive officer of Frederiksted Health Care Inc., said she had mentioned to her friend, Marjorie Emanuel, that they were interested in offering services in Christiansted. She said Emanuel took it from there, researched and found the suitable site in La Grande Princesse.
Avis Reid, a resident in the area, said she is very happy the facility is in her neighborhood. "This is more convenient than going to Frederiksted," Reid said. "I'm particularly interested in what services they offer here."
Dental office manager Luis Llanos told the crowd gathered under a tent for the ribbon cutting that in 2000, the year the clinic opened in Frederiksted, they saw 9,250 patients. In 2013 they served 20,062 and 55 percent of those patients were from Christiansted, he said.
Llanos went on to say they serve the insured, underinsured and those without insurance, and fees are on a sliding scale. He said the clinics are nonprofit and are funded federally, locally and from program fees. They offer family medical, adolescent, prenatal, pediatrics, gynecology, dentistry and more.
Sherri Henigan, board chairwoman of Frederiksted Health Care Inc., said the opening of the site is something that is long overdue to the residents of St. Croix. She said it will allow more residents to access health care.
"We want all in the community to have access to quality health care," Henigan said. She added the community can have their needs met in a timely and efficient manner with the new satellite office.
"The health care of our community is a priority and opening the site is in sync with our motto of 'Putting the Care Back in Health Care,'" Henigan, said.
Gov. Juan F. Luis Hospital CEO Dr. Kendall Griffith spoke at the ribbon cutting, as did St. Croix administrator Dodson James. Keshawn McLeod, 11-years-old, sang "Just an Ordinary Miracle."
Employees of the clinic gave a tour of the facility following the ribbon cutting ceremony.
The center is west of Five Corners on North Shore Road next to Superior Pet Supply.To make an appointment, call 340-772-1992.