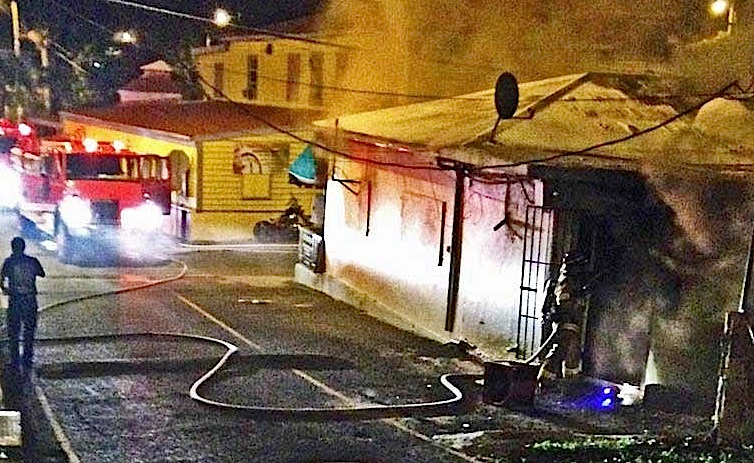 A fire broke out around 5 a.m. Thursday, gutting the Frenchtown Mini-Mart and sending flames soaring out of the ceiling and dense clouds of smoke billowing all over the neighborhood as neighbors, some in nightclothes, looked on with shocked expressions.
The fire was contained by 5:45 a.m. There were no injuries.
According to Assistant Fire Director Daryl A. George, the department received a 911 call at 5:15 a.m. that there was a structural fire in the Frenchtown area. George said two units responded to the building, which was shrouded in heavy smoke. The fire crews made entry in the building and asked for additional units and personnel, he said.
George said three more Fire Services units responded and "they had the fire under control within 30 minutes."
"Firefighters made vertical vents through the roof to remove heat and smoke gasses," George said, adding that the building sustained heavy damage. He said 12 firefighters assisted in putting out the fire.
George said cause of the fire is under investigation.
The firefighters could be seen working on the roof as more fire units arrived. A goodly portion of local residents looked on, many holding cloths over their faces to combat the heavy smoke. One resident even carried a personal fire extinguisher, which turned out to be unnecessary.
Grocery store owner Sammy Zatar stood silently watching the spectacle, too upset to make a comment.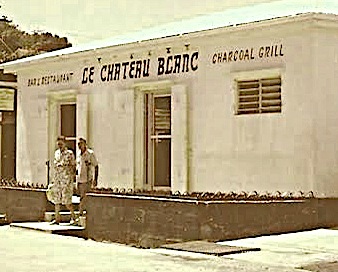 Centrally located in the heart of community, the building is a landmark – not in its recent incarnations as a grocery, but for the preceding decades. It has housed many popular establishments, some dear to the community's heart, like the restaurant and bar Le Chateau Blanc in the 60s, and some less dear like the Barbary Coast in the 80s, which was a bane to those trying to get a good night's sleep in the area.
In fact, a protest march was held around Frenchtown by the late Lola Turbe to get the owners to tone down the late night noise, which succeeded in enforcing an earlier than 4 a.m. closing.
A number of bars/restaurants have occupied the structure, including the venerable Oar House and Alfredo's, watering holes with a dedicated clientele.