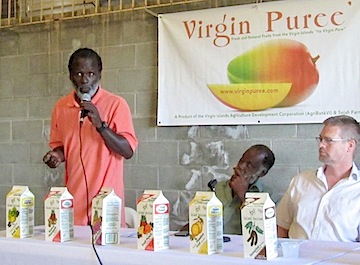 St. Croix Dairy's old lineup of drinks may be available again, along with new, fresh, local pureed fruits, according to the St. Croix Economic Development Initiative, which has made an offer to purchase Islands Dairies and restart the operating plant in Sion Farm.
Island Dairies began producing fresh milk on a commercial scale on St. Croix in the 1950s. In recent years the economics have changed, making it ever more difficult to make a profit. The dairy stopped producing fresh local milk in 2006, citing ever rising insurance premiums as the single biggest blow to their bottom line. It continued to sell reconstituted milk, ice cream and sugary drinks like grape punch and passionfruit drink until 2011, when it shut its doors. (See related links below)
The SEDI group announced its plans to try to reopen the business Tuesday evening in the Island Dairies plant in Sion Farm with a panel of farmers, agriculture officials and business partners at a table bedecked with the familiar Island Dairies drink cartons.
"If agriculture is going to stand a chance, we need a private sector counterpart," said SEDI founder and radio host Anthony Weeks at the outset of the press conference. Weeks outlined what the group has done so far and what it hoped to do over the next year.
SEDI has created a new nonprofit organization, the V.I. Agriculture Development Corporation, which has made an offer to purchase Islands Dairies and restart the operating plant in Sion Farm, Weeks said.
The plan is to use the large plant space, tanks, pasteurizing equipment and other assets both to process the familiar set of Island Dairies products and also for fruit purees, under the VirginPuree label, and flavored waters, under the Virgin Pure label, he said.
VirginPuree plans to collect, puree and freeze fresh local fruits, from mango to soursop. "We want to reverse the trend of wasting fruit," Weeks said.
The ADC surveyed more than 200 people during the recent Agrifest, asking them what agriculture meant to them and if they had any fruit trees, with the goal of connecting with orchard and tree owners with excess production, Weeks said.
"We want to liquefy the fruits – puree them, freeze them for sorbets, preserves, cocktail mixers – that is Virgin Puree," he said, noting that the other brand is Virgin Pure, a bottled water and fruit-flavored water.
Asked if there would be fresh local milk again, Weeks said that would probably require local legislation to cap liability so that the dairy could afford insurance.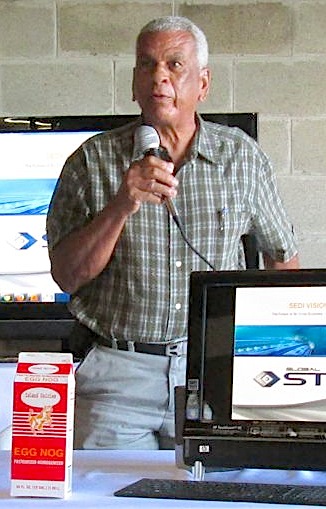 Nicasio Nico, a business partner at Island Dairies, talked about the facility and what it offered.
Dale and Yvette Brown, owners of Sejah Farms, said they supported the plan as a way to promote and develop agriculture in the territory.
Deputy Agriculture Commissioner Errol Chichester said the department also supports the project as a potential boon to agriculture. "The department especially likes the puree project because of the waste," Chichester said. It comes "right on the heals of what the commissioner (Louis Petersen) has been trying to get done, to lay the foundation for providing the fruits for such an initiative," Chichester said, discussing the department's promotion of local fruit trees.
Getting the project off the ground will depend on getting financing for the planned purchase and for capital investments, according to Weeks.
Darnel Carpenter, president of Synergy Partners in Arlington, Va., a limited liability corporation, spoke about various potential avenues for funding, from federal agriculture grants to funds through Michelle Obama's healthy eating initiative to traditional bank loans.
"Part of my responsibility … is to lead, guide and direct funds that have not been used, to this," Carpenter said. Ultimately "a combination of equity and long-term debt will be needed," he said.
If all the pieces come together, it should take three to four months to structure the financing, Carpenter said when asked what sort of time frame to expect. "What happens after that would be up to whoever owns the plant," he said.
Weeks estimated that once financing is in place, production should be able to begin within a year.