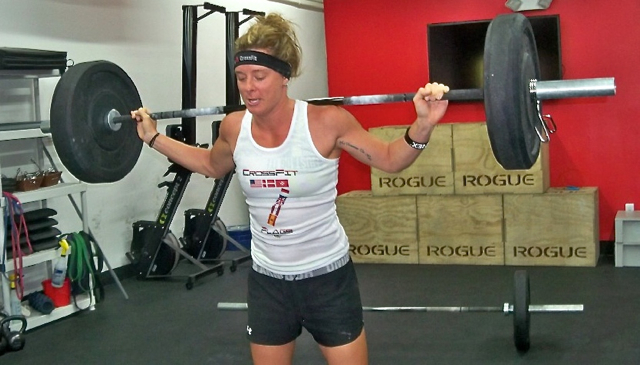 The coaches at CrossFit 7 Flags recognize that fitness can be attained many ways, and they try to make fitness fun, flipping huge tractor tires, swinging kettle balls and bouncing medicine balls off walls.
There is a camaraderie and the feel of support among members, with everyone considered an athlete no matter what his or her skill level.
Ashley O'Hearn, head coach and gym manager at CrossFit 7 Flags, said the gym works like a personal trainer, but at a lower cost. She said the movements are varied so they can be modified and scaled to an individual athlete's fitness level. The focus is on total wellbeing, so the staff also looks at nutrition, lifestyle, current fitness levels and flexibility to form a plan of action to attain fitness.
CrossFit is a U.S.-based international chain of affiliated exercise centers using the CrossFit program. It aims to improve its members' muscular strength, cardio-respiratory endurance, core strength and flexibility.
The classes are always changing, incorporating a mix of aerobic exercise, gymnastics and weight lifting. The participants start with a warm up, then do skill development. Then it's on to the high-intensity workout of the day that is scored to track individuals' progress and encourage competition.
The gym is very basic, with steel bars for chin-ups, gymnastics rings, ropes for climbing, and weights. Wooden boxes of different heights, up to 30 inches, allow athletes to jump from a standing position and land with both feet on top the box, doing as many repetitions as possible.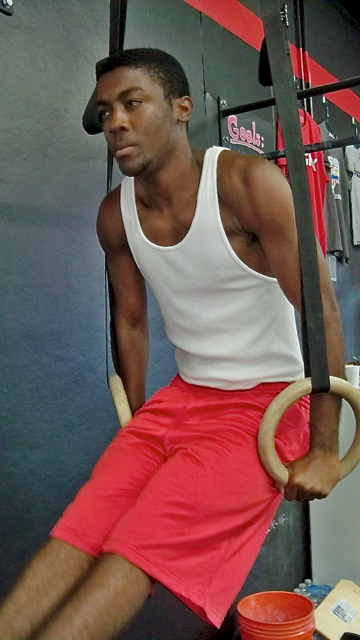 Josh George, one of the first to join last June when the gym opened, said he wanted to change his normal gym workout. He is mainly working on weight training. Incorporated in his personalized program are kettle balls and medicine balls used in repetition to build up strength and endurance while speeding up the controlled motions. He also uses the rings and bars for pull ups.
Some people in the medical field criticize CrossFit, saying it can be too extreme. O'Hearn said people need to know their limitations and not push themselves too hard.
"You have to be your own judge and know your body and how much you can handle," she said.
Above all, she added, people need to to stay hydrated.
O'Hearn said fire departments, law enforcement agencies and military personnel use CrossFit for physical fitness training.
The 26-year-old O'Hearn, who works in aviation operations in the National Guard, says the workouts are good for everyone. They will start Kids CrossFit in the next few months.
Deborah Bobbitt, doctor of chiropractics, owns the franchise for CrossFit 7 Flags.
Last year Bobbitt moved her practice from the west end to the La Reine intersection to serve people better. Her goal was to offer patients requiring rehabilitation a location close to her office. Last June she opened the "box," as CrossFitters call the gym, right next door to her office at 1A Estate Clifton Hill. The rehab patients do scaled-down workouts with resistance bands, bars, rowing machines and weights.
Jahreim Luke, 18, is doing rehab for a basketball injury in his knee. He is entering the Air Force and needs to get in shape to get a clearance before basic training.
"I feel good about my results," Luke said. "I believe I'll meet my targeted goal toget in shape by Easter."
A free introductory class is offered at 10 a.m. every Saturday, open to anyone interested in CrossFit. During the introduction they introduce people to the gym and take them through a workout.
CrossFit 7 Flags is open Monday through Saturday. Classes begin at 6 a.m. People can call 340-201-0348 to find out more about pricing and class schedules.
"CrossFit is a strength and conditioning system built on constantly varied, if not randomized, functional movements executed at high intensity," said Greg Glassman, founder and CEO of CrossFit said. He started the company in 2000.