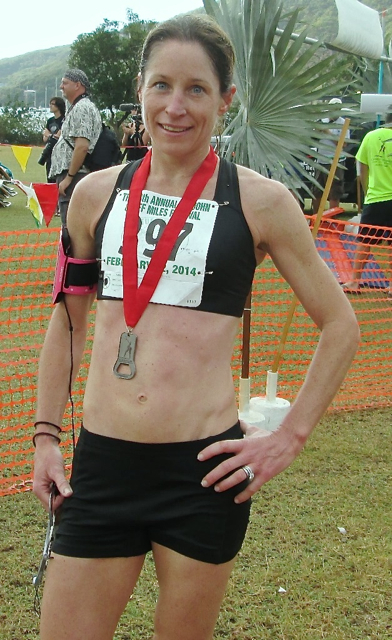 Rain poured down Saturday as 1,101 people braved the weather to make the 8.38-mile trek from Cruz Bay to Coral Bay in the 18th-annual 8 Tuff Miles race. The skies cleared briefly as Rick Pahl, 30, of Muscatine, Iowa, passed the finish line at the Coral Bay ballfield with a time of 51 minutes and four seconds.
"The course was challenging – wet and challenging," he said.
However, he said he gets in the "zone" and instinct takes over to keep him moving toward the finish.
Marc Teismann, 32, of Newport, Ky., was the second man across the finish. In his fourth time participating, he clocked a time of 51 minutes and 44 seconds.
"It's getting tougher every year," he said, adding that the down hills were tough in the rain.
Paul Jones, 38, of Apex, N.C., came in third for the men. His time was 52 minutes and 34 seconds in his fourth 8 Tuff Miles race. He said the last hill with was the toughest.
"But I train in the mountains of North Carolina," he said.
The course record for men is 45 minutes and 46 seconds, set by David Riddle of Cincinnati in 2013.
Jessica Rice, 38, was the fastest woman on the course with a time of 56 minutes and four seconds. This set a course record for women, breaking the old one set by Letitia Dusich of St. Croix in 2004 with a time of 57 minutes and 15 seconds.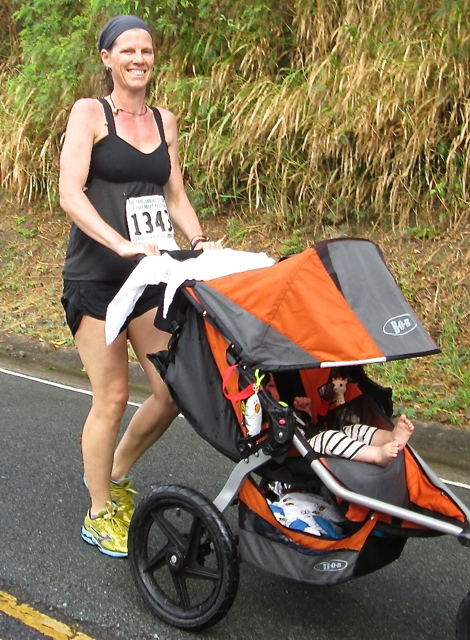 The Needham, Mass., resident coaches cross country at home, so she was in shape for the race.
However, she said she ran this course without walking or even driving it.
"But I always wanted to do it," she said.
St. Thomas resident Ruth Ann David, who finished first for the woman in the 2013 event, took second with a time of one hour, one minute and 24 seconds.
"I haven't trained for two months," she said, adding that she had been sick, which got in the way of her training.
Emily Egelhoff-Whalen, 22, of Asheville, N.C., took third for the women with a time of one hour, two minutes and 38 seconds. A frequent participant in the event, she only trained a little for the race.
"It was super fun. The rain was refreshing," she said.
The event attracts people who participate not for the glory of winning but to say they did it.
Dini Hall of St. John pushed her 6.5-month-old baby, T.O. Gonzalez, in a carriage along the course. She said she didn't do anything special to prepare.
"I walk every day because I have a dog," she said.
This event runs on volunteers, and they were out in full force to help in various capacities at the finish area and along the course.
St. John Rescue had 20 people stationed at various points along the course. The organization also had a few people on motorcycles driving along the route to make sure no one got into trouble. A Rescue vehicle also followed the runners.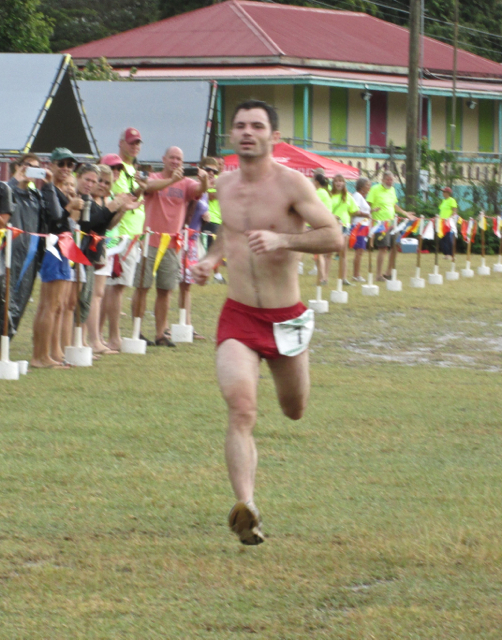 "We've got a few people picked out we're keeping an eye on," Rescue member Jeffrey Allen said, pointing out a person running the course in flip flops rather than running shoes.
St. John residents Jay and Mary Dufur were on their way to volunteer at water station 8, located near the end of the course, when they stopped to chat.
"Our neighborhood does it every year. It's fun and always good to help your community," Mary Dufur said.
Others also said that helping the community was why they got involved.
"You've got to volunteer if you're on St. John," St. John resident Bruce Schoonover said.
John Staedler of St. John was busy cutting pineapples and cantaloupes up into pieces to hand out to the runners when they finished.
"We picked it up pretty quick," Staedler said, joking.
He added that he used to run the race but physical reality had sent him to the fruit cutting table.
St. John resident Kent Savel is another former runner who now volunteers. He was busy folding T-shirts.
"I love to volunteer for St. John events," he said.
People flew in from across the country to support their friends and family.
Molly Graybeal of Indiana was standing under a tent with her friend, St. Thomas resident Elizabeth Elger, while they waited for a gully washer to pass. Elger said she and three other friends from college decided to do the race, but she had to drop out due to some pregnancy complications.
"We're expecting our second child," she said.
So she and Graybeal dressed up in pink tutus to cheer their friends on at the finish.
Pink was also the color for Ben Chill and 15 friends, from Tennessee, Alabama, Nebraska, and Texas, who come every year to cheer on his wife, Lynn Chill. She is a breast cancer survivor, and Ben Chill said the race is something she "has to do" every year.
Lori Thompson of St. Thomas waited for the rain to clear so she could cheer on her daughter, Talisse Thompson, 14.
"I hope she wins in her age group because they give scholarships," she said, referring to the fact that youthful participants are eligible to win money toward their education.
The results indicate that she did top the girls in the 14 to 16 age group with a time of one hour, 14 minutes and 35 seconds.
Christy Zingraf of Fargo, N.D., made the trip to St. John to support her brother-in-law, Jason Woulfe, who flew over from his home in Puerto Rico to participate.
St. John resident Denise Wright was on hand to support Englehoff-Whalen, who used to live on St. John.
"But we're here to support everyone," she said.
For complete results, visit www.8tuffmiles.com