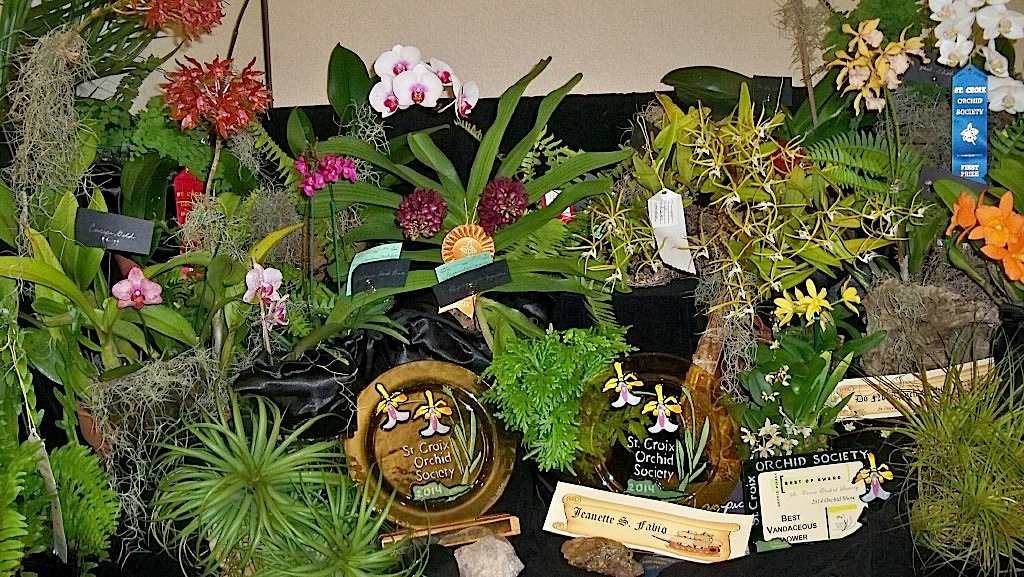 Orchids, the gorgeous treasures of the tropics, are on display in the St. Croix Orchid Society 43rd Annual Orchid Show. The theme this year is "Orchid Piracy."
"Orchids are pirating us because of their beauty," explained Edna Hamilton, Orchid Society president. She said orchids are something one can get into and spend a fortune on too.
Anne Marie Andrews, Orchid Society member and an award of merit winner, said all orchids are a treasure.
On display are 30 jewel-toned orchids the color of amethysts, rubies, pearls, citrine, garnets and topazes, all treasures to behold, among 300 plants beautifully arranged amongst palms, ferns, sea glass, gems, treasure chests, gold coins, skulls and schooners.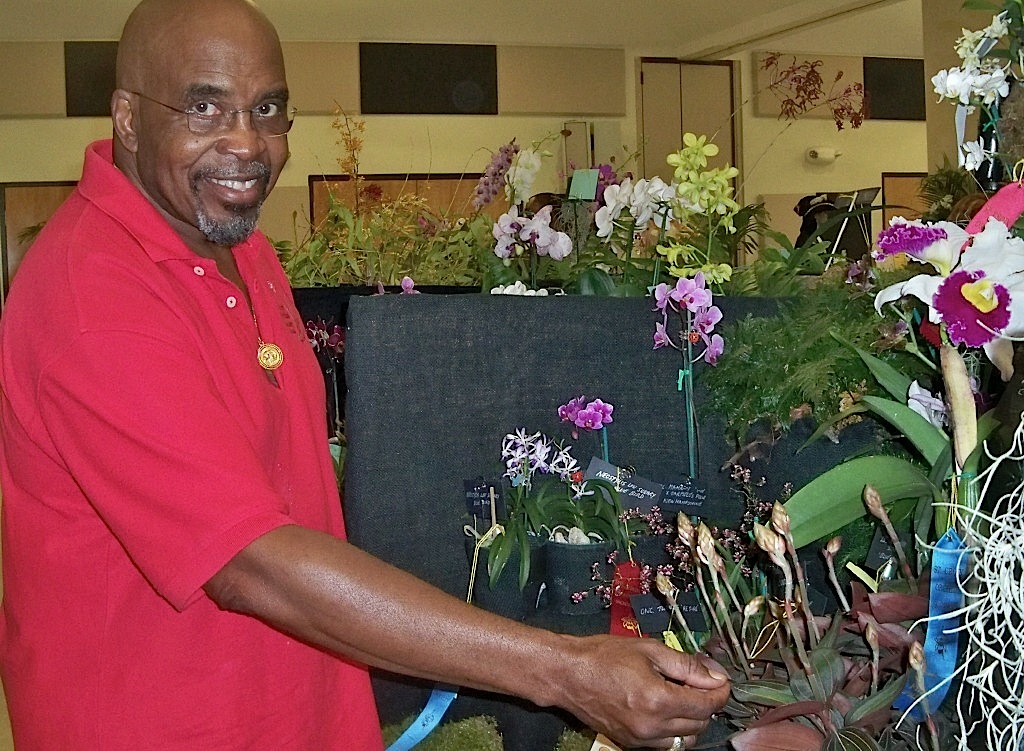 Luther Edwards, this year's honoree, has a blue ribbon winning jewel orchid in the show.
Edwards said it is the only orchid judged only by its leaf. The velvety looking leaves are dark green with maroon colored veins. The flowers were in bud, but he said the flowers are nothing special.
"I tried growing it for years, got tired of it, threw it in the shade, and it's spreading and happy there," Edwards said.
Hamilton said Edwards was chosen to be honored because he is one of the island's pillars of society because of all he does for civic organizations. He is on the board of directors for Lutheran Social Services and a founding member of the People United for a Better Virgin Islands, she said.
Edwards said he was surprised and pleased to be honored by the Orchid Society. He said he has been in the society for at least 20 years and lends a hand wherever and whenever he is needed.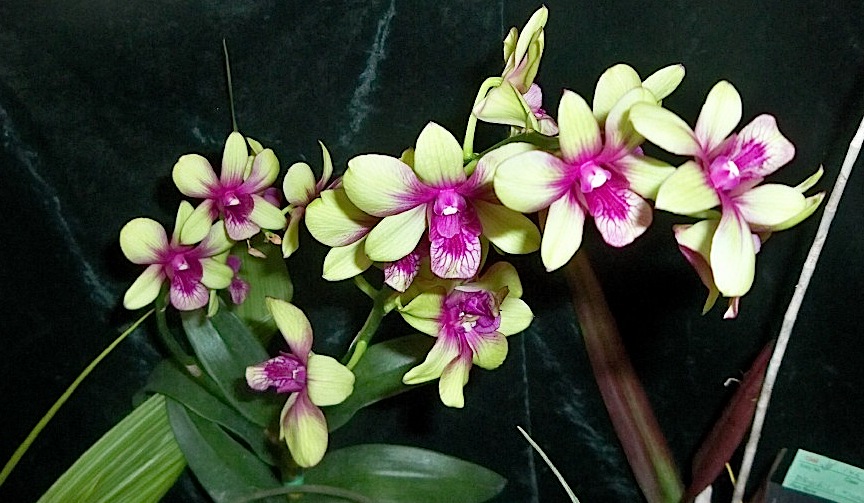 More than 100 different classes were judged, so quite a few different orchids were sporting blue ribbons.
Jeanette Fabio got Best Plant in Show Champion award for her beautiful dark magenta Rhynchostylis gigantea.
" It is an honor to get the sign of approval from my peers," Fabio said. She said it is nice to see the orchid bloom and to win after her efforts.
Anne Marie Andrews had the honor of naming her orchid for her granddaughter, Dainya Simmonds. Andrews' orchid is a genetic individual that receives a clonal name registered in the American Orchid Society. She chose her 7-year-old granddaughter to honor, saying she deserves it for all the help she gives Andrews with the orchids.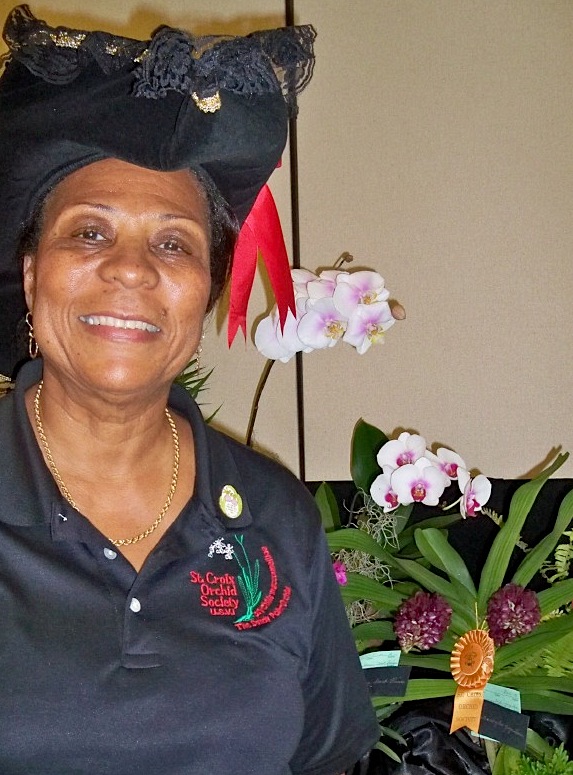 Three native St. Croix orchids are on display in the Great Hall at the University of the Virgin Islands.
One looks like a little green lady slipper and the other two are clusters of tiny pastel pink and gold flowers on long spikes. Their Latin names are Epi ciliare, Psychilis macconelliae and Ercycia cochleata. Hamilton said it is very important that when people see the native orchids all they take are pictures.
David Hamada, director at St. George Village Botanical Garden, said orchids are popular because they are exotic and they embody and evoke the tropics, that people fall in love with them. He said orchids are the second most popular ornamental plant crop.
Hamada commended the society members for another great show.
The show includes a raffle to benefit the society of a painting of Orchidsepidendrum anceps by Betsy Campen, a well-known local artist, and vendors from Puerto Rico have boxes full of orchids for sale in bloom and little green shoots.
There will be orchid workshops by Carlos Fighetti, a famous personality in the orchid world, and by Luis Rivero, well known in Puerto Rico for his knowledge of orchids. The workshops will be held at 10 a.m. Saturday.
The show of gorgeous treasures continues Saturday from 9 a.m. to 5 p.m. and Sunday from 9 a.m. to 3 p.m. Tickets for the show are $5.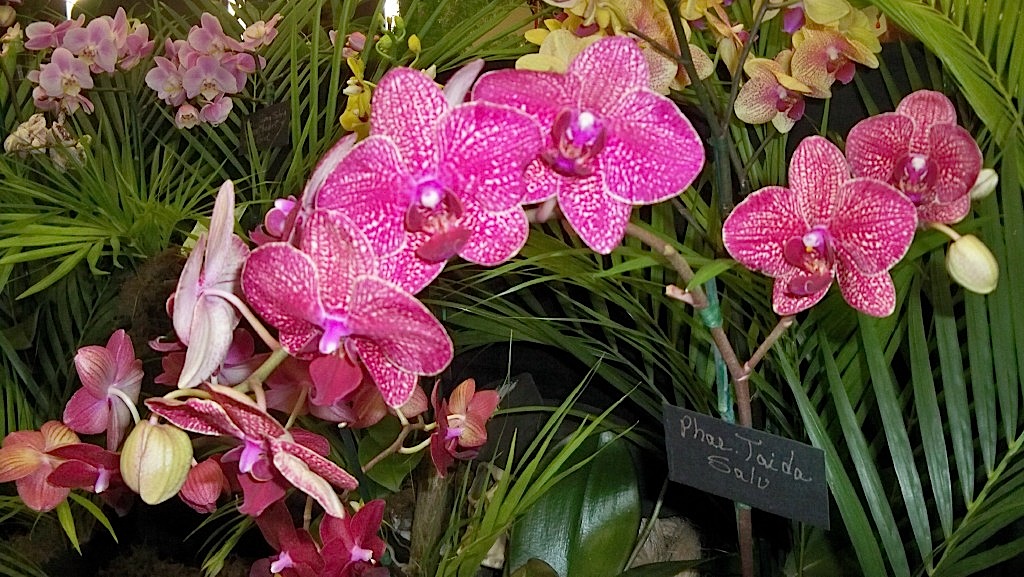 Major sponsors of the show include the University of the Virgin Islands Cooperative Extension, Anything in a Basket, A Better Copy and Castle Coakley Leasing.
The mission of the Orchid Society is to acquire and disseminate the knowledge or the culture of orchids, both native and hybrid, and to exhibit orchids at least once a year to the public to promote interest in this hobby and preserve native plants. The show is also held to attract new members to the society.
Hamilton said growing orchids is something people of all ages can do. For more information about the society, call Hamilton at 340-514-5349.