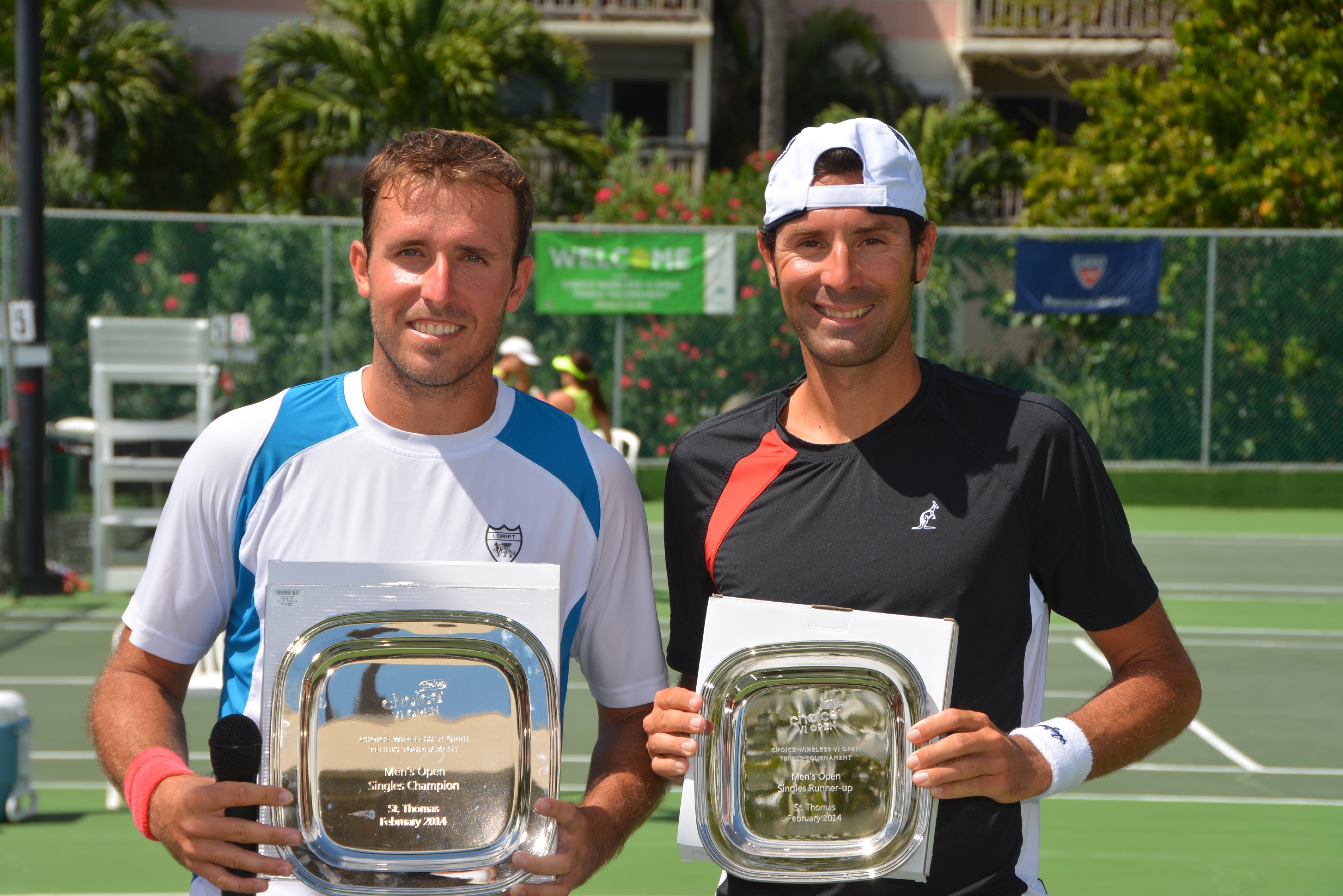 World-class tennis challenged players and captivated spectators at the Choice Wireless V.I. Open Tennis Tournament, hosted Feb. 14-17 by the St. Thomas Yacht Club. Over 100 tennis players from the U.S. Virgin Islands, Caribbean, U.S. mainland, Europe and South Africa – which included 5 ATP-ranked and a strong contingent of B division competitors – has earned this tournament its reputation as the "Wimbledon of the Caribbean."
Staying focused, grinding it out and putting himself wholeheartedly into the match is how Florida's Denis Zivkovic describes what led to his win in the Men's Open Singles over Italy's Stefano Ianni (7-6(4), 6-3). Zivkovic, the tournament's top seed, and Ianni regularly play singles and are also doubles partners on the ATP Challenger Tour and ITF Futures. (Photo above — Denis Zivkovic and Stefano Ianni. Ianni took second in Men's Open Singles and with Zivkovic won the Men's Open Doubles. Credit: Dean Barnes)
"It was tough because we know each other well from practicing together," said Zivkovic. "At the end of the day, though, winning is winning."
Zivkovic and Ianni proved to be a formidable team in Men's Open Doubles where they beat Florida's Niccolo Adami and Marco Stancati (6-3, 6-1).
Competition proved keen in the B division.
In Women's Doubles 8.0, it was St. Thomas' Jennifer Coffindaffer and Florida's Tanya Ferris who defeated Tennessee's Sandra Joyce and St. Thomas' Mareta Tatimiana (6-1, 6-2).
"We played smart and consistently," said Ferris. "We played our game, not theirs."
Ferris also won the Mixed Doubles 8.0 with partner of four years Dale Slimick. The two triumphed over Coffindaffer and Virginia's Chris Catignani (7-6(3), 6-3).
Slimick found double success when he and Catignani overcame the St. Thomas team of Denzil Caines and Wilbur Williams (6-2; 6-7; 1-0(7)) in Men's Doubles 8.0.
It was a mother-daughter match in the Women's Singles 3.5. St. Thomas' 17-year-old Sophie Bartlett beat her mom and tournament co-director Elsbeth Rowaan (4-6; 6-4; 1-0(8)).
"At first, I thought she'd go easy on me," Bartlett said. "She didn't. So, I made her run. I'm younger, but she did have the more consistent shots."
In the Women's Singles 4.5, Puerto Rico's Yelitza Lopez beat St. Thomas' Kathleen Hosie in close, hard won play (7-6(8), 6-4).
"I noticed she (Hosie) didn't like backhand, so I hit a lot to that side," Lopez said. "I also tried to keep the ball in play so she would be the one to make the error."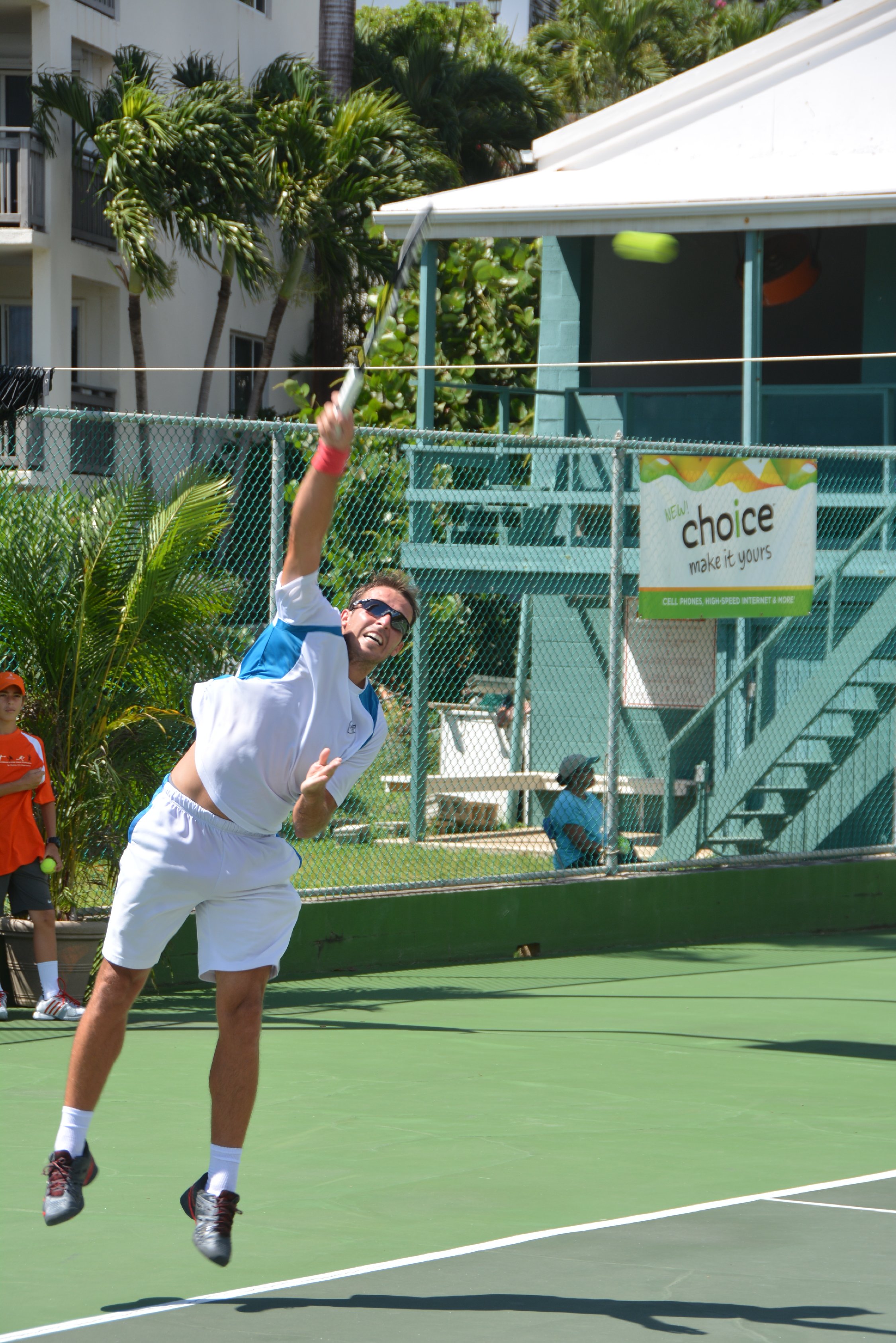 The match between St. Thomas players Drew Markson and Richard Hunter ended in Markson's favor in Men's Singles 3.5 (6-2, 6-3).
"My game plan was to come into the net as much as possible and volley," said Markson. "It's also amazing how mental tennis is. I was always proactively thinking."
Puerto Rico's Fernando Negron defeated his fellow islander, Juan Agostini, in Men's Singles 4.5 (6-7(4), 6-3, 1-0(8).
"I lost the first set and knew I needed to turn it around," Negron said. "That meant getting more aggressive with my serves, being consistent with my returns and staying mentally tough. It worked."
Finally, in the Men's Doubles 60-Plus age group, the team of St. Croix's Stanford Myrie-G and St. Thomas' Louis Taylor beat Maryland players George Sledge and Horace Robinson (6-0, 6-2).
"We came to have fun and play tennis," said Myrie-G. (Photo to the left: The USA's Denis Zivkovic, winner of the Men's Open Singles. Credit: Dean Barnes)
Taylor added, "Keeping the ball in play and breaking serve led to our win. We also have good harmony as tennis partners."
Over $14,000 in prize money was awarded in addition to engraved plates.
Matches were officiated by USTA and International Tennis Federation head referee, Hector Figueroa, from Puerto Rico. Carlos Juarbe and Juan Cintron served as USTA umpires; both have officiated at the US Open. The Choice Wireless V.I. Open Tennis Tournament is the only tennis tournament in the U.S. Virgin Islands sanctioned by the USTA's Caribbean District.
"Congratulations to all the winners and participants," said Tony Shepherd, CEO and general manager of Choice Wireless. "Choice Wireless is happy to be a part of bringing world-class tennis to the Virgin Islands."
The Choice Wireless VI Open Tennis Tournament is sponsored by Choice Wireless, the U.S. Virgin Islands Department of Tourism, St. Thomas Yacht Club, Sugar Bay Beach Resort & Spa and Caribbean Auto Group.
For more information, call 244-2124 or e-mail: viopen@choice-wireless.com
About The Title Sponsor: Choice Wireless is the premier 4G high-speed Internet provider and cell phone service provider in the Virgin Islands as well as the continental United States. The company was founded on St. Thomas, U.S. Virgin Islands in 1999 and is the largest provider of Internet access services across the territory. Choice Wireless is a subsidiary of Atlantic Tele-Network (NASDAQ:ATNI), a telecommunications company operating advanced wireless, wireline, and both terrestrial and submarine fiber optic networks in North America and the Caribbean.