Students from across St. Croix added creativity and enthusiasm to the V.I. Agriculture and Food Fair, using their talents and ingenuity to demonstrate their knowledge of recycling and preserving the planet.
Following this year's fair theme, "Agriculture – We've Always Been Green," students created room-size displays, miniature shoe box parade floats and life-size animal sculptured made from plastic bottles, caps, foil, grocery bags, plastic foam and other trash.
On Friday night, six judges selected the winners of the Agrifest 2014 education exhibition, awarding Good Hope Country Day School first place. St. Patrick's Catholic School placed second; and, Iqra Academy took third. Saturday, Eulalie Rivera Elementary School was named sweepstakes winner at the opening ceremony. Winners received cash prizes.
One of the judges, the Rev. Eddie Williams, said the winners were selected by their craftsmanship, originality, student involvement and product knowledge. The winners were difficult to choose because the exhibits were "really natural and really wonderful."
"It made me happy to be a judge," Williams said. "Agriculture should be emphasized – the children really love it."
The Rivera school display included bird feeders, dust pans, purses and planters made of large plastic bottles. A solar water heater and a green house were constructed from smaller water bottles and bird feeders were made from a variety of plastic bottles with plastic spoon perches and braided plastic bag hangers. A solar light was created by filling a clear plastic bottle with distilled water and bleach.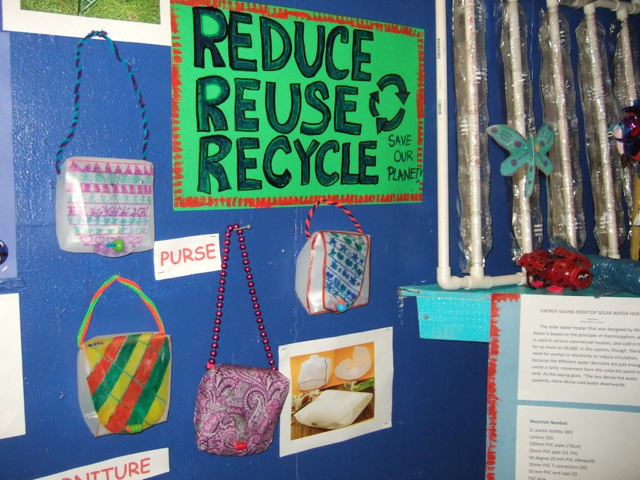 Rivera students handed out colorful pamphlets about their exhibit. The artistic influence of teacher Danica David was evident in the painted handbags, colorful plastic flowers and printed instructions on the walls. David said it wasn't difficult coming up with recycling ideas and "everybody should be able to have a job,' because there is so much plastic that needs to be recycled.
"We've always been green. Every year we've proposed recycling ideas," David said pointing out photos from previous exhibitions. She added that most of the Rivera students participated in creating the exhibit.
The Good Hope Country Day School exhibit was centered around a tree of life covered in seeds and pods. The upper school created a hydroponic pond, a steam-mill chimney of sand and stone and a wind turbine with a soda-can base. Another group researched and created three St. Croix maps illustrating the green space on St. Croix for the last three centuries. The first-grade class created a miniature version of Estate Whim plantation – their "history of green on St. Croix."
St. Patrick sixth-grade students Xavier Hinkson and Justin Ruan proudly showed off the decorated recycling bin they constructed of cardboard and newspaper for their school's exhibit. There were also plastic piggy banks and other items made by students.
"It took us three days to make (the bin) and two days to perfect," Hinkson said.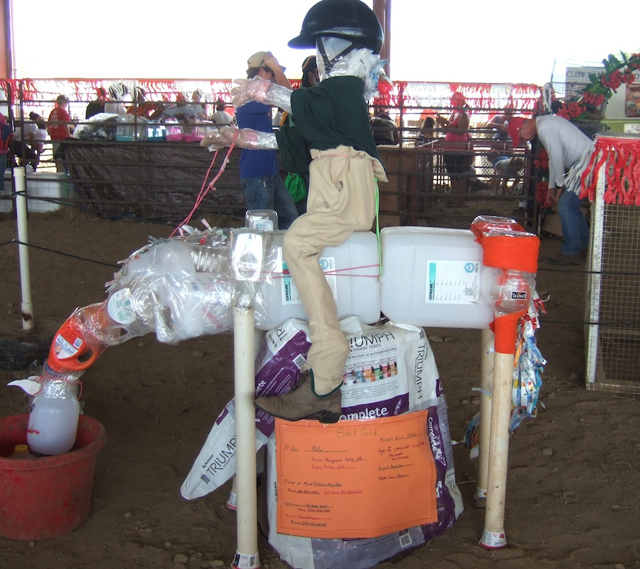 The Iqra Academy exhibit included a large cornucopia centerpiece filled with local fruits and vegetables and a "Name the Leaf" wall displaying individual framed leaves.
Free Will Baptist was given an "honorable mention" ribbon for their display of chickens and eggs raised at the school and ghost chili hot sauce made by students to raise money for a mission trip to Costa Rica.
Student creativity spilled out of the market onto a "corral" containing animals and fish created with recycled items. The pony club members constructed a horse and rider of plastic containers and bottles. An aquatic display included a bottle cap fish, one of foil, and a plastic foam starfish. Animals were covered with recycled fur and feathers and a horse was covered with strips of colored plastic and newspaper.
The students not only worked but had fun. For them, there was a petting zoo, a bouncy house, a two-story slide, a play-and-learn tent and lots of sweets and ice cream. There were free balloons, puppies to play with and an appearance by McGruff, the Police Dog.