The Education Department is considering its options for Guy Benjamin Elementary School in Coral Bay, St. John, Education Commissioner Donna Frett-Gregory said Monday at a meeting of the Legislature's Education and Workforce Development Committee held at the Legislature building on St. John. The school now houses students in grades second through sixth.
"A primary consideration under discussion is to utilize the facility as an early childhood education facility servicing pre-kindergarten through grade two and eventually including Head Start," Frett-Gregory told senators and the approximate 100 people in the audience.
She said a final decision on that option has not been made and promised to include stakeholders in any decision. Frett-Gregory also said that whatever decision the department makes, it will do it well before the next school year starts.
According to Frett-Gregory, enrollment at Guy Benjamin has steadily declined over the last several years.
She said in the 2010-11 school year, Guy Benjamin had 112 students. The number fell to 100 and then 83 in the next two school years. At the start of this school year, the school had 87 students, but the number currently stands at 55.
Superintendent Jeanette Smith Barry said some parents switched their children from Guy Benjamin to Julius E. Sprauve Elementary School after school started because their younger children were among the kindergarten and first-grade students transferred by the department to Sprauve.
Those students were moved because the enrollment was low in those grades at Guy Benjamin.
Since 2010-11 school year, the Sprauve School numbers have steadily increased from 147 to 218 and 225 in successive years. At the start of this school year, Frett-Gregory said the Sprauve number stood at 252 but is now 285.
She said that Guy Benjamin has eight classrooms with a capacity of 216 students. Sprauve has 27 classrooms with a 729-student capacity.
According to Frett-Gregory, it cost the department $1.1 million to operate Guy Benjamin and $2.3 million for Sprauve. Sen. Judi Buckley did the math.
"That's $20,000 a student at Guy Benjamin," she said.
The per-student cost at Sprauve comes in at $8,070.
Any move to change the status quo, other than to return the kindergarten and first-grade to Guy Benjamin, won't sit well with many Guy Benjamin parents. While dozens of them came out to hear what Education Department officials and the senators had to say, only a handful took a turn at the microphone.
One parent complained that the environment at Sprauve wasn't safe so she didn't want her children to attend school there. Barry took umbrage at that, saying the department had a responsibility to make sure every single child that attends school is safe.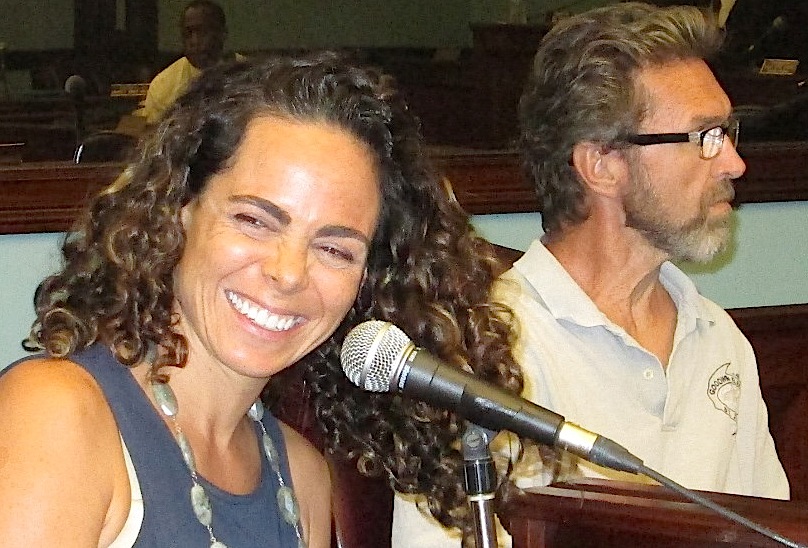 Gina Wellner, parent of a Guy Benjamin School student, said that because there are several bars near Sprauve, students were exposed to people drinking.
Another parent said that since Guy Benjamin students do so well on the Annual Yearly Progress tests, it should be held up as a model for other schools rather than dismantling it.
"Nobody can take away that the students at Guy Benjamin are high performers," Barry said, "but you really cannot have a teacher sitting with nine children."
Education officials also touched on the long-simmering issue of a new school for St. John, a school that would serve all the island's public school students in grades kindergarten through 12. Currently public school students in grades nine through 12 must take the ferry to St. Thomas for high school.
As is currently planned, land likely within V.I. National Park borders at Catherineberg will be swapped for territory-owned land elsewhere in the territory.
Frett-Gregory said she anticipates that a public "scoping session" on the plan to build the school will be held later in the year after a feasibility study is finished.
In addition to Buckley, Committee Chairman Donald Cole, Sens. Myron Jackson, Tregenza Roach and Janette Millin Young attended the meeting. Sen. Nereida "Nellie" Rivera-O'Reilly arrived late and direct from a flight from the mainland. Sen. Craig Barshinger, who is not a committee member, also attended part of the meeting. Committee member Sen. Sammuel Sanes was absent.