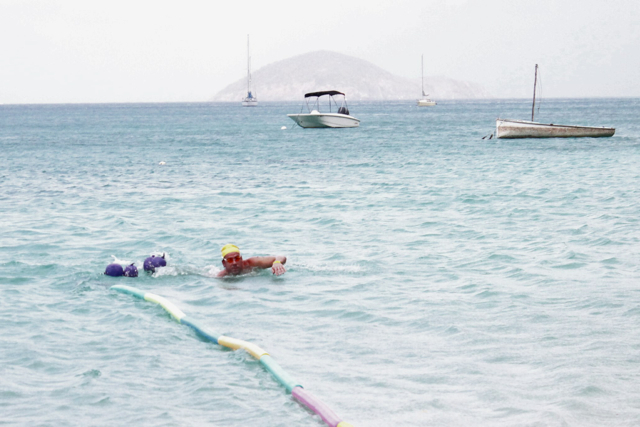 About 100 people gathered at Magens Beach Saturday morning to cheer the 56 participants in the 11th Annual Swim Against the Tide Swim for Breast Cancer.
At about 10:30 a.m., 56 individuals charged the waters and started to cover the mile-long swim from the southwest end of Magens Beach up to the finish line at the northeast end. Swim safety volunteers kept a close eye on the swimmers, either in kayaks along the buoy line or on the beach, following along on foot.
The participants used whatever means necessary short of flotation devices to finish the race. The "swimmers" braved the waters on the strength of their legs and arms alone. The "fins" were those who wore assistive gear like fins and snorkels, and the "waders" walked through waist-deep water closer to the shore.
Bryan Mason, a visiting athlete from Chicago who also frequents local foot races, shot past the crowd early and made it to the finish line in 18 minutes and 20 seconds.
Young mother Camelia Febres waded the whole way through, carrying in her arms her eighteen-month-old son Carmelo, who slept through half the activity.
"This is my first time doing this," she shared. "I had my daughter Cameron and my baby in swimming lessons .l.. and I thought it was a good cause to support those who need the money for breast cancer."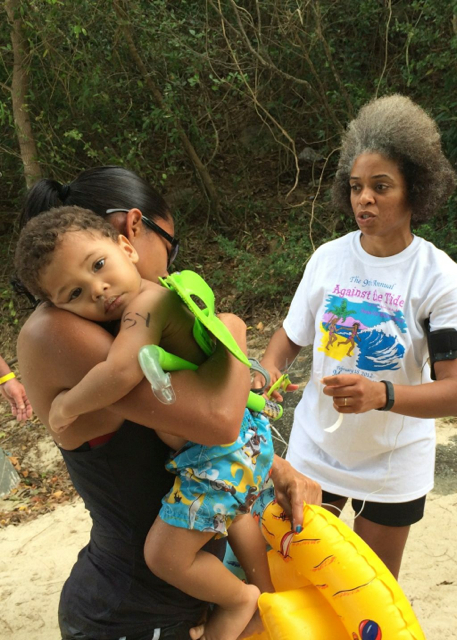 Febres' daughter, 10-year-old Cameron, would later win first place in the female youth swimmer category, while her son Carmelo would win the male youth wader category.
Through the race's entry fees – $10 for adults and $5 for minors – the annual swim competition raises funds to benefit breast cancer patients on St. Thomas who need help with medication or expenses for travel to health facilities off-island.
Race organizer Gayle Deller, who could be seen yelling instructions at one end of the race or the other, strongly advocates self-examination to get ahead of breast cancer.
"Remember, please check yourselves," she said to the gathered crowd at the end of the race. "Every month, don't forget, always do your self-exams. If you find any little thing, get it checked out right away. The quicker you get checked out, the more lives are saved."
Beside fundraising, breast cancer awareness is also a goal each year for organizers and volunteers of Against the Tide.
"We're trying to get women to join this kind of activity, collect money for funding, to promote programs like the American Cancer Society," said Ivanna Eudora Kean librarian Susan Torres, who volunteered along with her husband a few friends.
"I'm glad I was invited to volunteer," said Torres. "This is my first time to attend, and I want to do it every year."
It was a short affair, barely an hour from start to finish, but participants are already looking forward to the next Against the Tide Swim.
"They should do it every year," said Febres, "and I wish more people would come out. It's a good thing for people who have breast cancer but don't have enough funds."
The first-place winners of the 11th Annual Against the Tide Swim for Breast Cancer follow:
Youth (17 and younger)
Female Wader: Maya Livingston
Male Wader: Carmelo Febres
Male Swimmer: Jiovanni Hodge
Adults (18 and older)
Female Wader: Karen Rice
Male Wader: Mark Livingston
Female Swimmer: Debra Hopson Taylor
Male Swimmer: Bryan Mason
Female Fins: Crystal Gillian
Male Fins: Brian Hildebrandt
Oldest Participant: Carol Tuohy
Youngest Participant: Carmelo Febres
School Team: VI Montessori School and International Academy
Business Team: Dr. Mark Livingston's Staff