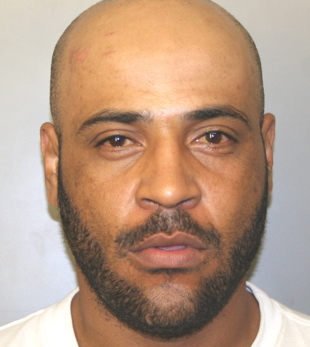 A man who FBI agents say told them defendant Jose Ventura confessed to killing V.I. Police Officer Wendell Williams in 2001, took the stand, denied all knowledge and claimed police tried, but failed to get him to snitch, as trial of Williams' accused killers continued.
Witness Jimmy Davis, 36, of Estate Profit, was escorted to the witness box by officers. Bearded, with shaved head and no mustache, Davis wore plain red sweatpants and a gray T-shirt.
After being sworn in, Davis proceeded to identify defendant Jose Rivera, saying he knew him as "Petey," and confirmed the two knew one another. After volunteering that information, he proceeded to theatrically deny the rest of the Federal Bureau of Investigation's account of his conversations with them concerning Ventura's alleged role in Williams' murder.
"Didn't you have a conversation in 2004 with (FBI Supervisory Special) Agent (Clifford) Goodman about the death of Wendell Williams?" Assistant Attorney General Kippy Roberson asked Davis.
"Who?" Davis said, with an exaggerated facial expression and tone of voice, as if extremely confused by the question. Davis then said he had not told Goodman anything, but that Goodman had tried to get him to do so.
"I'm not going to lie on Mr. Rivera," Davis said. "He (Goodman) was trying to get me to say that Jose Rivera told me he used a vehicle to commit a crime" Davis said.
Roberson asked Davis if he had a conversation with the FBI about seeing Ventura with a gun.
"No, that is what he wanted me to say," Davis said, again with exaggerated theatricality.
Roberson asked Davis if he had recently gotten out of prison and why.
"Ammunition," he said, then, "No, that time it was assault on a federal officer," correcting himself.
Davis has an extensive police record, with multiple assault and firearms convictions going back 20 years.
After some more questions, Davis blurted out "Wednesday afternoon I got arrested for tampering with a juror but I didn't tamper with no juror."
"Stop," said Superior Court Senior Sitting Judge Darryl Donohue Sr., who is presiding over the case. Donohue cleared the jury.
As the jury cleared the room, Davis turned his head sharply the other direction to look over to the far right of the gallery – on his left – where Rivera and Ventura were seated, and smiled or grinned at them for a moment. Then his smile vanished as he looked back over at the jurors departing.
On Jan. 23, before the trial started, Davis was arrested for threatening a juror in the case, and the Department of Justice announced it intended to press charges. That juror was replaced before trial and a second juror was replaced Thursday by an alternate on the third day of the trial.
After the jury was brought back in, Roberson asked Davis if he recalled telling an FBI agent to "call your brother Hector Davis for more information," and Davis said no.
Rivera's attorney, Gordon Rhea, asked Davis if he was in jail when he spoke to the FBI and if he felt pressured to say anything to them. Davis said he had been incarcerated.
"They took me from Golden Grove to Puerto Rico," he said. "I been on direct appeal from a Superior Court conviction," he said.
Rhea asked Davis if he had ever signed a statement and Davis said he had not. During the questioning, Davis kept looking over in the direction of Rivera and Ventura. Once, moments before being released as a witness, he looked in their direction and silently mouthed "No man," while shaking his head.
Roberson then called FBI Supervisory Special Agent Clifford Goodman to the stand. Goodman testified he and FBI Special Agent Kimberly Quesinberry interviewed Davis on June 17, 2004, at the Metropolitan Detention Center in Guynabo, Puerto Rico.
Asked why Davis was in Puerto Rico, Goodman said his "recollection is that he was transported there for his safety." Goodman testified that Davis was already talking to him and another agent about another unrelated crime "related to a group of individuals we were going to talk about," when the information concerning Williams murder came out.
"He told us they did not know at the time he was a police officer," Goodman said. According to Goodman, Davis told him and Quesinberry that Rivera had told him they kidnapped Williams while he was jogging, and wanted his car to use in "another matter," which Roberson later said was the Nov. 13, 2001, murder of Leandre "Bobo Dred" Smith.
When Quesinberry took the stand, she recounted similar details as Goodman. She said Davis told them he had seen Rivera with a gun and asked him about it. "Don't you read the newspaper?" Rivera allegedly asked Davis, who then allegedly asked Rivera if he had "killed that cop." Davis told them Rivera said he did kill Williams because they needed a car.
Goodman called witness Theresa Coogle around the same time period, speaking with her on May 29, 2004, he said. Coogle's graphic eyewitness account of the murder is the principle evidence in the case.
Defense attorneys questioned Goodman and Quesinberry about whether Coogle had said she would testify only if she could get help getting her child, who was in the physical custody of the father, defendant Max Velasquez, at the time.
Goodman said Coogle had asked for help, and that he was informed the V.I. Police Department had promised to help her, but no one helped her.
"Did law enforcement follow through on helping her with her child?" Roberson asked.
"No and she was upset about that," Goodman said.
"Despite that, did she continue to cooperate?" Roberson asked.
"Yes,"Goodman said.
Jose Ventura's attorney Daniel Cevallos raised the prospect that V.I. police were covering something up in this case.
"The reason the FBI was called in was because what there was suspicion of a V.I.P.D. cover up?" Cevallos asked.
"Then-commissioner Elton Lewis articulated that," Goodman said. He later clarified that the idea was raised, but was not the "theory that was believed."
Cevallos asked if there was a police report where two officers seized a weapon and did not turn it in, and Williams, who was the "shift corporal," may have had a confrontation with the two officers.
"Yes sir," Goodman said. Police department personnel told him that had occurred the day before Williams disappeared, Goodman said. He heard also the officer who initially investigated the case did not want to turn over the case file "until it was organized," and the FBI had to make numerous requests to get incomplete information. An "Officer Marcus" signed Williams in for several days after his disappearance, Goodman said.
The V.I.P.D. had an Officer Winston S. Marcus working on St. Croix at the time, although it is not clear if they are the same person. That Marcus left the department in 2006 after a serious domestic violence conviction.
Donohue dismissed the jurors around 4:30 p.m. Friday, then held a short hearing on whether to admit into evidence photographs of William's vehicle, which was found burned and destroyed in Estate Castle Burke on June 25, 2001, 11 days after the alleged date of Williams' murder. The defense attorneys objected to its admission on the grounds that there is little to link the car to any of the defendants, except for the highly disputed FBI accounts of Jimmy Davis' statements to them. Donohue said he would issue his ruling when trial resumed Monday morning.