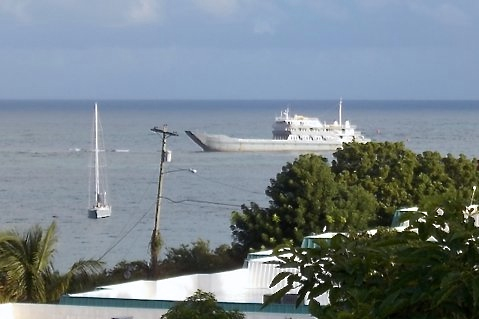 The 221-foot cargo ship MV Commander ran aground Friday night just outside Christiansted harbor and was refloated Saturday afternoon, according to eyewitnesses and government officials, apparently without causing damage to the marine environment or the ship's hull.
The Commander came in Friday evening to the commercial dock in Gallows Bay "empty or nearly so," according to Source reader Ellen Sanpere. "She appeared to load or unload
something and then left the dock slowly in the dark (new moon was Thursday,) coming rather close to the St. Croix Marine fuel dock and proceeding towards the entrance channel at Fort Louise Augusta," Sanpere told the Source in an email Saturday. "It looks as though she is aground on Round Reef, where she spent the night," Sanpere said.
The V.I. Department of Planning and Natural Resources and the U.S. Coast Guard both said there appeared to be no leakage of oil or fuel in the water. The agencies both responded to the situation and were working together on it, according to both entities.
"The U.S. Coast Guard and DPNR are presently working collectively to ensure there is no damage to the vessel and will continue to work together to protect and remove this potential threat from the environment," said DPNR Commissioner Alicia Barnes, in a statement.
Both agencies said there was no sign of damage to the hull and no sight of oil or other leakage. According to the Coast Guard, initial underwater assessments found both rudders missing, but besides minor scratches, no damage to the hull.
Coast Guard marine casualty investigators are investigating the cause of the grounding and the Coast Guard is evaluating what actions to take.
"It is extremely fortunate that this vessel was promptly re-floated after having grounded on Round Reef," said Capt. Drew Pearson, Commander, U.S. Coast Guard Sector San Juan. "The aggressive response and close coordination between all agencies in the U.S. Virgin Island ensured safety of the public while averting an environmental tragedy in Christiansted Harbor."
Following high tide and favorable weather conditions Saturday afternoon the vessel was able to refloat, free itself from the reef and safely anchor in the vicinity of Protestant Cay.
DPNRs' Division of Fish and Wildlife will assess any damage to corals and fisheries habitats, while DPNR's Divisions of Coastal Zone Management and Fish and Wildlife will assess fines or penalties for any damages done to the reef due to this incident, according to the two agencies.