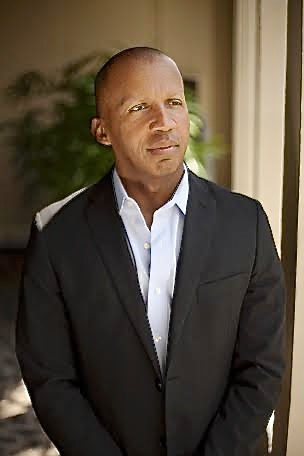 Bryan Stevenson has spent much of his life trying to keep the American justice system from being a misnomer.
He's taken his case to the streets and jails of Alabama, to various law school classrooms, to a number of courts, including the U.S. Supreme Court, and on the public lecture circuit – he purportedly received the longest standing ovation from a TED audience. He's been interviewed by everyone from Bill Moyers on PBS to Stephen Colbert on Comedy Central.
Thursday he will be on St. Thomas, appearing as a guest speaker in the Forum's lecture series.
He tells audiences things such as, "Each of us is more than the worst thing we've ever done" and "(the current system) treats you better if you are rich and guilty than if you are poor and innocent."
He represents indigent, minority and other defendants who he says are particularly vulnerable in a flawed criminal justice system that reflects the bias of society.
A graduate of Harvard Law School and the Kennedy School of Government, Stevenson has repeatedly been recognized by the National Law Journal as one of the 100 most influential lawyers in America. He has received numerous national and international awards, including a MacArthur Fellowship Award, the Gruber Foundation Justice Prize, and the National Public Interest Lawyer of the Year.
Stevenson worked as a staff attorney for the Southern Center for Human Rights in Atlanta and as executive director of the Alabama Capital Representation Resource Center before founding the non-profit Equal Justice Initiative in 1995. He also teaches law and has served as professor at the New York University Law School and visiting professor at Yale, Harvard and Michigan Law Schools.
His work has resulted in overturning wrongful convictions and in modifying many overly harsh sentences. In 2012 he was on the winning side of a Supreme Court challenge of a mandatory sentence that condemned a juvenile to life imprisonment.
In a published interview, Stevenson said he is not untouched by violent crime, citing among other events the murder of his grandfather by four juveniles. But while he has deep sympathy for victims, he maintains that they are not well served by the present approach.
"I think we should be doing something radically better by people who are victimized by crime" he told the Washington Post. "But what we've done in the last 30 years is promised them revenge, mostly; we promise them blood and executions and extreme punishments.
"We do very poorly in providing them with counseling and support and recovery or the promise for a new society where there's going to be less crime because we're doing something constructive to help people who are at risk or hopeless or marginalized."
The lecture will be at 7 p.m. Thursday in the Prior-Jollek Hall at Antilles School. Tickets are $15, or $10 for teachers and $5 for students. They are available at Draughting Shaft in Havensight, Interiors in Fort Mylner and Chelsea Drug Store in Red Hook, or by calling (340) 228-4777. They will also be available at the box office the evening of the event.
Members of the V.I. Bar who attend the lecture can obtain 1.5 general CLE credits towards their annual professional development requirements.