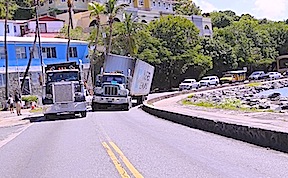 A trailer carrying scrap metal overturned at about noon Friday, blocking traffic in both directions on Veterans Drive for more than two hours, according to the V.I. Police Department.
St. Thomas/St. John/Water Island Police Chief Darren Foy said the truck springs that supported the trailer apparently snapped, causing the trailer to tip and spill scrap steel on the roadway.
No one was injured and no cars were damaged, police said.
The incident occurred between the Alexander Farrelly Justice Complex and the Lucinda Millin Home for the Aged. The road was cleared about 3 p.m. and traffic enforcement officers escorted the trailer to a safe location.