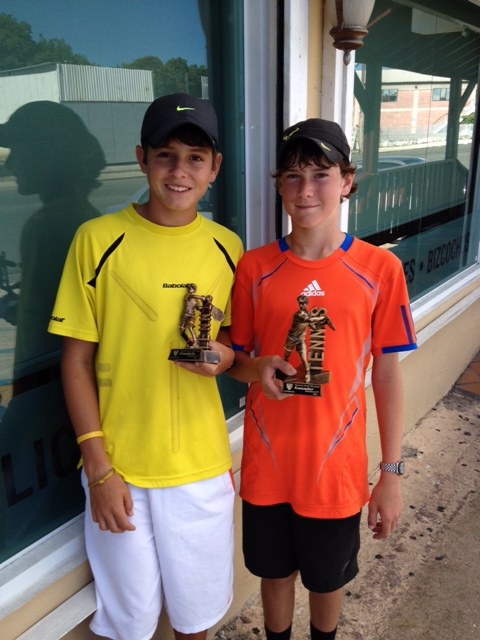 Alec Kuipers of St. Croix impressively won the Boys' 12 Division in the Rafa Jordan Tennis Tournament held these past two weekends (Jan. 17-26) at the Honda Tennis Center in Bayamon, Puerto Rico.
Kuipers played matches over two weekends before ending the tournament with a victory in two sets. He also played the Boys' 14 Division, making it to the quarter finals and after playoff matches, taking 6th overall in the Boys' 14.
Tomas Del Olmo of St. John was a finalist in the Boys' 14 Division, also playing well, capturing the number two position in the tournament. The Del Olmo family was recently honored by the Caribbean Tennis Association as being "2013 Tennis Family of the Year" for their contributions to the sport in the Caribbean.
Kevin Motta, who coaches Kuipers, said, "This kid has been working extremely hard. We, as a Virgin Islands tennis community, should be very proud of him and all our kids who are giving it their all in Puerto Rico where they are playing against some great players."
The junior tournament is the first and one of the two most important tournaments of the year. It is an advanced, level-three event, according to the United States Tennis Association (USTA) ranking system. The next tournament of this level will be held in June. There are tournaments almost every month in Puerto Rico; many Virgin Islands players spend about two weekends a month there competing.
Other Virgin Islanders played well and also had great success. Jordan Lawrence from St. Croix and Luca Del Olmo from St. John made it to the quarter finals in the competitive Boys' 16 Division. Russell Armstrong from St. Croix made it to the semi-finals of the consolation round in Boys' 14s. Also, he and his doubles partner played in the semi-finals in doubles. Other players in the tournament who made strong showings were Julian DiPersio, Zack Armstrong and Nayan Bansal from St. Croix, and Wilbur Williams and Sky Moraino from St. Thomas.
At the end of February, the V.I. will send two teams to ITF international events. Tomas Del Olmo, Julian DiPersio and Jan Neuburger have been chosen to participate in the Junior Davis Cup (Boys' 16 Division) in the Dominican Republic. At the end of March, Alec Kuipers, Russell Armstrong and Nayan Bansal will travel to El Salvador for a week-long Boys' 14 Team event. They will compete as a nation against other Caribbean, Central and South American countries.
The Virgin Islands Tennis Association (VITA), comprised of parents and tennis enthusiasts, has been working hard to create a system where junior tennis players are being developed and prepared to play on a regional and Caribbean level. In preparation for Puerto Rico tournaments, Kris Elien, a tennis pro from St. Croix, organized a competitive tennis weekend where training was done and matches were played. There are several preparatory tournaments scheduled on St. Thomas and St. Croix where kids who are new to the sport or are getting ready to try a tournament in Puerto Rico can practice.
VITA is currently fundraising to cover budget shortfalls for junior development and tournaments. Anyone interested in making a donation of any kind, please contact Bill McComb, president of VITA at 690-0308.