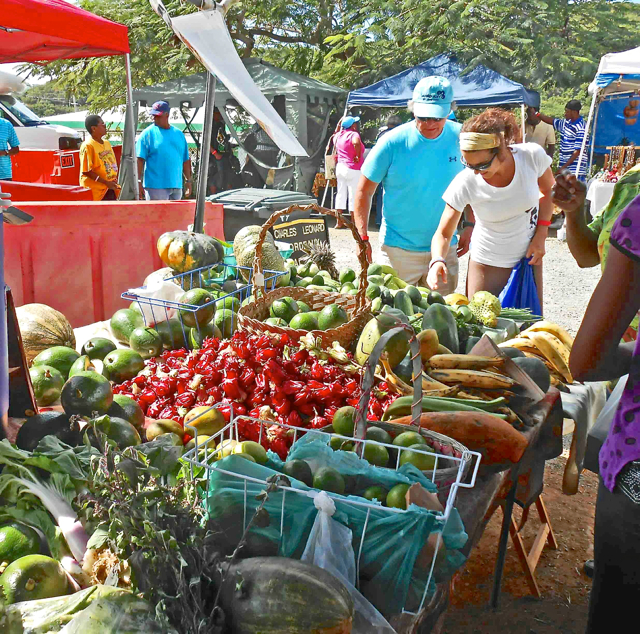 If surging crowds, rich aromas, boundless food, energy, music, and camaraderie mean anything, the 17th annual Bordeaux Farmers Rastafari Agricultural and Cultural Food Fair held Saturday and Sunday was a grand success.
And it's no surprise. There's no real way of measuring the number of man-hours that went into its preparation. Suffice it to say the members of the collective We Grow Food, Inc., which hosts the celebration, have been at it for weeks, months actually, if you count growing time. They could get a prize for organization, alone.
For instance, just arranging the unbelievable bounty of brilliant produce – from deep red sorrel, to orange yams, greens and squashes, tomatoes. It's impossible to go hungry, the clay cooking pots fill the air with the familiar, heady scents, basil, mint, garlic, onion, soups, stews, everything from a simple tamarind stew to falafel fritters, brown rice, steaming collard greens to feed the hungry throngs.
And, according to Agriculture Commissioner Louis Petersen, the members helped lay the 60 solar panels which debuted Saturday. More on that later.
And that's before you consider the daily demonstrations – everything from ital dubbin to tofu making, terrace making, chlorophyl making and composting – and organizing the multiple arts and crafts booths, the daylong music, everything from steel pan to drumming, a fashion show and, well, you get the idea.
Then, there's the highlight of the celebration: the annual awards. This year's took a new twist.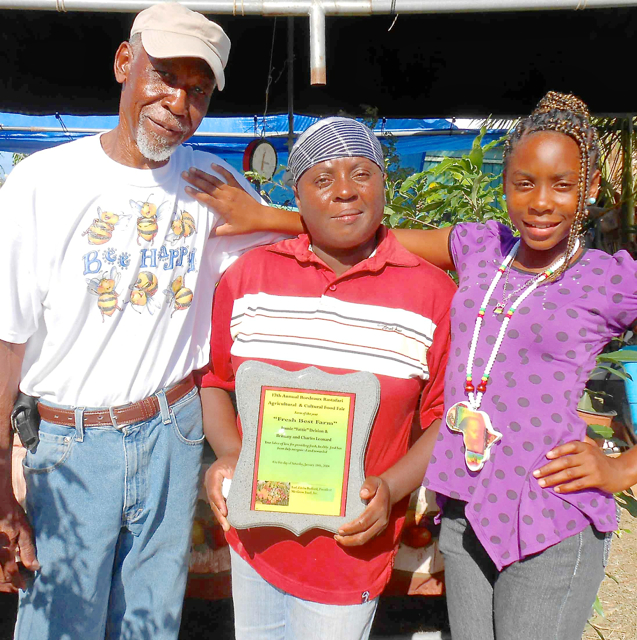 Instead of the traditional Farmer of the Year award, a Farm Team took the honors this year, recognizing the fair's theme; Production and Teamwork for 2014. Presented by WGFI president Earl 'Ras "Zimba" Bedford, the team of Charles Leonard, along with daughter Britany and Jeannie "Fatie" Delsoin of Best Fresh Farm took center stage. Leonard has received many awards for the bounty he produces year after year on his two acres.
The award was met with cheers and joy from his fellow farmers. Leonard is an integral part of the farming community, and the community has watched 12-year-old Britany grow up. Leonard said he left the speechmaking to her.
"She told me she wanted to make the speech," he said later, "and that was OK with me. She's better at these things than I am."
Britany didn't disappoint. With perfect poise, she thanked her dad for teaching her to so much, and she thanked the farmers for all they do and she thanked the lord for his blessings, finishing with a big grin.
Agriculture Commissioner Louis Petersen said, "Charlie and his team represent the kind of farm team we want to encourage everyone to be. He is a model farmer. He does everything – he has a farmer's business license; he collects the data he is supposed to and submits it to the department so we can use it; he attends all the training. When you go to his farm, you can see the implementation of what he's learned, for instance irrigation processes. He sets an excellent example, and he supports every market here and on St. John."
And the commissioner had a few words for Britany.
"She is one of our youth farmers," he said. "We encourage Britany and other young farmers. I believe she can see the business of agriculture; she sees the return, the results. She sees the science and the business."
Her dad would agree. Taking a couple moments later, leaving manning the farm stand to Britany and Fatie, Leonard said changing the name of the farm had been Britany's idea.
"I've called it 'Sweetman Bordeaux' for so long. Britany said 'Best Fresh Farm' would be better for marketing."
Leonard said beekeeping is his passion. For years he has gone to stateside conferences. He has learned everything from bee management to swarming, queen bee panels and drone saturation, to name a few topics.
"The Virgin Islands is ideal for beekeeping," Leonard said."We have a yearround growing season, where bees can be active and produce honey."
Leonard says his bees dine on (or pollinate) cucumber, guava berry, genips, wild grape, and ketch and keep.
"It's a pretty sight to watch them in the trees," he says. He has no problem selling his deep amber honey.
Another highlight of Saturday's celebration was the debut of a 4.5 megawatt photovoltaic system installed on the roof of the pavilion. Sixty 75-watt panels were provided by the Energy Office, while Solential West Indies donated wiring, support racks and labor. Chint Power donated the inverter.
The system will be net metered and should provide a $285 per month savings.
In thanking the solar providers, Commissioner Petersen said if WGRI had had to install the system, it would have cost more than $15,000.
Petersen said thousands attended each day of the celebration.
"There were high spirits, the level of festiveness everywhere. It was really grand," the commissioner said. "The real experience of collaboration between private and public just shows what can be. I am confident that if we work in the same way, hand in hand, the industry would move faster and show what partnerships can do in moving the agriculture industry ahead."
Petersen commended the determination of WGFI over many years.
"Their support in accomplishing our collective vision for this site in particular make it a meaningful part of our economic development, making it a model agritourism market," he said.
The Bordeaux market is open all year, from 10 a.m. until late afternoon on the last weekend of the month.
As folks chatted happily about Saturday's bounty, someone was heard to say he liked best "the organicness" of the day. Who could have said it better?