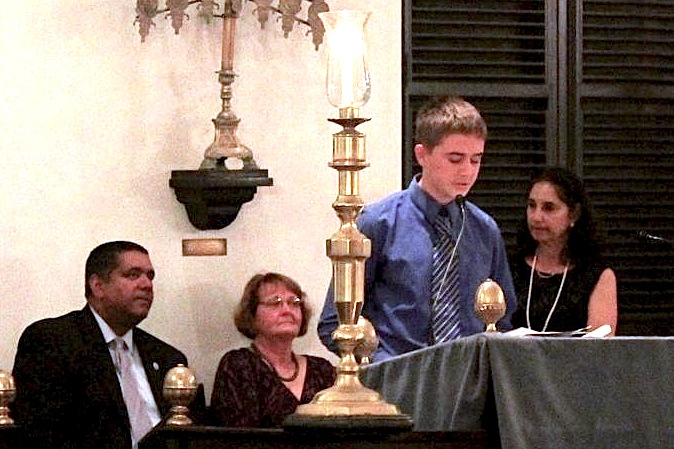 The warmly lit walls of the St. Thomas Synagogue housed some 200 people Friday who gathered in remembrance of Dr. Martin Luther King Jr. and to honor seven St. Thomas high school students who exemplify his values.
The Special Shabbat Awards Service is held each year by the Hebrew Congregation of St. Thomas. The usual elements of Sabbath service were interspersed with readings honoring the life and teachings of King.
The Martin Luther King Jr. Awards, made possible by the Congregation's Social Action Committee, also formed a significant part of the ceremony. The tradition of goes back four decades, according to Rabbi Stephen Moch, who has witnessed the awarding ceremony each year during the last five years he had been serving as rabbi.
"I meet people who are almost my age and have been the recipients of the award a long time ago," said Moch. "The Hebrew Congregation started very early in recognizing the importance of Dr. Martin Luther King Jr. and recognizing high school students on that basis, young people who worked hard to envision his dream and made their own values in accordance with that role model."
This year's King Awards were given to Marquisse Browne of All Saints School; Julianna de Haas of Antilles School; Brianna Hairston of Charlotte Amalie High School; Kheanna Fahie of Ivanna Eudora Kean High School; Keryl Liburd of Seventh Day Adventist School; Rodney Cyril Querrard, Jr. of Sts. Peter and Paul Catholic School; and Mikaela Carty of the V.I. Montessori School and Peter Gruber International Academy.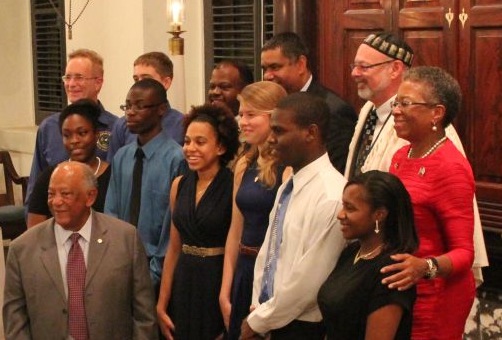 The students, nominated by their respective high schools, had to write an essay – written as if directly addressing King – on what they can do to make a significant difference in their communities.
Each of the student awardees were distinguished for scholastic achievements – from 4.0 grade point averages and memberships in national scholar associations to community causes, such as fundraising and community awareness campaigns about the natural world.
Fahie, a National Honor Society member and Humane Society volunteer, believes that, while many strive to make a positive difference, that may not be enough.
"The problem is that focus is placed on creating a giant impact," Fahie shared with the congregation, adding that in reality, work must be put "into the small details that make the big picture. "
According to Fahie, instead of trying to start with making a difference in the world, she would begin by making that difference in her community. She dreams of hosting a community center for children and youth between the ages of 1 and 18, who would later organize major monthly community service projects, such as feeding the homeless.
Hairston, also a top honor student in her high school and a member of the InterAct Club, assists in many community-oriented service projects. She believes leadership means action.
"I don't attribute being a leader with having a position or title," said Hairston. "A true leader is someone who can bring about social change peacefully and essentially inspire others to want to do their best."
The students each received $500 in scholarships and a special book, "Shared Dreams, Martin Luther King and the Jewish Community." They also received a certificate from Delegate Donna M. Christensen and a gift from Senate President Shawn-Michael Malone.
Career Ambassador Terence Todman, the evening's guest speaker, said he was not only "overwhelmed" at the opportunity to speak at the event, but also "inspired" by the student speeches.
"Martin Luther King did have dreams, but he never let dreams become his master,"
said Todman. "I am grateful…for hearing the words of these young people here who have followed the dream and done what they can to bring it alive."
Gov. John deJongh Jr. also expressed confidence in the young honorees' potential to make a change.
"This evening, we have a chance to honor seven young people who, I think, are the next generation of making sure that our world is better," said deJongh. "These seven individuals, I think, can make a tremendous difference."
After congratulating the teachers who he said had much to do with the molding of the student awardees, Todman left the students with a challenge.
"You are entering into your adulthood at a time when you are very, very badly needed," Todman said in closing. "This island has its problems, but the United States of America has great need for leadership and the world needs very badly to have people who will lead."