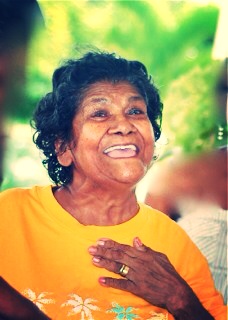 Felina Leah Hassan, also known as "Mama," of Herman Hill died on Jan. 7 at Juan Luis Medical Center. She was a woman of love, laughter and life. Mama lived a Christ-embodied life touching the hearts of everyone she came in contact with.
She is survived by her children: Eslyn Albert, Eileen Richards, Joycelyn Hassan, Beverly Hassan, Princess Hassan, Samuel Hassan and Lenard Hassan; grandchildren: Curleen Rogers, Curlita Rogers-Saunders, Joy Richardson, John Richardson Jr., Tricia Hendrickson, Alison Richards, Sheena-Lee Henry, Tamiaka Hassan, Elijah Hassan, Tatianna Hassan, Isiah Hassan, Yolanda Lopez, Samantha Hassan, India Hassan, Alicia Hassan, Rick Hassan, Ryan Hassan, Randy Hassan, Ryan Pope and Michele Pope; great-grandchildren: Juleen Willock, Julysah Willock, Brianna Noorhassan, Adonis Saunders, Amiyah Saunders, Juniyah Taylor, Josiah Richardson, Gion Richardson, Jaden Sommers, Tye Wanzer, Devin McNeil, Jai'El Farrel, Jai'Lise Farrel and Ryan Pope Jr.; as well as many other relatives and friends too numerous to mention.
There will be a viewing held at 10 a.m. followed by a funeral service at 11 a.m. on Wednesday, Jan. 15, at Grace Baptist Central Church. Interment will take place at Kingshill Cemetery.
All arrangements are by Divine Funeral Services LLC (773-0003).