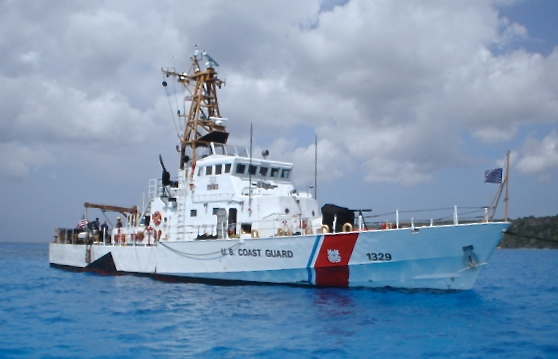 U.S. Coast Guard Lt. Nkosi Thomas and his crew from cutter Sitkinak visited St. Thomas this week, Government House said in a news release issued Tuesday.
Thomas, the son of Randolph and Janelle Thomas, is a Virgin Islands native son and the first Virgin Islander known to command a Coast Guard cutter. Based in Miami, Florida, Thomas has been at the helm of Sitkinak since July 2012.
He is a 2003 graduate of Charlotte Amalie High School and a 2008 graduate of the U.S. Coast Guard Academy. He is married to Jennifer Thomas of St. Thomas.
Gov. John deJongh Jr. said he looks forward to a one-on-one meeting with Lt. Thomas during this port call to St. Thomas or during future visits to the Virgin Islands.
"On behalf of the people of the Virgin Islands, I welcome the crew of the Sitkinak and Lt. Thomas and offer them a true Virgin Islands welcome as they gain much needed rest and relaxation in the Virgin Islands," Gov. John deJongh said.
The cutter is part of a Coast Guard patrol unit in the Miami sector. The ship's mission includes counter-drug operations, search and rescue and alien migrant interdiction.
Delegate Donna M. Christensen also weighed in.
"I am pleased to welcome Lt. Thomas for his first visit home, as commander of the Sitkinak," Christensen said.
She said she supported Thomas's application to the Coast Guard Academy and was proud to attend the ceremony at which he accepted command of the cutter in Florida in July 2012.
"That was an extremely proud moment for all Virgin Islanders, as he is the first Virgin Islander to command a Coast Guard cutter," she said.
Christensen said she strongly and repeatedly urged the Coast Guard Command in San Juan to bring Thomas home for a visit, and while this trip was a surprise, she was happy that he is home as he represents what is best about Virgin Islands youth and shows what they can accomplish.
"I have kept track of Lt. Thomas throughout his career and I am pleased that he continues to distinguish himself," she said.
Christensen congratulated his parents, Randolph and Janelle Thomas, and wished them well on their son's first visit back home as commander.