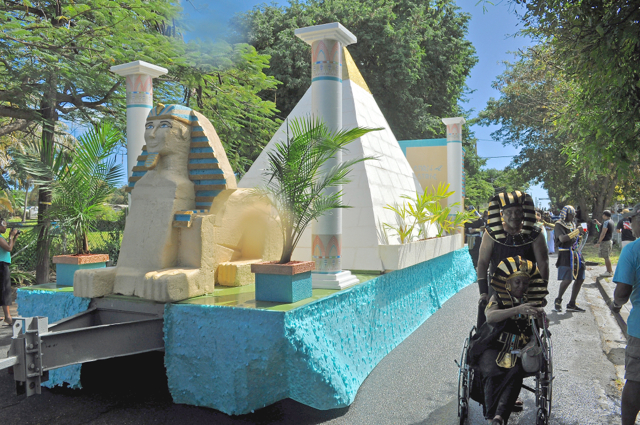 Locals and visitors treated themselves Saturday to the delights of the Crucian Christmas Carnival's adult parade in Frederiksted.
As usual, the streets surrounding the parade route were packed with cars, while the people who flocked in them to the island's west side crowded the sidewalks, cameras and cell phones at the ready to capture a picture or film a moment.
Rum and cold beer were plentiful, the music loud and the mood jovial, and with two cruise ships in town, many of the eyes taking in the parade came from afar.
The parade started under sunny skies a little before the noon hour.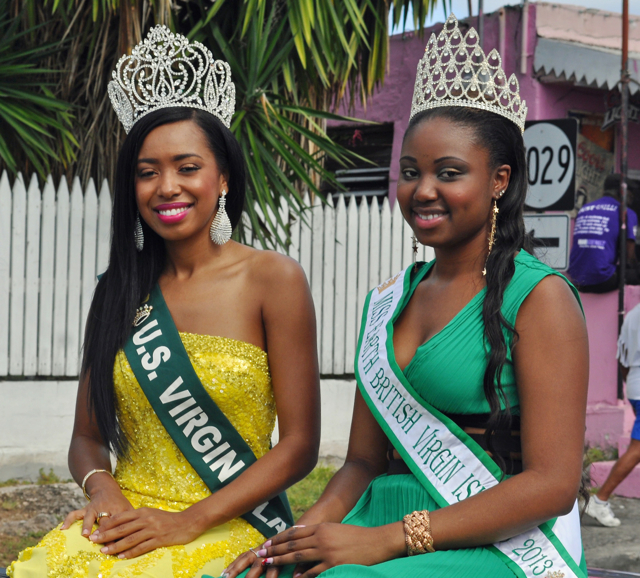 "I just wish it would start on time once," joked Carole Wells, who said she is a 30-year veteran of adult parades. This year she rode with her husband Glen in a Home Depot convoy passing out water, candy, beads and other goodies.
"I love it," she said of the adult parade. "I really do. Everybody has fun. It doesn't matter where you are from. It's fun."
Nayson Vega, costumed as Home Depot mascot Homer, was a big hit with the little ones as he waved his giant-sized cartoon hands and posed for pictures.
"It's part of our cultural heritage and has been done for so many years that if this isn't done every year, then there isn't any point in having a new year at all," Vega said of the adult parade. "Good music, good friends, what more could you ask for?"
"I'm having a blast," said Miss U.S. Virgin Islands' Vanessa Donastorg. She rode along with Miss Earth's Kimberly Herbert of Tortola, British Virgin Islands, who was attending her first Crucian Christmas Carnival and adult parade.
Donastorg reminisced about what she loved as a little girl, and her own reaction to getting to live that out.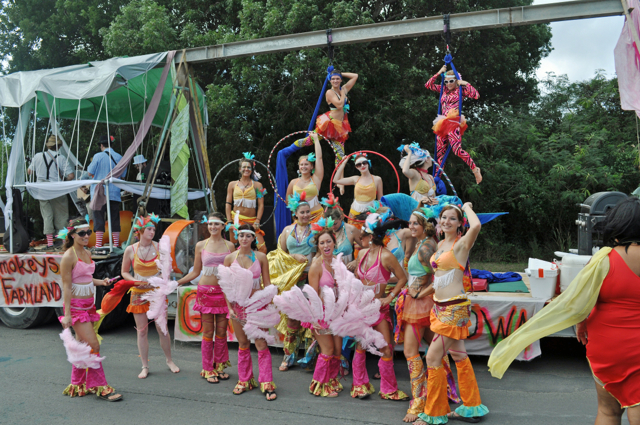 "My favorite part is the reaction of the little girls on the sidelines when they see a beauty queen. You can just see the glow. It's very inspiring," she said.
Herbert said she was honored to represent a neighboring island and "glad to come and join in the celebration."
A Zumba-themed troupe was one of the parade's early stars, and according to Zumba instructor Sonny Robles, the whole point of the Zumba theme was to bring getting fit and healthy into the limelight.
"You don't feel like exercising," Robles said. "You're going to a party every time."
A perfect fit for the adult parade, she said, because it was both addictive and effective.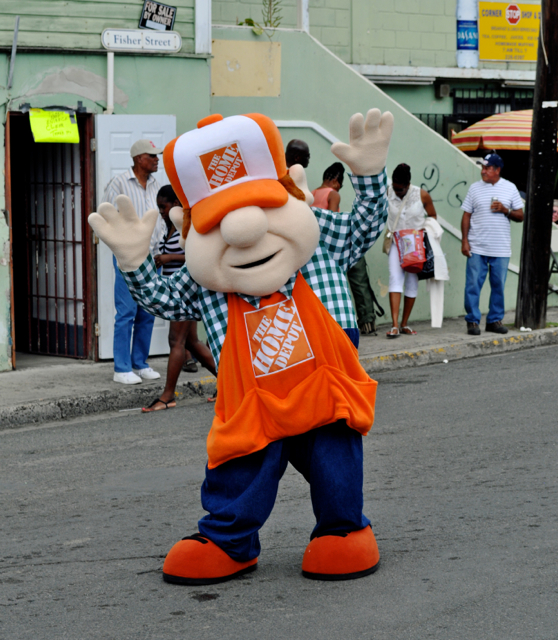 The St. Croix Majorettes were participating in the Crucian Christmas adult parade and party for the 40th year. They showcased 15 young women from the senior division with the theme, "Live It Up." Director Diana Garcia said the Majorettes have continued their support of the parade because, as ambassadors to the territory, it's about keeping the culture alive.
"In keeping the culture alive, we're keeping our legacy alive," Garcia said.
The parade went in starts and stops, as usual, and a short rainfall sent some people running for cover around 1 p.m., but it didn't stop Kiki from the Flaming Gypsies' dance troupe, taking part in their second adult parade, from demonstrating her literally fiery moves in the rain.
With gymnasts in tow, a bluegrass band and the regular line-up of fire dancers, Kiki described what she loved about the Crucian Christmas Carnival Adult Parade.
"My favorite part is making the children smile," Kiki said.
The smiling faces were aplenty.