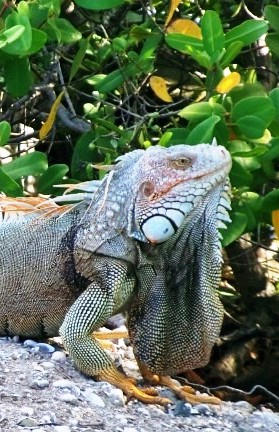 It's a new year – 2014 – a blank slate. And the first thing we had to do was find that lizard, or it might stay blank.
The Source's mascot, Idle the Iguana, has started every Jan. 1 by offering the readers his New Year's predictions and wishes, and perhaps a few resolutions. But this year we were having trouble finding him.
He wasn't in the patch of sea grape down by the waterfront or up the banana tree. We checked the warm patch of sun speckled pavement near Magens Bay, where he often lolls. No iguana.
We were walking back to car, trying to think of how we'd explain this, when we heard a noise. It sounded like humming, and it was coming from a pothole nearby. We peered down and, pressed against the edge, where the hole had undercut the crumbling pavement, was our friend Idle.
"How are you doing down there?" we asked. "Or, more pertinent, what are you doing down there?"
"Is it safe to come out?" the iguana asked.
We looked around. Seemed safe enough to us and we said so. He clambered over to the edge of the hole and hoisted himself out, then stood, stretching.
"That's better. Boy! What a racket last night. What is it with you humans and shooting off your guns to celebrate the new year? I mean, does that make any sense?"
"It never did to us," we agreed. "It's dangerous and it's illegal. We've never heard a good reason for opening the year with a barrage of gunfire."
"I just figured that the people who are doing it are compensating, you know?" Idle winked. "It's like, they have to open the year with a bang because that's the only bang they're going to get, you follow me?"
"We'd rather not," we said. "But we need to get moving here. We have a New Year's column to post."
"Oh, you humans are always in a rush," he scoffed. "C'mon, walk with me and we'll work this out."
And so we walked, Idle none too fast. And that was his theme as we sauntered down the sand.
"You know, every year I complain about the things that didn't happen the last year, but I've learned to take the long view," he said. "For instance, almost every year in this column I have complained about the Turnbull Library. Maybe this will be the year new library opens,'" he said in a voice that was a really good impression of an impatient iguana. "No? Then maybe this will be the year. And maybe this will be the year when they finally get around to opening the Christiansted Bypass."
"Well guess what?" he said. "Both of them opened in 2013!"
"We know. We were there," we said.
"Right, right. I saw you there, taking all those pictures. And they're great. But see, that's the point. All that complaining I did was so much wasted energy; I see that now" he said. "So sure, the waterfront apron in Charlotte Amalie is a pockmarked disgrace, and it's been 12 years of bureaucratic squabbling and planning and feuding. And the renovation of Fort Christian! When that started eight years ago we all thought the island's 326-year old historic structure would open in a year, maybe two."
"Or how about on St. John, where residents have waited and waited for the Public Works Department to fix Centerline Road near Coral Bay, you know? Where the road is washing down the hill? And there's plenty more things we could point at and complain. I've decided to look at the bright side."
"The bright side of projects that never get finished or sometimes even started? There's a bright side to that?"
"Sure! There's always something to talk about, isn't there? And if the project isn't finished yet, then at least no one has made a mistake. That's something."
We had to agree, it was something. Not much, but something. But that didn't slow down the suddenly energized iguana. He was on a roll.
"Potholes. Everywhere you look, there are potholes! Even the ones that get filled crumble right back in a matter of months."
"Yes, it'd be nice if, once the potholes were fixed, then stayed fixed, but that doesn't seem to be in the cards."
"Well, that was lucky for me last night, wasn't it?"
"You mean when the …"
"Right, when the New Year's gunfire started, there were plenty of places for me to take cover. In fact, I was able to duck and dodge from one hole to the next and made it almost halfway across the island before I fell asleep. You know the old saying, there are no atheists in potholes."
"Foxholes," we reminded him.
"What?"
"The saying. It's 'There are no atheists in foxholes.' Not potholes."
"What do foxes have to do with the state of the territory's roads?" he asked.
"Nothing."
"Well, then why bring them up?"
"But you said …"
"Think about it. Let's say Public Works doesn't fix the potholes. In fact, maybe they could have a pothole department that makes them worse! And adds potholes to any roads that don't have one."
"Are you sure they don't now?" we said.
"Good point," Idle said. "So anyway, if all the roads had the topography of a bombing range, wouldn't that slow down traffic?"
"It'd almost have to," we agreed.
"And all that bouncing up and down would probably ruin the front ends and axles of a lot of cars, which means there'd be fewer cars on the road," Idle said, triumphantly. "So the worse the roads are, the safer traffic will be! At least for me and my kind."
"That's not the way …"
"Sometimes I surprise myself," he said, beaming. "What else? Crime? Well, play to your strengths, I always say. Marijuana is illegal, right? Whether you think it should be or not, the fact is it's illegal. But if the Senate would embrace pot, it could be a huge boon to the island's economy. It could even save the hospital."
That stopped us in our tracks.
"You mean you think marijuana is the key to keeping the Juan F. Luis Hospital from going bankrupt?"
"More than that!" Idle said, his eyes gleaming. "Let's say the Senate passes a medical marijuana bill. And let's say the hospital gets the go ahead to transform Carambola into America's finest oncology resort. How much would wealthy retirees with fond memories of the 1960s pay to undergo their chemotherapy on a breathtaking beach with a potent joint in their hand? JFL could operate the remote location at the resort, tending to the patients' needs onsite while mending their broken finances with a flood of well-insured off-islanders getting stoned. GERS could keep the property and enjoy year-round occupancy rates of more than 90 percent. Statesiders could smoke our pension fund back into solvency."
The sheer audacity of the plan left us speechless. It was the sort of idea that made so much sense it could only have come from a reptile.
"Oh, and this is an election year, don't forget that."
"How could we?"
"Remember how long it took to verify the vote count two years ago? Well, imagine what it's going to be like when they use a new system with equipment none of you has ever tried before. I don't like to sound cynical, and maybe I'll be completely wrong, but I can't think of anything in recent experience that says our first try with the new equipment will go off without a hitch."
And that's just the actual tabulating of the votes, we pointed out. There's also the campaign.
"Oh, that's not so bad," Idle said. "It's all about education. If a candidate says something stupid, we know something about him or her. And if that person is elected anyway, it tells us something about the voters. It helps if you think of campaigning as a cheap alternative to psychiatry. If a candidate says a bunch of outlandish things and gets elected, she's not crazy. We are."
"What else do we need to discuss?" he asked. "The Senate finally voted on the Hovensa amendment, so there's at least a chance that there will be some good news on that front. Even if it doesn't get sold in the next year, doesn't it feel good to have some hope for a change?"
We had to agree.
"Same with crime. There's been a lot, but at least the number of homicides is way down. Also the number of hurricanes."
"But not for the same reason," we pointed out.
"Probably not, but I'm just an iguana. What do I know of cause and effect? I do know that with so many groups organizing and so many activities taking place to advocate peaceful living, it's got to change the communal mindset. Maybe people are starting to see that we don't have to assume the tide of violence will always go up. Maybe there's at least a chance that more people are willing to try a better way."
We were impressed, admittedly. This wasn't the same old cynical Idle the Iguana we remembered from years past.
"What's up with you, anyway?" we asked. "Speaking of medical marijuana, you haven't been …"
"No, no," he said, cutting me off. "No, I've just taken up yoga. You'd be surprised what a difference it can make."
Yoga? Really? A lizard?
"OK, so I can't get my legs into a lotus. But there's plenty I can do without crossing my legs. Oh, the satori you humans could achieve if only you had a tail that was half of your body's length."
With that, Idle the Iguana gave a jaunty wave and headed out into the sunny field, where he stopped and struck a pose. The last thing we heard from him was, "Ooommmmm."
Happy New Year.