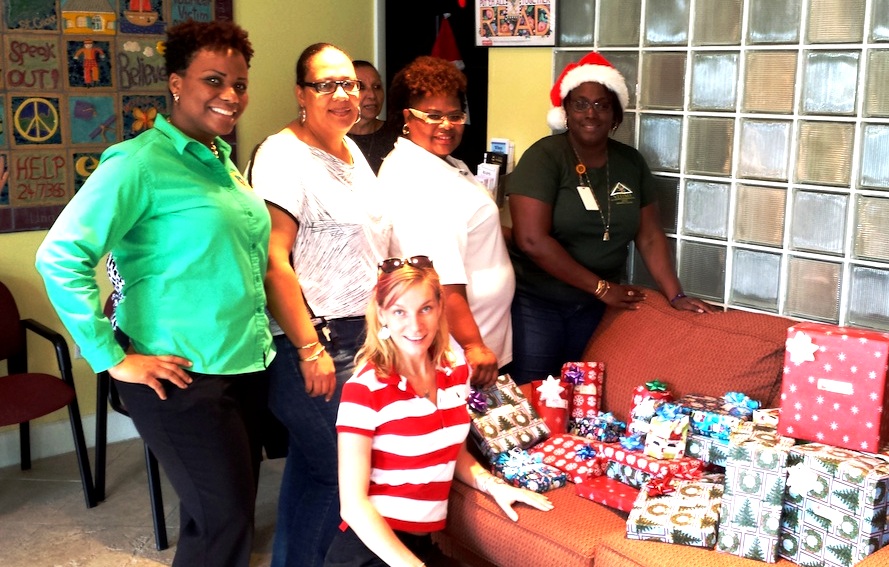 In the giving spirit of Christmas, V.I. Territorial Emergency Management Agency employees donated more than 20 gifts to the Women's Coalition of St. Croix on Christmas Eve, destined for Coalition clients age 11 to 17, according to the agency.
A small group of VITEMA employees trekked through a light shower to the Women's Coalition's main center to hand deliver the gifts to Clema Lewis, the organization's executive director.
This is VITEMA's second annual toy drive. VITEMA's 911 Emergency Communications Centers on St. Croix and St. Thomas kicked off the annual gift-giving last year, collecting toys for young children placed in the Queen Louise Home for Abused and Neglected Children on St. Croix and Nana Baby's foster home children on St. Thomas.
"Most of our contact with the general public is during times of emergencies and our goal with the Christmas toy drive is to demonstrate that we support of the community in other ways," said Ninafe Awong, 911 manager for St. Croix, in a VITEMA statement. "We also wanted to give back in a way that was meaningful and rewarding for the staff," she said.
Lewis said they were especially grateful for the toys, because often the toy drives focus on the younger kids rather than the teens. Lewis' team will hand the gifts to the teens on Christmas day.
The Women's Coalition of St. Croix provides advocacy, programs and services to end all forms of violence and oppression by promoting equality for all. To accomplish its mission, the Coalition provides crisis intervention services and counseling for victims in both English and Spanish.
The Coalition also trains volunteers as advocates for victims in crises, provides a 24-hour, year-round advocate program to assist men, women and children victims of rape, domestic violence and other violent crimes, and conducts self-help support groups for women and teen girls in crisis and adult survivors of incest.