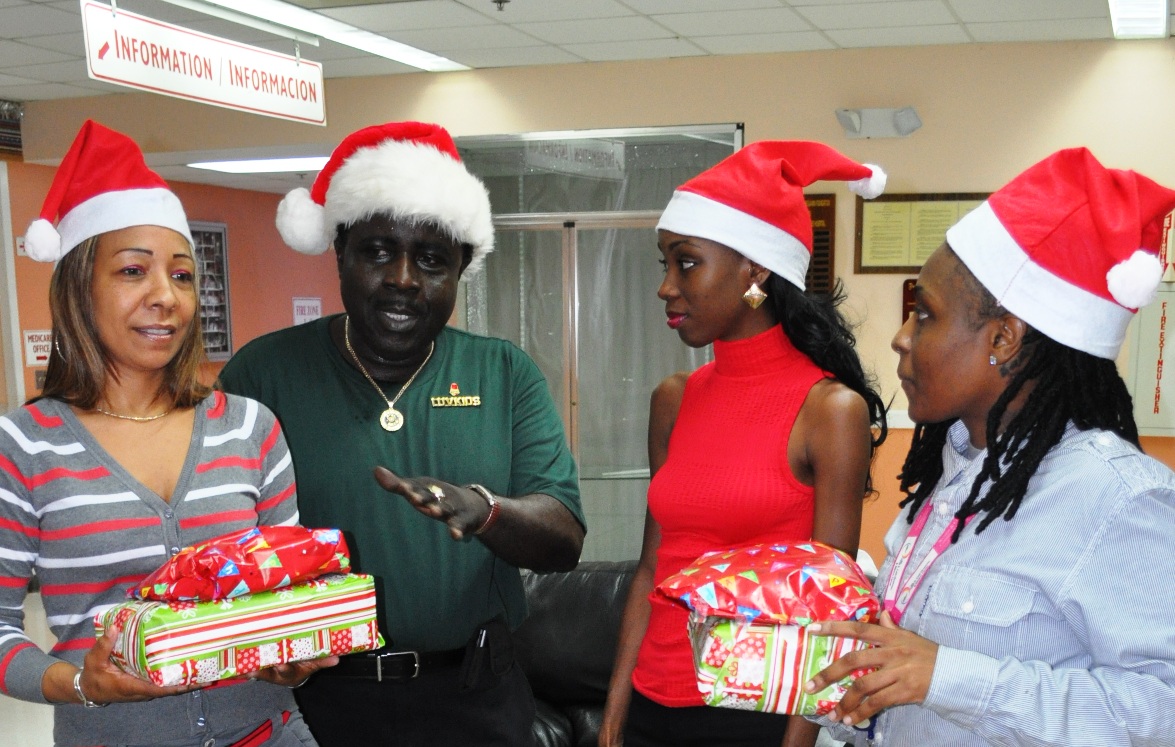 The giving never stops, even when times are tough. That much was made clear Tuesday as V.I. police officer Charles Nibbs and his wife Anita made their annual donation at the Gov. Juan F. Luis Hospital on behalf of the nonprofit organization LUV Kids that the two founded years ago.
With their Santa hats on their heads and with a bundle of wrapped gifts in tow for the hospital's pediatric and nursery wards' patients, the couple might as well have been Santa Claus and Mrs. Claus themselves.
Despite what Nibbs called a "rough year for donations," he still said it was quality over quantity and that the gifts being presented were "usable gifts" and educational toys with the hope a child recipient will truly benefit from the item and not just "play, play, play and throw it away."
"These families are really in need," Nibbs said as he presented the two unit secretaries of the wards with the wrapped presents in JFL's lobby. "This is what it's all about."
Twenty-year-old Shakirah Ritter, a junior at the University of the Virgin Islands majoring in criminal justice, lost her father to violence in 2008 and wants to become a criminal lawyer. She stood alongside Nibbs during the donation ceremony.
"People appreciate the effort that Officer Nibbs and his wife are making and I'm proud to be a part of something so positive," Ritter said.
For Anita Nibbs, she said the feeling of helping someone in need and the pair's now annual donation brought "pure gratification."
"The kids are very humble," she said. "They really appreciate it."
She said her husband "never refuses" to help those in need. "He loves the community. He loves helping needy people. He does a lot with his own credit card. He has a good heart."
For the officer and his two decades of giving and service, he said the most rewarding part is when he sees it come "full circle," meaning it's not uncommon to have former youngsters he helped come up to him and introduce them to their kids.
He also got nostalgic speaking of his love for JFL.
"This hospital brings back a lot of memories," he said, referring to a telethon he hosted years ago trying to secure funds to build JFL. "It really holds dear to me."
Because of that feeling, some JFL pediatric or nursery patient is having a merry Christmas.