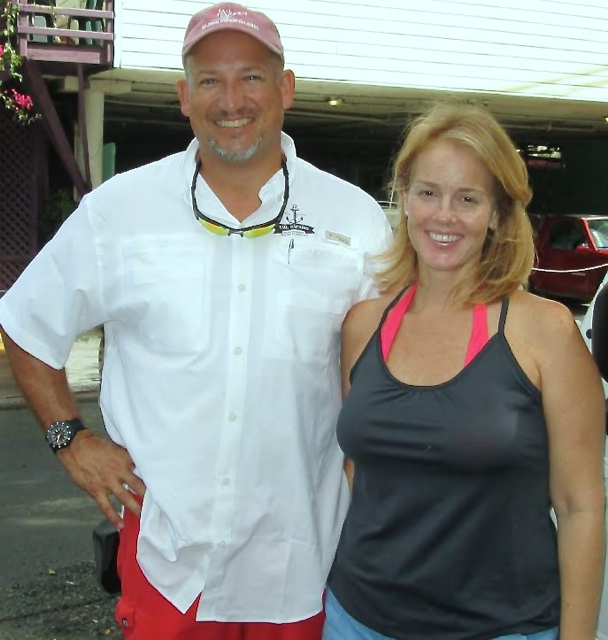 With a hankering for the nautical life and a yen to live in the Caribbean, Eric and Kellie Barley jumped when they saw that Sail Safaris in Cruz Bay was for sale.
"We packed up the three kids and the dog and took the plunge," Kellie Barley said.
She said they visited at the end of May to look at the business, made a decision and moved the next month.
With an office upstairs across the street from the Beach Bar end of Wharfside Village, they're only a short stroll away from their boats, which are kept on Cruz Bay Beach.
Sail Safaris offers a range of trips that include guided snorkeling tours aboard the 16-foot Hobie catamarans, sailing and snorkeling tours on Fly Girl, a 27-foot catamaran, and day charters on the Dell Rose, a 40-foot Beneteau. They sail around St. John and to Jost Van Dyke in the British Virgin Islands.
"And we do sailing lessons," Kelley Barley said.
She said Sail Safaris would like to expand into doing overnight charters because some people have requested it.
Sail Safaris provides personalized service. Eric Barley said they enjoy being part of somebody's vacation.
"We're helping to make memories," Kellie Barley said.
The growing company employs nine people.
The Barleys moved to St. John from Williston, Fla., where Eric Barley worked at the family peanut farm. Now 44, he was born in Coral Gables but grew up in Williston.
Kellie Barley, 40, was born in Puerto Rico because her father was in the U.S. Navy. She grew up in South Florida and is no stranger to hurricanes. She said her family lost everything when Hurricane Andrew devastated the area in 1992.
The Barleys met at the town supermarket in Williston, got married and with a total of three children between them, became a blended family.
The children all live with them on St. John. Trey Marshall is 17, Colton Barley is 16 and Amanda Marshall is 14. The Barleys home school them all.
Both Barleys said that Trey is already part of the family business.
"He's a really good teacher, and he's made an effort to learn the names of the corals. He gets a lot of reviews on Trip Advisor," Eric Barley said, referring to the Internet travel review website.
The family settled in Cruz Bay because housing isn't that easy to come by for newcomers to St. John. They find it a bit noisy, but Kelly Barley said it's very convenient.
The family had traveled to several Caribbean islands but decided on St. John because the U.S. flag flies overhead.
For now the Barleys are content to learn the St. John ropes, get to know the island and enjoy growing their business. Kellie Barley said they're adding merchandise to their small store where people go to check in for sails. The store carries sailing necessities such as T-shirts.
Eric Barley said they're often out and about Cruz Bay introducing themselves to other business owners.
They both want to be part of the community, and said they'd like to start a Cruz Bay Kids and the Sea Program. The island currently has a KATS program only in Coral Bay.
As for the future, Eric Barley has big dreams.
"I want to expand all over the world," he said.
Those interested can contact Sail Safaris at 1-340-626-8181 or visit www.sailsafaris.net.