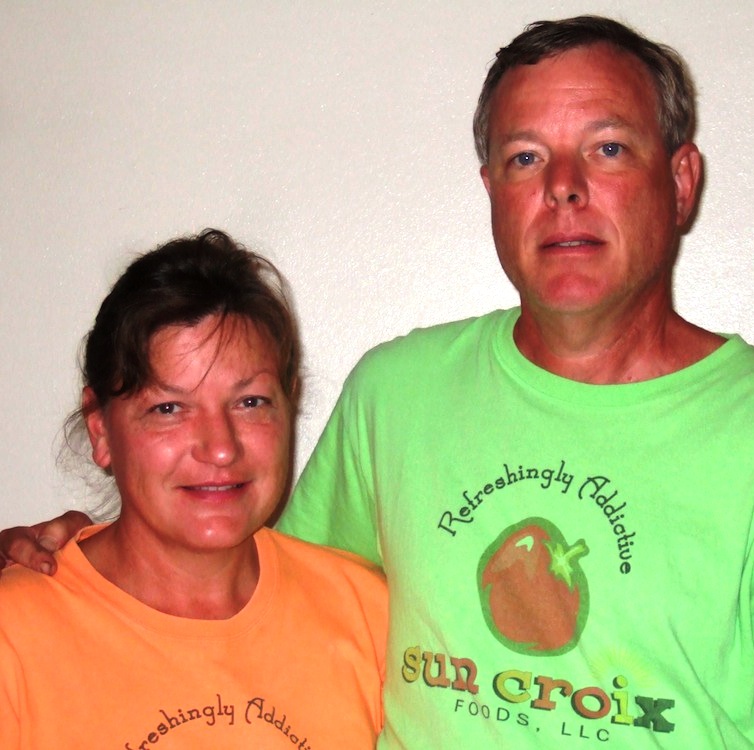 Gary and Laurie Pokorny moved to St. Croix two years ago to become full time farmers and, despite challenges, still believe the island can rebuild its economy by investing in and encouraging agriculture.
Farming can be a $100 million industry on St. Croix and feed not only the residents but the visitors, the owners of Sun Croix Foods LLC told Rotarians at Gertrude's Restaurant on Thursday. The Pokornys' numbers were based on consumers eating seven daily servings of fruit and vegetables at a cost of $6.50 a day.
"If you have a $100 million category you have an industry to develop," Gary Pokorny said.
There are about 250 farmers on St. Croix and 90 percent are over the age of 55, he said, so young people need to be educated about the value of a career in farming.
But farming isn't easy and challenges include the weather, water collection, fungus, insects, weeds, supplies, security and financing, he told the audience.
"All I want for Christmas is you and no more rain," Pokorny said to Laurie, his wife.
Spider mites and caterpillars are currently enemies of the Pokornys' tomatoes. A plant that should produce 15 pounds of fruit only produces five pounds on St. Croix.
A lot of politicians talk about the importance of agriculture but there has been little action in the way of funding and marketing, Pokorny said, except through the V.I. Department of Agriculture, whose staff and resources are limited.
"We struggle every day. It's a struggle to survive, especially on an island struggling to survive," Pokorny said.
The Sun Croix farm is 2.5 acres of land leased from the Department of Agriculture in Estate Lower Love. Currently there are about 4,000 feet in rows of produce, including 12 types of tomatoes, nine varieties of lettuce, three types of cucumbers, hot peppers, okra and herbs.
Business is brisk during the growing season – November to June, Pokorny said.
"We can't grow enough. We have people lining up," he said.
Pokorny said 1,600 full time farmers could make a living and grow enough produce on two acres of land to feed the island.
The Pokornys' long-term plan is to produce salsa, pickles, bloody Mary mix, ketchup and hot sauces. They grow sweet and hot peppers, including the Trinidad Moruga Scorpion, supposedly the hottest pepper in the world.
Produce from the Sun Croix farm can be purchased at six locations. Food in season, locations and the schedule are on the website, www.suncroix.com.