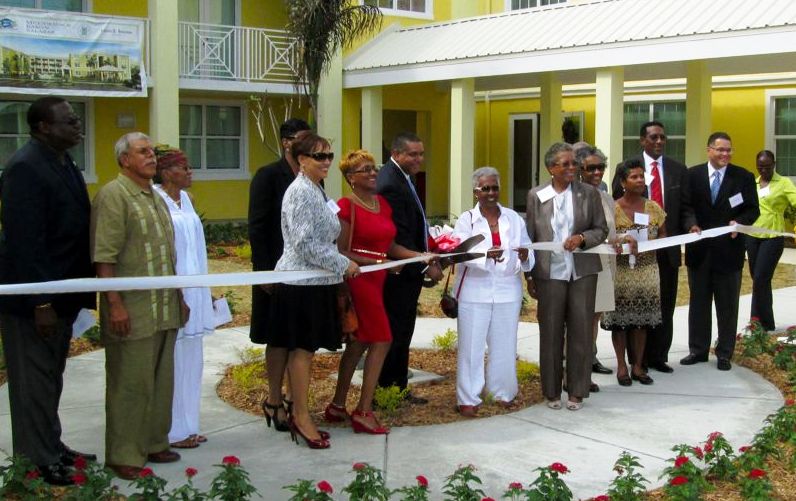 Forty new, super energy-efficient, disability-accessible apartments for seniors – with solar electricity, solar hot water heaters, low-flow water faucets and rainwater-collecting cisterns – opened Wednesday at the Louis E. Brown Villas in Frederiksted, with the governor, delegate to Congress and other dignitaries marking the day.
The $14.5 million Louis E. Brown Senior Villas have 36 one-bedroom and four two-bedroom units in an elevator-accessed three-story building. It is the second phase of a redevelopment plan that will ultimately create 244 units for families and seniors, all with energy-efficient appliances.
The new Brown Villas replace an older public housing community of the same name, built in 1970 that was severely damaged by Hurricane Hugo in 1989, then again by Hurricane Marilyn in 1995. They are the first new public housing units to open on St. Croix in more than two decades.
"My earliest childhood memories took place at the older Louis E. Brown Villas," said V.I Energy Office Director Karl Knight. His mother, who lives in Florida now, saw the new development and told him "Oh, they are building them Florida-style now," Knight said. "She means it as a compliment. But now I've got a chance to correct my mother and others that you don't have to move to Florida to have quality senior housing," he said to applause from the audience of dignitaries.
The V.I. Energy Office worked extensively with developer McCormack Baron Salazar and all the other contractors who he said "designed it from the ground up to be energy efficient, embracing our governor's goal of reducing our fossil fuel use by 60 percent."
Along with solar lighting, solar electricity and solar hot water, the V.I. Housing Authority and developers worked with the V.I. Water and Power Authority to create the first net-metering system for a multi-family dwelling, Knight said.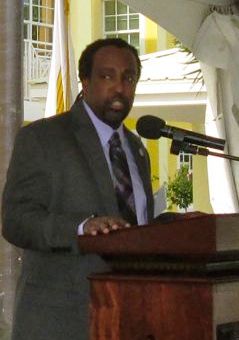 That means the building sells excess electrical production to WAPA and a portion of the proceeds is divided among the tenants and taken off their electrical bills.
"Don't tell my mother, but this is not Florida-style living. What she is seeing here is the new standard in island-style living," Knight said.
Vince Bennet, McCormack Baron Salazar's chief operating officer, said the Housing Authority and Energy Office "set the bar very high," but "we are shooting for excellence not only in design and quality but also in vision. And hopefully we have met that bar."
Bennett said the solar panels on the building will produce an average of 90,000 kilowatt hours of electricity per year, saving each resident about $400 per year.
The redevelopment has been financed with $20 million in Low-Income Housing Tax Credits from the V.I. Housing Finance Authority, along with $12 million from Housing and Urban Development through VIHA. The tax credits allow developers to deduct a percentage of the development costs from the company's federal tax obligation.
Louis E. Brown, for whom the villas are named, was a St. Croix native who served in several high-level posts in the V.I. government, including as commissioner of Agriculture and Labor. Born in 1917, Brown served in World War II before returning home and pursuing a career in public service. He died in 1972.