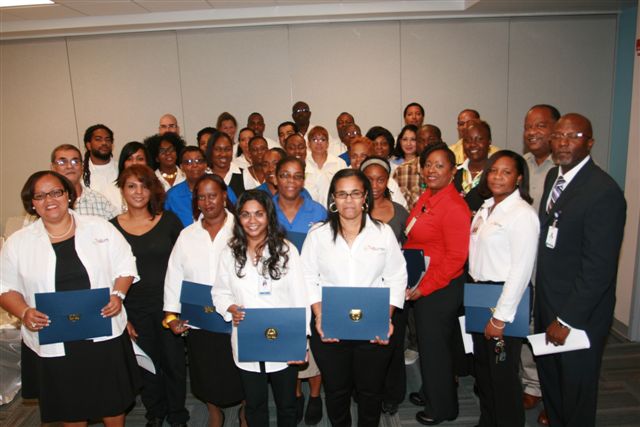 Gov. Juan F. Luis Hospital and Medical Center (JFL) hosted a graduation ceremony, at 10:30 a.m. on Wednesday, Dec. 18, in the hospital's Cardiac Center for 54 employees of various departments within the hospital who have completed their training as Six Sigma Yellow Belts. Interim Chief Executive Officer (ICEO) Dr. Kendall Griffith stated that "these employees will join the other 75 employees who previously completed their Six Sigma training and certification in October."
Six Sigma is a methodology that consists of many tools and several methods of analyzing company processes for flaws. The methodology is one of the most renowned business strategies known in the professional world, and the tools are highly statistically and data driven. It is also a belt hierarchy system, consisting of black, green and yellow belt levels.
According to Griffith, "the Six Sigma Yellow Belt is the first achievement that is obtained when a person begins their training in Six Sigma. For many years now, Six Sigma has been implemented in companies and healthcare organizations throughout the United States that want to improve their processes and increase their profitability. I believe now is the perfect time to implement its use at JFL, and I am confident it will help make a positive difference in how we deliver quality health care to the people of the Virgin Islands."
The keynote speaker for the graduation was Chief Master Sergeant Neville S. Lee, State Command Chief Master Sergeant for the Virgin Islands Air National Guard. He was joined by other government officials who were invited to attend.