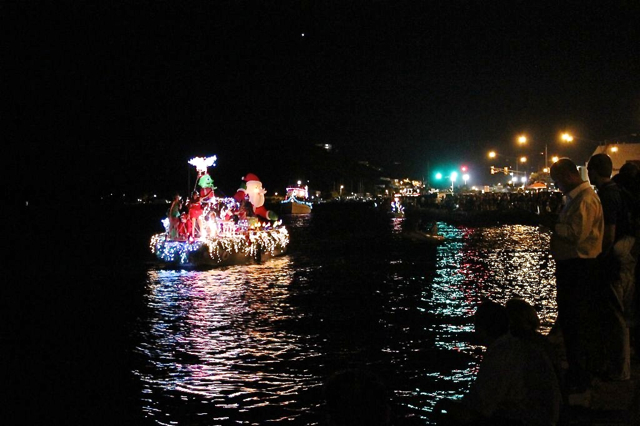 Crowds lined the waterfront all the the way from Frenchtown to the Alexander A. Farrelly Justice Center Friday night to watch 15 colorful, light-festooned boats sail across the Charlotte Amalie Harbor for St. Thomas' 13th Annual Lighted Boat Parade, their sparkling lights reflecting off the inky water.
The enthusiastic audience – from camera-wielding tourists to local repeat attendees equipped with folding chairs and blankets – cheered as each lighted boat passed by, trying to outdo the last with innovative designs and just sheer volume of lights decking all parts of the vessel.
The boats, ranging from 20 to 85 feet in length, assembled at Elephant Bay just outside Crown Bay Marina. The boats started parading at around 6:45 p.m., going through the east Gregory Channel, passing in front of Oceana at Frenchtown, and by 7:15 p.m., sailing along the waterfront for the waiting crowd.
Upon reaching the area in front of the Alexander A. Farrelly Justice Center, the boats turned around to head back to the starting point, and repeated the route four times. The entire process took about two hours.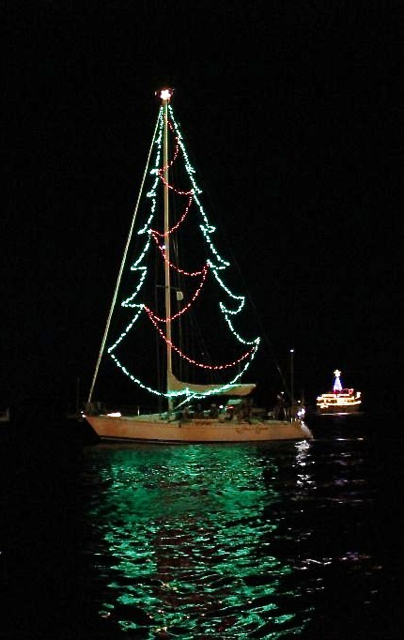 "Somewhere in the audience, either by land or by sea, we have three secret judges," shared parade director Erik Ackerson, adding that judges looked out for the most original designs, best use of lights and best Christmas theme. "They judge on a five-point system based on those criteria."
Most boat entries went for the heavily light-bedecked look, complete with giant inflatable Santas or stars and snowflakes. Some boats made a statement with minimal lights and simple designs, such as a tall-masted sailboat that looked like a giant, line-drawn Christmas tree against the dark sky, and two boats decked as reindeer, with only lighted "ears" and bright red noses. Local media icon Alexander Randall and his family decided to light themselves up instead of their dinghy, appearing as floating glowing stick figures.
The boat parade, always held in conjunction with the St. Thomas-St. John Chamber of Commerce's Miracle on Main Street, began unofficially 21 years ago, according to Ackerson.
"It just started with a couple of boats, people that just wanted to decorate their boat and go from boat to boat singing Christmas carols," said Ackerson, who also serves as marine economic advisor at the V.I. Economic Development Authority. "And then other people saw, and then they added, and all of a sudden it just started to get organized."
The event was officially organized 13 years ago by the Virgin Islands Chartered Yacht League, which opened the competition to both motor and sail boats of all sizes. Crown Bay Marina supported the parade by providing free slips to entrants so they can decorate their boats in calm conditions.
Safety is a priority, according to Ackerson, who emphasized that all registered boats must be Coast Guard safe, equipped with personal flotation devices and carry a handheld radio or VHF.
By 9 p.m., the judges, who had gathered at Tickles Dockside Pub after the event, had decided on the winners.
Morgan 1, captained by Benjie Swartz, won first place for the second year in a row. Their $500 prize was donated to the Nana Baby Home.
The Cruzan Breeze catamaran, captained by Bert Reynold, won second place. Their $250 prize went to the Family Resource Center.
Third place and $125 went to Captain Jimmy Jones' Friendship, which was a past Lighted Boat Parade champion. Captain Richard Ewing's Molto Benne won fourth place and a $50 gift certificate from Crown Bay Marina.
For Ackerson, the parade is a beautiful way of promoting the Virgin Islands and of getting the V.I. community together.
"It's just something that's just very Virgin Islands," he said. "We are surrounded by the most beautiful waters in the world. By showcasing our beautiful waters, and having our residents face seaward, they see the beauty of the waters and the vessels."
As for the continuing the Lighted Boat Parade, Ackerson added: "It's a family, neighborhood, and community tradition, And as long as we have a boat and one light, we'll always have a lighted boat parade."