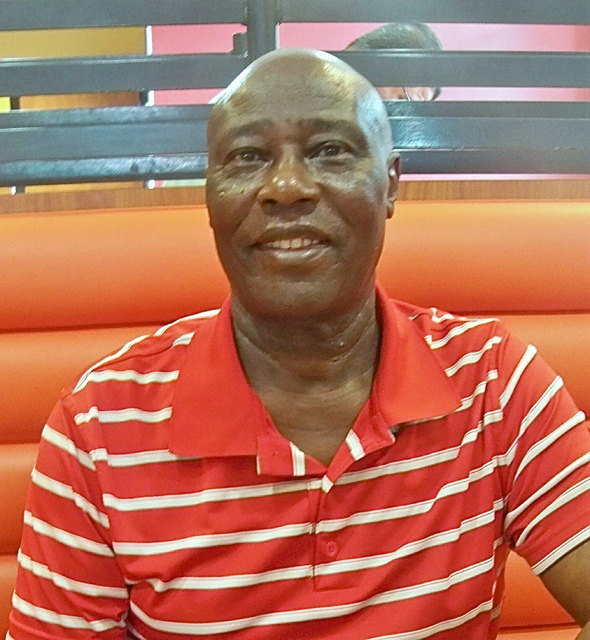 Chaplain Ludger Berkitt has evangelized at Golden Grove Adult Correctional Facility more than three decades. More than half of that time he was a volunteer, and 15 years ago he became an employee at the prison.
"My job is to bless the Lord," the 71-year-old Berkitt said."God called on me and gave me the gift to evangelize."
Berkitt, an ordained Assembly of God minister, said working in a prison is hard. but he has gained the prisoners' respect. He believes respect is one of the most important things to have when working in that situation.
"If you give respect you have respect," Berkitt said. "They will try to wear you down and try to get you to do what they want."
He said over the years he has seen a lot of inmates come and go, and a few come back.
"There are so many cases where the inmates have turned their lives around and turned their lives over to Christ," Berkitt said.
According to the chaplain, if young men truly gave their lives to God they would not end up in trouble and in prison.
His assistant preachers, Ruben Rivera and Alrick Roberts, are doing time for murder.
Roberts is a born again Christian. In a written testimonial submitted to the Source, he said "I used to say with my mouth that I was a Christian but you could not see the Christ-like fruit. That is because I was a crook and a hypocrite. That is where I was. God has been merciful to me to forgive me of all my sins, wash me in his blood and called me his child. I now preach God's word of deliverance."
Rivera said in his testimony, "Today after 23 years in prison I preach the Gospel of Jesus Christ to all inmates. I want people to see that with God there is real change. I can say with confidence today I love my enemies because God loved me when I was his enemy."
Rivera said his life was not the same after he read the Bible.
Berkitt said Cheyenne Santiago, a former prisoner, is preaching at a local Hispanic church and is getting married this month.
In a Dominican accent he hasn't lost in the 45 years he's been on St. Croix, Berkitt said all the inmates have a chance to practice their religion.
"Everybody has their own time," Berkitt said. "Nobody gets left out."
There is a special room for the Muslims, Rastafarians and Nation of Islam, he said.
Generally about 80 inmates attend services, Bible studies, and prayer and worship meetings, which are held three times a day in a chapel. He said a lot of the prisoners find the Bible interesting. Guest preachers and worship leaders come in every day.
There is a separate women's ministry. He gives special counsel to the inmates and their families during times of sickness or death.
Sometimes he plays a crucial part in a prisoner's life. He related a recent incident where he noticed a prisoner looking troubled. He talked to him, found out the prisoner was contemplating stabbing another prisoner who had stolen a CD from him. Berkitt talked him out of it.
He added if the inmates accept Christ while in prison when they leave Golden Grove they will be strong enough to make it on the outside.
He said he doesn't plan to retire any time soon, and will keep putting in his 40-hour weeks. He said preachers never really retire because they can always minister to someone.
"It isn't about what I've done for the inmates. It's what God has done," Berkitt said.