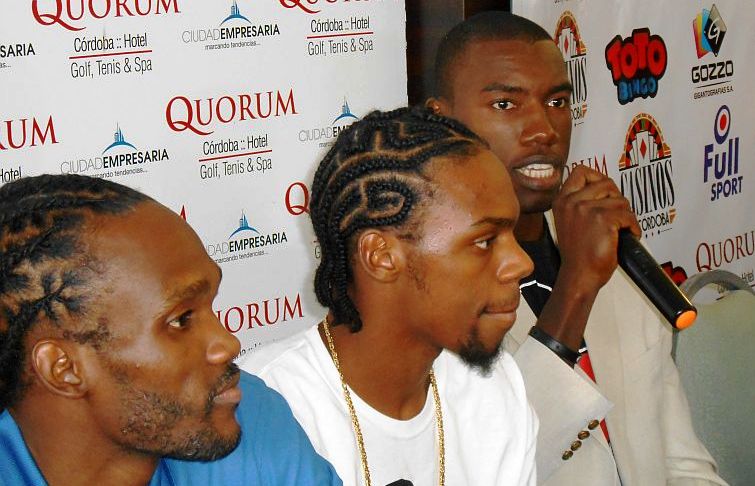 As the territory's professional boxers prepared to weigh in Friday for their Saturday night fights in Argentina, they were surprised with the news that both Julius Jackson and Samuel Rogers will be in contention for World Boxing Association title belts.
According to Jackson (16-0, 12 KOs), the group was told this could be a possibility a few weeks ago.
"But since we've been here, it's been confirmed and we feel great – really excited and ready to bring another title back home to the Virgin Islands," Jackson said, speaking from South America. Jackson will be boxing for the vacant WBA Fedebol Super Middleweight title; he is currently the World Boxing Council's USNBC super middleweight champion.
The five-bout fight card kicks off at 8 p.m. (7 p.m. here in the territory) and will take place at the historic 20,000 seat Chateau Carreras Olympic Stadium in Cordoba. The event will help to commemorate the 100th anniversary of the town's legendary soccer club and will pit the 340 Boxers against their toughest opponents to date.
Jackson – who is the night's main event – will face off against Argentina's Miguel A. Cobas (11-1-5, 4 KOs).
Rogers (14-0, 8 KOs) will be testing his mettle against Argentina's Carlos Adan Jerez (37-16-3, 18 KOs). Rogers a co-headliner for the main event, will also be in contention for the vacant WBA Fedebol Junior Middleweight title. He is currently WBC's Fecabox junior middle-weight champion.
Speaking from Argentina, Rogers recalled how he was surprised years ago with the news that he would be fighting for his first belt.
"Just like the news of the other belt caught me off guard, I was surprised by this announcement, but I am excited and can't wait to bring the belt back home," he added.
No stranger to the spotlight, the territory's third professional boxer, John Jackson will also be fighting in the stadium ring – this time against Argentina's Jorge Daniel Miranda (51-15, 20 KOs).
Residents looking to catch all the action can tune in online at: http://www.tv-envivo.com.ar/2011/01/tyc-sports-en-vivo.html.
Videos, updates and photos of the boxers' trip can be found at: http://340boxing.com/340-boxers-fighting-in-argentina/.