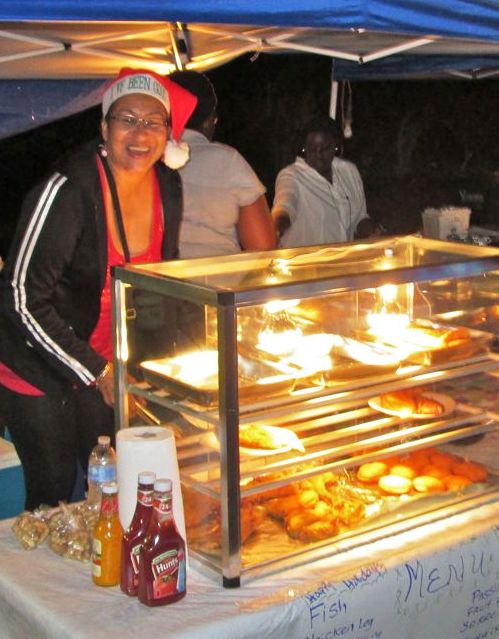 The aromas of johnny cakes, pates and alcapurrias wafted through the air as vendors packed hot boxes with hot food and engineers set up for the night's musical entertainment as the Crucian Christmas Carnival began with the first evening of the Christmas East Mini Village on Friday.
Police were all over the park on foot patrol and riding Segways. The V.I Police Department had the mobile unit close to the bandstand, and there was a convivial, family atmosphere.
It is the second year now that the Christmas festivities have included this short, smaller mini Carnival village, after a nine-year hiatus, and people in Christiansted and points east definitely seem to like it.
"Yes we do like having this mini village," said Geraldine Samuel, who was with her husband getting a bite to eat at one of the dozen or so vendors selling hot local treats.
"It's a good thing. It really benefits those of us who live in Christiansted," said Richard Samuel as he bought a hot meal from The Rodney's Crucian Culinary Treats, a hot food stand manned by Xandra Peterson, Medisa Rodney and Wilma Rodney.
Liliana Belardo de O'Neal, who has cooked up hot Caribbean and Puerto Rican delicacies for the Christmas festival for years, spoke of the benefits of having a mini village on the east end of the big island.
"Many of the less mobile, the elderly and children do not like to drive to Frederiksted," O'Neal said. "This lets everyone come out and listen to music and have some food and get into the action of carnival," she said. "I'll tell you a secret, the vendors do like it too because we can make some more money this way."
She was there cooking with her husband, Humberto O'Neal, and some friends and family members, heating up the oil, rolling out johnny cakes and stacking hot boxes with seasonal pasteles, tied up into neat parcel packages.
"We have everyone here with us. We are Crucian and Puerto Rican and now we have the Dominican Republic too because my husband Humberto is from there," Liliana O'Neal said. "We are a big mix just like the Virgin Islands."
Once the bands hit the stage, the party was on and pounding soca rocked the crowd until the wee hours of the morning.
Festivities continue on Saturday and everyone Croix is invited to show their island Christmas spirit by showing up or even participating in the traditional Ole Time Night Parade with Stanley and the Ten Sleepless Knights.
The parade begins at 6 p.m. from Sunday Market Square and down King Street. Then the music and food resume as the mini village enters its second night.
Go to www.stxcarnival.com for updates, photos, information and a chance to listen to the latest soca music for the season.