The University of the Virgin Islands' business and entrepreneurship programs got a major boost Tuesday from Oson VI founder Dale LeFebvre, who topped an already whopping $250,000 donation to UVI with another $100,000, and then challenged other local businesses to step up and do the same.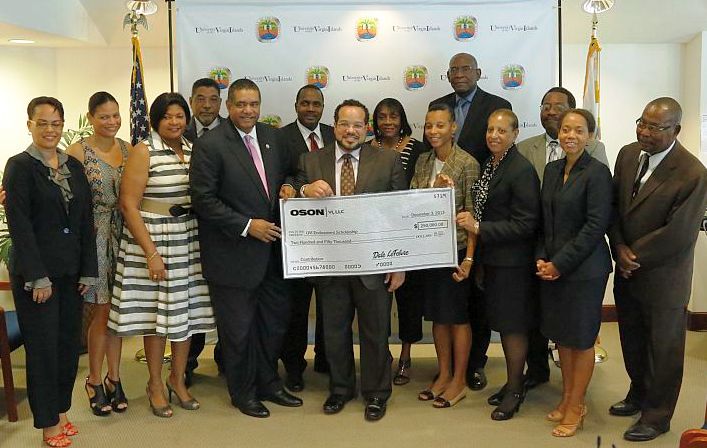 During a ceremony held on the St. Thomas campus, UVI officials said LeFebvre's donation would go a long way in helping students as young as eighth grade. The initial $250,000 would be broken up three ways: $100,000 for the creation of the Oson VI LLC Endowed Fund for Recruitment and Retention, $100,000 for the creation of the LeFebvre Endowed Student Fellowship Award (both endowments will benefit UVI's business school), and $50,000 to be split among the university's Community Engagement and Lifelong Learning Center (CELL) along with UVI's college and career readiness initiative for SAT prep programs.
Opening the ceremony, UVI's vice president for institutional advancement, Dionne Jackson, said LeFebvre personifies the "tenacity and entrepreneurial spirit" many of the university's students strive toward and described his donation as a means for helping them achieve their goals.
The donation will support aspiring UVI accounting students, provide much needed financial resources to the university's student recruitment and retention programs, and help local high school students improve their college admissions test scores, Jackson said.
"Today is not just about the check," she said. "It's about the spirit and generosity of an individual who is taking time to help others get the education and substantive experiences they need to succeed."
Tuesday's presentation was months in the making, according to LeFebvre, who spoke about a conversation started with V.I. First Lady Cecile deJongh after the two were seated next to each other while on a plane to Miami.
That meeting led to another with Gov. John deJongh Jr., who also spoke Tuesday, noting that he was, after two hours of speaking to LeFebvre in his office, convinced of LeFebvre's commitment to the territory and to the educational advancement of its students.
"The conversation that I had that day with Dale was, I thought, entrepreneurship at its greatest," deJongh said, adding during the ceremony that LeFebvre's donation would now inspire students to succeed and lay the foundation for other local businesses – particularly those, like Oson, that receive Economic Development Commission tax benefits – to lend their support to the university.
Speaking Tuesday, LeFebvre also called on other local businesses to contribute and sweetened the pot by donating another $100,000.
"I would like to have other EDC companies match what we're doing," he said, adding that the Caribbean and the university have a long history of molding successful academics. LeFebvre also spoke about the encouragement he received from his great-grandmother and his success on the PSAT, which helped propel him into college.
Thanking LeFebvre for the gift, UVI President David Hall said Oson has set the bar high and that he hoped that others would soon follow.
"Because here, we deeply believe that as UVI moves forward, the territory moves forward," Hall said. "This donation will touch every aspect of our students' development and that's what we really need."
Oson VI is a local management, investment and advisory firm; LeFebvre is a managing partner.