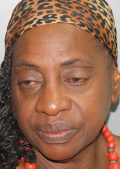 Jennifer P. Parris was arrested Friday and charged with driving under the influence of alcohol after she was involved in an auto accident on the Queen Mary Highway, according to the V.I. Police Department.
Officers responding to a vehicle accident at about 1:45 a.m. Friday noticed that the driver, Parris, had a strong smell of alcohol on her breath and body. Officers administered the field sobriety test, which officers said she failed.
Parris, 62, was placed under arrest and she surrendered her drivers' license in lieu of $1,000 bail.
The VIPD Traffic Enforcement Officers on St. Croix, St. Thomas and St. John caution drivers not to drink and drive, and to have a designated driver or call a friend to take them home if they have been drinking.