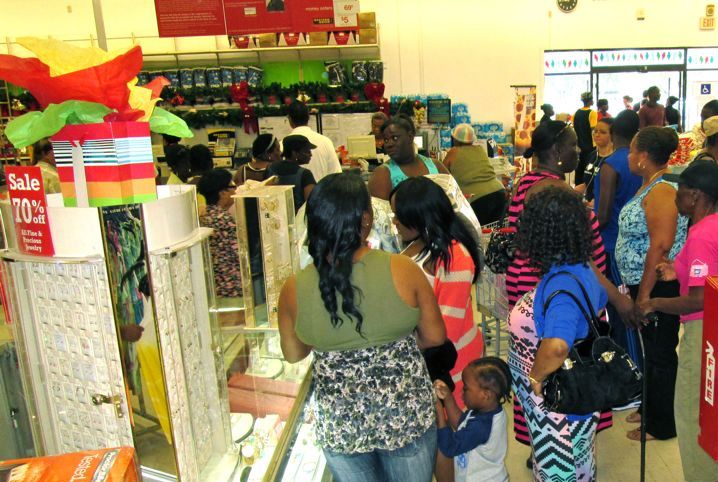 Shoppers all over the territory flocked to stores Friday to snatch up Black Friday shopping deals and begin getting ready for Christmas, filling stores, but perhaps not quite as full as years past, at least on St. Croix.
Sunny Isles Shopping Center may have been the shopping focal point on St. Croix. The whole mall
was busy, though by no means as crowded as the images of chaos and carnage at stateside shopping malls shown in news reports. (See: This Photo Proves Black Friday Isn't Worth It in Related Links below)
A line snaked outside of Radio Shack. Store security counted and admitted a handful at a time, as other patrons left, keeping the number within safety limits.
Applause was another popular spot, with its array of educational and inspirational books for children and adults, gifts, party decorations and cards. But every store seemed busy.
The Sunny Isles' food court was a big winner, although no one was buying presents, as shoppers who were tired and hungry from wrestling crowds and standing in line thronged in for a bite to eat and a chance to sit down and go over the day's shopping plans.
Christmas bells were in the air, rung by men and women at the familiar Salvation Army tripods, calling shoppers to remember the reason for the season.
Shoppers rested in the mall's outdoor auditorium seats, facing the stage, where two giant red, black and white wooden soldiers stood guard on the mall's tinsel-festooned stage, as if he Nutcracker Suite were about to begin.
Kmart, where the big crowds flowed in and out, had extra merchandise piled here and there, with tall stacked displays of shirts in one corner and boxes of bicycles in another. The lines flowed at a reasonable pace despite the crowds, with every register open and extra staff on hand helping shoppers.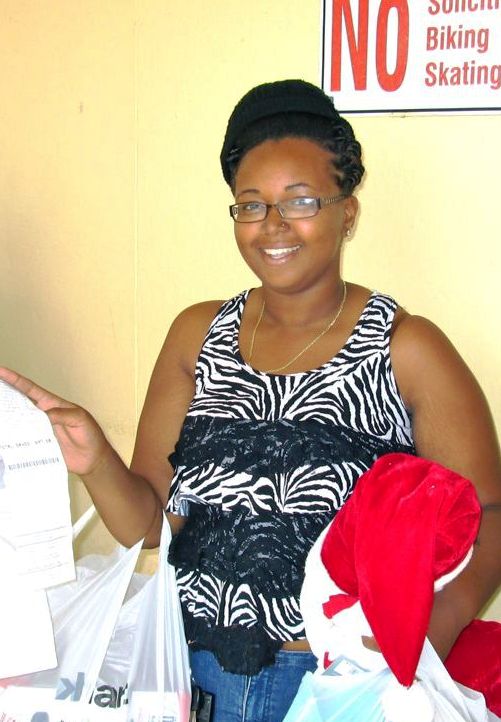 "We stocked up a lot beforehand," said Joanne Nickeo, general manager of Kmart East on St. Croix. "We a bit concerned about the volume at first, but it looks like it's going to be a nice day. It's been busy and steady so far," Nickeo said.
Rodd Samuel, manager of Kmart's Appliance Center Store, said shopping was solid all day with lots of people buying major appliances. "But last year we definitely had more people in the store," Samuel said.
Shoppers seemed to be pretty happy with their experience.
"I got a lot of good stuff and I spent about half what I expected," said Afifa Gordon as she left Kmart East. Gordon said she came out at 6:50 a.m.to shop for her two children.
Coming out of St. Croix's Kmart West with a cart full of clothing, toys and strollers, St. Croix resident Anna Severina said she had bought Christmas presents to send to family living in Santo Domingo, Dominican Republic.
"Oh yes," Severina said, when asked if she got some good deals.
On St. Thomas, Jessica Alvarado, co-owner of "How 'bout Your Pet" at Yacht Haven Grande, was a happy lady Friday. "We've never done the Black Friday sale before," she said. "It's going so well, we've decided to carry it over for tomorrow for the locals that have to work today."
The colorful little shop, which Alvarado owns with her sister-in-law, Stacy Alvarado, was brimming with customers Friday afternoon all remarking over the literally hundreds of items – everything from a pricey little Barkin bag (a take-off on the very pricey Birkin bag) to bow ties that light up, kitty rompers, necklaces (that is to say, collars) sparkling with rhinestones, and, in the case of one customer, a Santa dress outfit.
Mary Gleason was debating the size on a dandy little Santa outfit for Gigi, her Maltese. "I just don't know if it will fit," she mused like any mother. "Well, I'll bring her in tomorrow for a fitting."
Alvarado pointed out their sale table. "Everyone heads right here," she said holding up a sparkly kitty collar, "but our best sales today have been pet carriers."
The esplanade at YHG was bustling, with folks hurrying into the shops to get out of the rain, if nothing else.