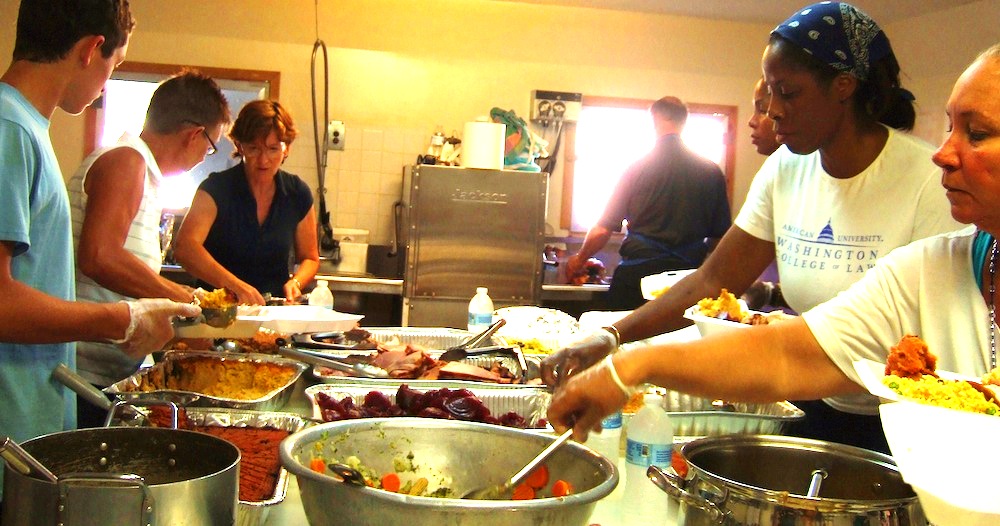 Before the doors opened at 11 a.m. Thanksgiving Day, volunteers already had packaged more than 400 turkey and ham dinners, with dessert, for the needy and homeless on St. Croix. By 3 p.m., a total of 1,233 meals had been served by a loosely knit group of community volunteers at the Holy Cross Catholic Church.
Millie DeChabert was one of the founding members 23 year ago of the grassroots effort. The number of volunteers has grown since then – as has the number of Thanksgiving guests.
Lenore Finch, one of the organizers of the community-driven event, said that for the last several years, 700 or 800 meals have been served during the day. This year people arrived early and a great number had been served before noon.
Preparations for Thanksgiving begin each year in October, according to Finch. Volunteers are enlisted to cook, bake and/or deliver food to and from the church. Starting at 8 a.m., people show up to donate their time to carve, package plates and serve a massive dinner in the St. Mary's School dining room. Some volunteer two or three hours or until someone else steps into the line.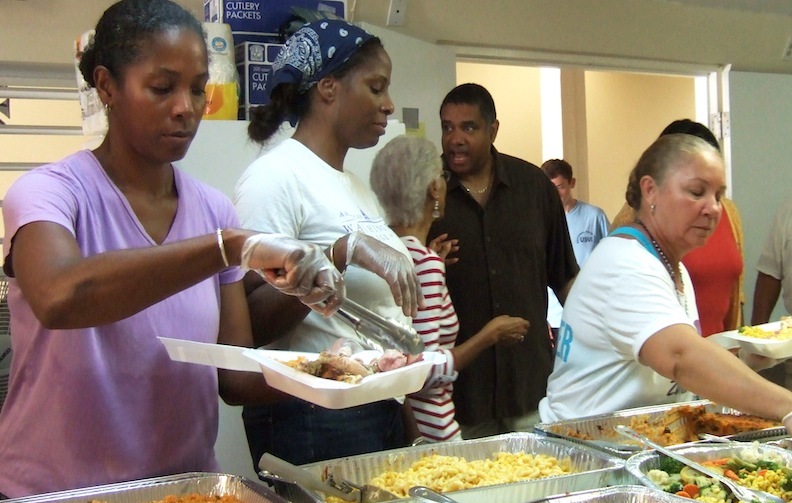 For this year's dinner, volunteers, including Gov. and Mrs. John deJongh Jr., bought and delivered dozens of cooked turkeys and hams, mountains of rolls, potato stuffing, rice, macaroni and cheese, vegetables and gallons of gravy. Desserts included cakes, pies, tarts, bread pudding and cheesecake.
"I recognize that today represents only one meal for the year and much more is required," said Luther Edwards, who has been involved and delivered food for the last 10 years. "Several organizations that routinely fulfil this need were able to take a day off and enjoy the time with their families," Edwards said.
Throughout the morning, vehicles filled with people picked up food to deliver to shut-ins, homeless and the elderly. The Sisters of Charity picked up and delivered 200 meals to various locations and another group distributed 50 dinners.
Some volunteers like Finch, Edwards and Ricki Nelthropp stayed all day and served food until 3 p.m.
"It was a great feeling not to turn anyone away because of the lack of food. The dining room guests thanked and blessed everyone profusely as they left," Edwards said. "It was heart warming to see the happy faces and hear the many comments of 'the food was good' from those who were served."
For the first time, Edwards said he and others who stayed until the end, took the remaining plates of food and passed it out to individuals on the streets of Christiansted and Sunny Isle. Next year, they will try to cover more of the island as long as food is available, Edwards said.
Some charities have reported an increase in 20-30 percent in the number who need daily meals, according to Edwards, which may explain the increase of more than 400 meals served this year.