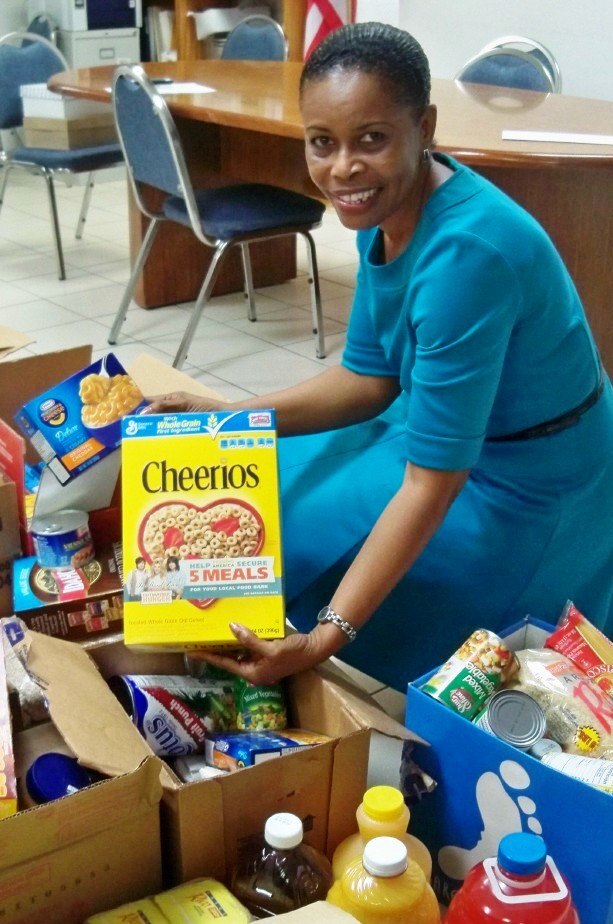 Members of the St. Croix Federation of Teachers assisted needy folks by organizing a food drive and collecting food for them. Saturday they collected nonperishables to stock the pantries of Catholic Charities and Lutheran Social Services of the Virgin Islands.
Food items and money were collected during a nine-hour food drive conducted at Plaza Extra East and West. Shoppers were cordially greeted at the door and asked to purchase something from a wish list of needed food and to drop it off with a SCFT member as they left the store.
Boxes of food collected during the union's second annual food drive were distributed evenly between the two charities Tuesday.
"We're overwhelmed with the community support," said Rosa Soto-Thomas, SCFT president. "Without the community's support this wouldn't be possible. People are spreading good will and willing to contribute even if things are down."
"They still dug deep into their pockets," Soto-Thomas said, adding she believes that giving is therapeutic and she noticed people are smiling and glowing when they are giving.
Soto-Thomas said when she became president of the teachers' union she wanted to get engaged in the community and participate in the food drive.
"Last year it was a slamming success," Soto-Thomas said. "St. Croix teachers are excited to be able to help with this effort." Members as well as student volunteers assisted with the drive.
The holiday food collection is only part of an ongoing community outreach effort by the union that represents teachers, school related personnel, support staff and paraprofessionals in the St. Croix School District. They also donate food to specific families throughout the year, she said.
"We are committed to working with individuals and organizations in our community to help solve the many challenges faced by the students in our classrooms and their families," Soto-Thomas said. "So we jumped at the chance to work with Catholic Charities and Lutheran Social Services on this food drive."
Mary Clarke, Lutheran Social Services director of housing management, said the folks getting the food will be ecstatic. "I truly believe this will bring joy to the people in our independent living facilities."
Susan Kraeger, Lutheran Social Services director of public relations and development, said they are glad people are reaching out to assist the needy at this time, even with the economy the way it is. She said the donations will go to people in the Lutheran Social Services residences. She added they are typically low-income senior citizens and people with severe disabilities.