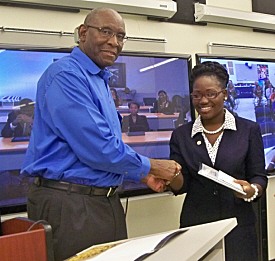 University of the Virgin Islands President David Hall and UVI business major Sheena Tonge switched roles in the President for a Day role-reversal on the Albert A. Sheen Campus on St. Croix.
On Oct. 30, Tonge served as president of the university, while Hall took on the role of a student.
At a program Monday, Tonge, a 22-year-old senior, said she never thought a president did much, but after being president for a day she sees it differently now.
"I see the president is passionate and wants to take the university to another level," Tonge said. "The job isn't to be taken lightly. The president has to sincerely care about people."
Tonge, a student on the Sheen Campus, was the winner of UVI's second President for a Day initiative. Tonge said to qualify she had to fill out a scholarship application and go through an interview. The program is designed to offer students a professional development experience and insight into the realities of running a university, and to give the institution's top administrator a better understanding of the student experience.
"I was shocked that I was chosen," Tonge said with a wide smile. "I was so excited. It's an honor to have had this opportunity." For her participation, she was presented a $1,000 scholarship Monday.
As UVI president, Tonge's day included meetings with the Student Government Association (SGA), UVI Board of Trustees chairman and the St. Croix Presidential Advisory Committee. She spoke with Haldane Davies, special assistant to the president.
"I was nervous, because all eyes were on me," Tonge said. She added it was a wonderful experience working with people she normally wouldn't.
Nereida Washington, director of St. Croix campus operations, said Tonge came with a platform and what she wanted to execute.
The students may get something positive out of Hall's role-playing.
Hall jokingly said his back is still bothering him after sleeping two nights on the mattresses in the residence hall. Hall said he wants to explore the cost of new mattresses for St. Croix.
Hall's plans were to stay one night but he decided to experience more of the life of a student on St. Croix. He wanted to spend more time on campus walking around and taking it all in.
"I enjoyed the beauty of the campus and the students," Hall said. "I was treated so well I agreed to stay two nights. I felt welcome in the student life." He added he had the opportunity to meet a lot of kids as a resident assistant.
Hall acted as vice president in SGA. In that role, he was asked about getting air conditioning in the residence hall.
He attended a "Business Strategy and Public Policy" class. Instructor Paul Flemming, said Hall was punctual, prepared and he participated. Hall also spent a little time with young men in Iron Man, a community service club on campus. He also attended Midnight Madness until 11 p.m. He said they need more on-campus events like midnight madness with basketball, food, music and fun.
Hall said as the school president and a student he would like to see more pride, school spirit and students wearing the school colors more often. But he had nothing but positive takeaways from his experience as a student.
Around 40 people, including students from the Freshman Development Seminar, attended the afternoon of testimonies and sharing of experiences. Numerous testimonies were given by students, staff and faculty on Hall's and Tonge's participation.
The program was video-conferenced to the Neil Weiss Education and Seminar Suite in West Residence Hall on St. Thomas.