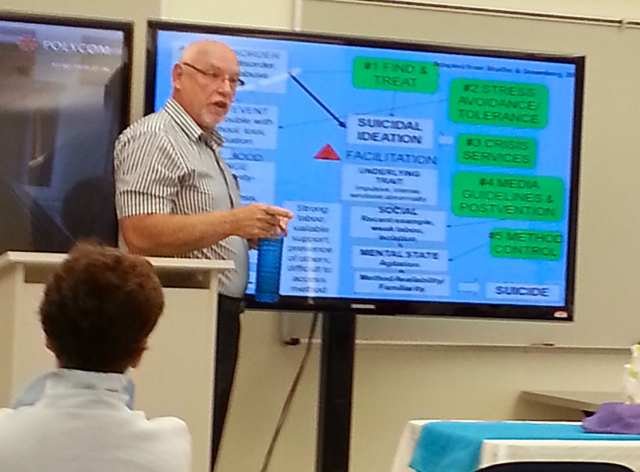 Family and friends gathered Saturday afternoon to pay tribute to loved ones lost to suicide as the University of the Virgin Island's Psychology Club hosted the 15th annual International Survivors of Suicide Day conference on the school's St. Croix campus.
The conference was co-sponsored by the National Alliance on Mental Illness and coincided with similar events scheduled in 250 cities across the U.S. and around the world.
Alvin Bedneau, president of the UVI Psychology Club, said suicide is a permanent situation and it's real in the community. A small minute of inspiration can make a huge impact on someone who is thinking about taking his own life.
"Words can carry," Bedneau said.
People who commit suicide are typically suffering mental pain, according to psychologist Ronald Herron, associate clinical director with V.I. Behavioral Services.
"The pain is intolerable," Herron said "There is nothing anybody can do about; it lasts for all eternity."
Men are more likely to commit suicide than females, Herron said. Suicide in 15 to 24 year olds is the third leading cause of death for that age group, behind accidental injury and homicide. Herron said firearms are the most common method of committing suicide, followed by ingestions leading to overdose and hanging.
"Approximately 65 percent of completed suicide use handguns," he said.
Herron said more than 90 percent of individuals who committed suicide have a psychiatric disorder or are depressed.
"Depression is the mother of anger," he said.
Suicide is "a little pocket of time," and it can be headed off with suicide awareness programs, screening and recognition, Herron said, adding that antidepressant medications such as Prozac or Zoloft can help.
The conference continued with a podcast featuring speakers and panelists of American Foundation for Suicide Prevention sharing personal remembrance of a family members who died by suicide.
Aminah Saleem, NAMI president, ended the conference with a candle ceremony. An open discussion followed.
Elizabeth Pichardo shared her memories of Lisa Galiber.
"We called ourselves the black sheep," Pichardo said.
Don Bailey attended the conference in memory of Freddy Perez, his partner of 13 years.
In 1999, Sen. Harry Reid introduced a resolution creating National Survivors of Suicide Day after his father committed suicide. Local communities began observing the day and it was renamed International Survivors of Suicide Day, observed on the Saturday before Thanksgiving.
On St. Croix, the event has been marked by UVI psychology club for three years.