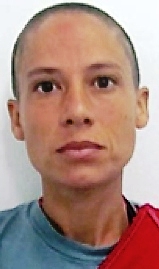 Heather Turfely escaped custody from the Alva A. Swan Annex in Subase, St. Thomas, on Wednesday, the Bureau of Corrections reported.
Turfely, a white female who will mark her 37th birthday on Sunday, escaped custody following the completion of her work detail at the facility's laundry Wednesday evening.
Corrections, the V.I. Police Department and other law enforcement are seeking to apprehend Turfely, who has been diagnosed as suffering from a mental illness.
Turfely stands 5 feet, 5 inches tall and weighs approximately 112 pounds. She has short black hair and brown eyes. She is a native of New Mexico but has been living in the territory.
Prior to her escape, Turfely was being detained on charges of second degree robbery.