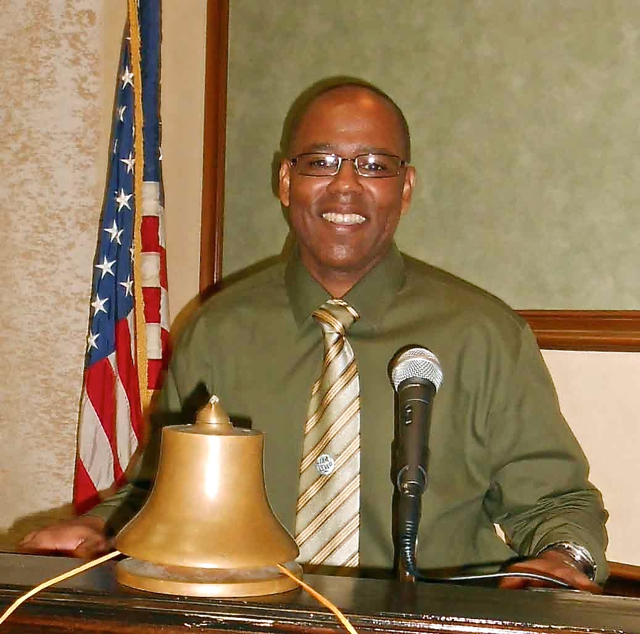 Crucian Basil Richards painted a grim picture of the Virgin Islands he sees today, as opposed to the one he left in 1989.
"It hurts my heart," Richards said of changes he sees in the territory.
Richards, warden of the V.I. Bureau of Corrections, Golden Grove Adult Correctional Facility on St. Croix, addressed the Rotary Club of St. Thomas Sunrise Tuesday morning. As part of the club's Practice Peace Initiative, Richards addressed conditions at the prison.
"I was asked in 2010 to come home to work in the prison," he said. "It was a big decision for my family – my wife and three children – to relocate. It took us four months to make the decision, but I wanted to come home to my other family, the Virgin Islands. I felt the sacrifice was worth it."
Richards began his career with the California Department of Corrections and Rehabilitation in 1989. He rose in the ranks through the system and was promoted to the Office of the Inspector General as a deputy inspector general senior. He was instrumental in creating the California Prison Inspection Program and had become the in-house expert when he left to take the local position.
Richards was candid in expressing his sorrow at what he sees in the community and in the prison.
"I'm not here to sugarcoat anything," he said. "Golden Grove is unique in many ways. The prison is a dumping ground; we have everyone: the mentally ill, detainees, people in protective custody, violent criminals all under one roof. No prison in the Unites States runs like this. We've been under a consent decree for 28 years. It's not a pretty picture."
(The territory has one facility for the mentally ill, the Eldra Schulterbrandt Facility and Annex in Estate Tutu on St. Thomas, designed for severely mentally ill patients.)
"It costs the government $128 daily per prisoner," Richards said. "If we send them to the states, it's $68, but when they come back they are angrier than ever. We haven't rehabilitated them; we've prevented them from family visits, being able to speak to those they love."
Richards lamented the lack of educational programs the prison is able to offer. He provided a sobering statistic – a large portion of the prison population has an average third grade education.
He spoke of the prevalence of crime on St. Croix in particular.
"What are we doing?" he asked. "I have a nephew who is the victim of a stabbing. It hits home."
Speaking of growing up on St. Croix, Richards recounted warm experiences where "everybody left their door open, people watched out for one another. This was the place I loved/"
He looks forward to being able to provide some rehabilitative programs in the prison. Funding is, of course, the issue.
"We can't just lock people up all day. We need to give them something to do. I have guys come to me asking me for something to do."
However, there is a bright spot, hope for a less violent community. Richards spoke of something dear to him, the Alternative to Violence Program, which has held workshops in the prison since 2011.
Talking with Rotary members after the meeting, Richards said,"It's so important for the inmates to have someone who listens to them. They need to talk, and this is why the program works so well, with the inmates learning to communicate in a peaceful manner."
Discussing the program with the Source last month, Richards said: "We live in a society that is riddled with violence, and our prison is no exception. The Alternative to Violence Program helps prisoners to resolve disputes and create unity among their peers. The program deals with prisoners learning to respect one another, communicating their differences in a non-violent way, and understanding why violence occurs in the first place. As a result of the AVP, especially in such a small prison, violence is significantly reduced."
In February of 2011, Richards returned to St. Croix as the Chief Investigator for the Virgin Islands Bureau of Corrections. Within the BOC, Basil worked as an acting Warden of the Golden Grove Adult Correctional Facility and is the Chief Commander of the Special Operations Response Team (SORT). He was promoted to Warden in September 2012.
Rotary's 107th birthday on Feb 21, also known as World Understanding and Peace Day, is being targeted as the kickoff date for a major peace summit. These talks by local community leaders, whose work is focused within those areas affected by violence, as well as individuals who hold the keys to solutions, pave the island's road toward that summit.
More information on the speakers and how to support the community effort is available by calling Rotary President Shaun Pennington at 1-340-777-8144.