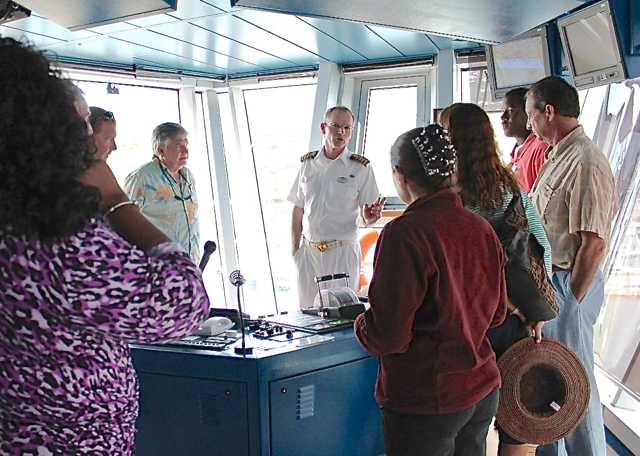 Three St. Thomas businesses, represented by 15 owners and staff, gathered on board the Emerald Princess Saturday to be honored by Princess Cruises for gaining the highest tour ratings among Princess passengers.
"Princess does that for the recognition of the great work these guys do," said Emerald shore excursion manager Isabel Pires.
The awards are an annual affair, done for each Princess cruise itinerary, Pires explained. All Princess passengers, when they go on shore tours, fill out comment forms and rate specific tours. The number of customers per tour is also taken into account, said Pires, so the awards are categorized as low volume – 10 clients or fewer – or high volume, with more than 10 clients per tour.
"In some itineraries, we don't even pick anybody," said Pires, who emphasized that the awards are not easy giveaways. "Sometimes, businesses don't reach the standards based on the volume of customers, or the number of sold tours during the season."
The plaques were handed out Emerald Captain Nicholas Nash, along with Pires and Chief Security Officer Karen Boxall.
Local boat captain Tom Andreano, who was hailed "Tour Guide of the Year," said, "I always consider this a people job, and we get it done."
Andreano's three-man crew can take anywhere from 25 to 80 people for a sail on the "Castaway Catamaran." Popular with the tourists is their all-day tour, said Andreano, starting with a sail to Buck Island, where they take a snorkeling stop, followed by lunch at Honeymoon Beach on Water Island.
"It takes the whole day, and people get very relaxed. It's just a wonderful little trip," said Andreano.
BOSS Underwater Adventures and Scenic Cruise, operated by Aqua Adventures, earned top ratings as "High Volume Tour of the Season."
"We do something that's … only done in five places in the world," said Jim Briar, captain of "Prince of Tides," which takes the clients out to the dive site. "You can snorkel at any island, but our tour allows people to go underwater and see everything like a scuba diver would, without any effort or training."
BOSS clients get briefed on operating underwater motor scooters with a helmet that allows divers to stay submerged for up to 30 minutes, Briar explained. He added that safety divers accompany each underwater excursion, which is kept at a shallow eight-feet-below-the-surface depth.
"It's very easy to do and you don't even have to swim," he said. "They get to see the beautiful things that St. Thomas has to offer that are below the water."
Coral World Ocean Park's Sea Lion Swim won top praise as "Low Volume Tour of the Season."
"It's very rewarding to work with the sea lions in general," said marine mammal trainer and professed animal lover Sarah Stuve. "But just the fact that I get to share them with other people is even more rewarding for me."
Sea Lion Swim clients experience educational briefing on sea lions, as well as land and water interaction with Coral World's four South American sea lions, whom Stuve described as "very personable." They have no problem showing off "really cool behaviors" to tourists.
"We don't like to say they're like big teddy bears because we don't want people to treat them like pets," said Stuve about their "four boys," who are all turning 10 in January. "From a trainer's perspective, we really build bonds with these animals and they're like our kids."
After the businesses received their awards, the owners and staff were treated to lunch in one of the ship's formal dining areas, a rare tour of the bridge personally attended by the captain, and finally, a guided tour of the entire ship.