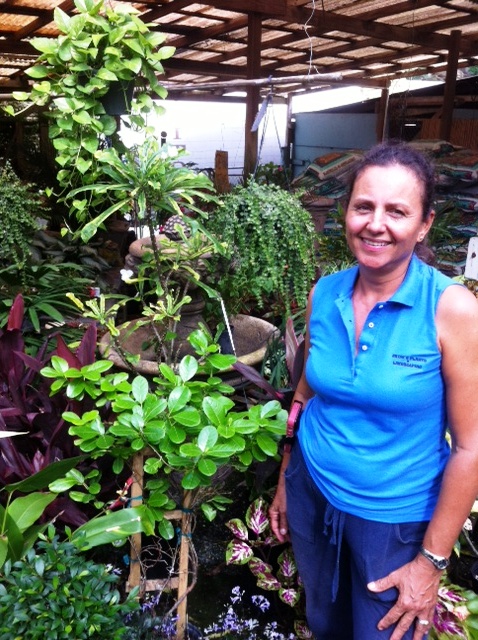 Looking for alamanda or yellow bell? How about some frangipani? Bougainvillea? Foxtail fern? Basil or tea bush?
If it grows in the tropics, you can probably find it on St. Thomas' Northside at Bryan's Plants, Landscaping and Garden Supplies. More than likely, one of the Bryan clan will be there to sell it to you.
Over the past 40 years, the family-run business has become an island institution.
Jackie (Bryan) Neuburger grew up there.
"I loved it from a child," she said, so it was natural that when she finished high school Neuburger went to college to study horticulture and landscape design. She got her degree from Florida Southern College in Lakeland, Fla.
"We are the biggest (nursery) on island," Neuburger said. The primary location sits across from the fire station in Estate Dorothea and consists of nearly two acres of terraced land holding thousands of potted plants as well as a small retail shop for gardening supplies. Larger plants, like palm trees, grow on other properties nearby.
"We do have a lot of inventory," Neuburger said. Fortunately they also have a lot of water. There are two wells on property, one of which they tap regularly. Extensive roofing also catches rainwater and channels it into cisterns – four of them. "Thus far we have never had to buy water."
Neuburger said her father, Carl Bryan, officially started the business in 1970, giving up his career in construction to devote full time to the nursery, but it was her mother, Elizabeth, who planted the seed. It seems Elizabeth Bryan had so much luck with the plants she grew in tin cans that they were taking over the homestead, so she took her husband's advice to "take them up the street and sell them."
Retired now, Carl Bryan still keeps his hand in, raising herbs and vegetables. He's helping to supply the growing number of customers who want to grow their own food.
"He's the hardest working man that I know," Neuburger said, adding that a nursery requires constant attention. "Plants are like children. You can't close the door and walk away."
But the nursery is only part of the story.
Neuburger keeps busy planning and planting landscaping for private homes, businesses and government projects. Among her long list of clients are several public schools, estates and large homes in Botany Bay and, on St. John, a number of road projects, hotels and other commercial properties.
"I do the design work as well as the installation and irrigation," she said. Most plants need water every other day, so she typically recommends a drip system. In the long run, it's the most economical.
In creating a space, she said, "You have to work with height and texture." Neuburger also uses a lot of color in her designs." She likes to include sod "to give an open, calming feeling," she said.
In case the nursery and the landscaping weren't enough, Neuburger and family also manage Villa Botanica at Plantation Crown and Hawk on Crown Mountain. Dating from Danish colonial times, the site contains such historic remains as a cockpit sugar mill from the 1780s, original retaining walls, a brick oven, an old water catchment and a number of old trees including royal palms and calabash.
More recent additions include a pond, 60 fruit trees, a 125-foot waterfall and a plethora of exotic plants.
"We've been building the property since 1998," Neuburger said. It is currently available for parties and functions such as wedding receptions. But the plan is to turn it into a tourist attraction, offering tours of the ruins and the botanical gardens. Soon to come is a gift shop and reception building. "We hope to open next year," she said.
In all this, Neuburger is supported by family, including her husband, Klaus, whom she met in Germany when she visited her mother's family there. He was a butcher in Germany, but obviously took well to horticulture. "We're a team," says his wife.
Her sister, Diana Egger, is also a mainstay of the business. In fact, all the Bryan siblings – including Cliff, Lyn and Lorraine – worked at the nursery at least in their youth and some devoted many years.
And the legacy continues. The Neuburgers' oldest child, Chad, and the youngest, Brianne, both live and work in Florida. But the middle child, son Jasen, is very much in the family business. Trained as a chef at Johnson & Wales University, he does the cooking at Villa Botanical, and he also helps out in the nursery.