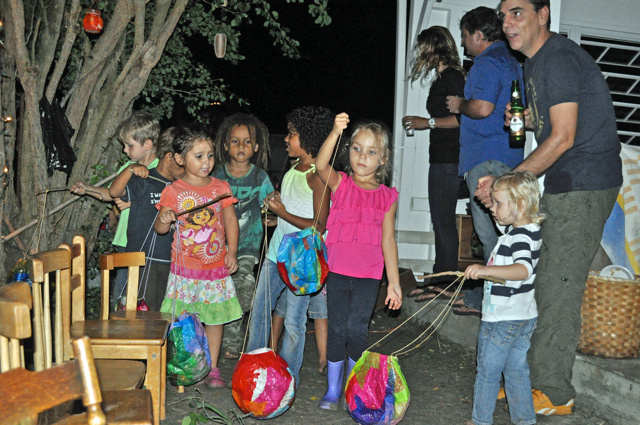 According to the Stone House Preschool and Kindergarten's founder and Director Sarah Cole, fall symbolizes ideas of communalism and warmth, and is a great time of year to gather people together.
For years she has hosted a fall soup party, but at the urging of a student's German mother, Stone House students, family and staff now came together in the fall to celebrate the annual Martinmas Lantern Walk.
Friday's gathering marked the second time Cole and Stone House's students celebrated Martinmas, which is celebrated worldwide by Waldorf schools during autumn. The festival's origins go back more than 1,500 years, to the time of the fourth-century Roman soldier St. Martin.
Anyone driving down the road that leads to Judith's Fancy main gate Friday night, might have caught a glimpse of the 30 or so preschool-aged students of Stone House singing and walking around the school while carrying homemade, lit, paper mache' lanterns, signifying the children's inner light shining through the outer darkness of the approaching winter.
"It's like the true essence of Waldorf, so a lot of schools celebrate it," Cole said of Martinmas. "It's about striving for goodness of all humankind. We (Stone House) tell a story of George and the Dragon and it's about Sir George gathering courage and strength to fight off the dragon. So it's about finding the inner strength within you and seeking out your true human potential and also seeking that out in others."
Waldorf schools are based on "die Freie Waldorfschule – the Free Waldorf School," founded in 1919 in Stuttgart, Germany, by Austrian philosopher Rudolf Steiner. Today there are more than 1,000 around the globe, with hundreds operating in North America. While the Stone House is not "officially" a Waldorf school (there are none in the territory), Cole said of Stone House, "We have our philosophy seeped in Waldorf education," a philosophy in which the curriculum is responsive to the developmental phases in childhood and the nurturing of children's imaginations.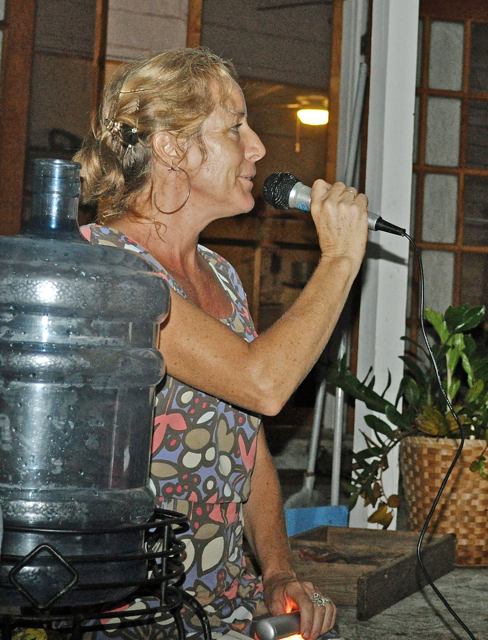 Cole said the legend of Martinmas goes back to the Roman soldier St. Martin who, while on duty one wintry night, met a poor beggar, half-naked and freezing, and gave the beggar half his military cloak. That night Christ appeared to Martin in a dream wearing half the cloak Martin had given the beggar, and said, "Martin has covered me with this garment."
Martin eventually became the patron saint of beggars, drunks and outcasts in dedicating his life to assisting pariahs.
Cole said celebrating Martinmas is about "looking for the good in other people and striving to become and be our best and to seek our full human potential."
Cole also wrote in literature sent home to parents that "celebrating Martinmas serves as a reminder that each of us has a divine spark that we must ferry out into the world and share with others."
She also noted that in the carrying their lit lanterns, the children symbolized one of the deeper philosophies of Buddhism – in the words of its founder Siddhartha Gautama, "There isn't enough darkness in all the world to snuff out the light of one little candle."
Or to think of that locally, there's not enough darkness on St. Croix and in the Virgin Islands to extinguish the little lit lanterns of 30 or so darn cute preschoolers.