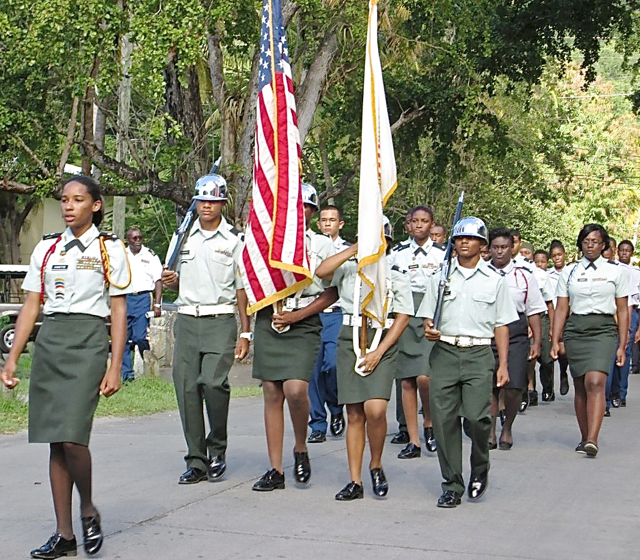 "Thanks for your service," was at the heart of what several speakers said Sunday as St. John observed Veterans Day with a parade from Mongoose Junction to Cruz Bay Park and a ceremony in the park.
"Without veterans, we wouldn't have the freedoms we have today," said Andre Malone, who handles veterans' affairs for Sen. Clarence Payne's office. He was addressing approximately 50 people gathered in the park for the ceremony.
According to his brother, Sen. Shawn-Michael Malone, men and later men and women, from the Virgin Islands went off to fight in the nation's wars as far back as the Civil War.
"Long before we were citizens, men fought at Gettysburg," the senator said.
Virgin Islands residents continue to fight in the nation's wars, and Delegate Donna M. Christensen pointed out that the per capita numbers of those who join the military outstrip those of many states.
However, they don't receive parity when it comes to benefits, Christensen said.
"We need accessible health care," she said.
St. John resident Natalie Thomas gave the keynote address. Retired from the V.I. National Guard, Thomas said that when people sign on, they take an oath to support and defend the United States.
"Many say those words and forget all about it till they're called to serve," she said.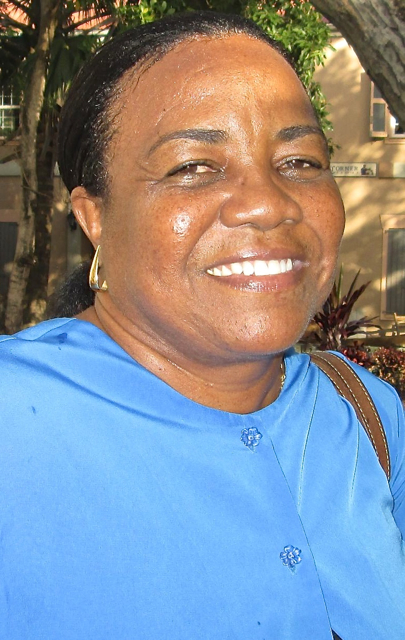 Christensen and Vietnam veteran Elmo Rabsatt of St. John both noted that, unlike today's veterans, the veterans of Vietnam didn't get the thanks they deserved when they came home.
Rabsatt said that those who served in Vietnam pledged never to forget other veterans "even though we were not treated right."
Another Vietnam veteran, St. John resident Aubrey Sewer, was on hand to march with the contingent of men and women from American Legion Posts on St. Thomas and St. John.
"St. John is proud to honor veterans," he said.
Hillis Benjamin, commander of Patrick U. George American Legion Post on St. Thomas said the members joined the parade to build camaraderie with those from St. John.
Cleansha William, 17, was part of a contingent of Eudora Kean High School Junior ROTC members who led the parade. She said the ROTC, which is part of the U.S. Army, was there to honor Army veterans who have died or are still living and in the community.
"When they see us marching, they know we care," she said.
Veteran Edmond Roberts, who served as master of ceremonies, pointed out that veterans come home to the Virgin Islands with both mental and physical injuries. Harry Daniel, who heads of the territory's office of Veterans Affairs, urged veterans to get help. In particular, he suggested families contact his office for help when a veteran dies or is near death. The number to call is 1-340-344-7033.