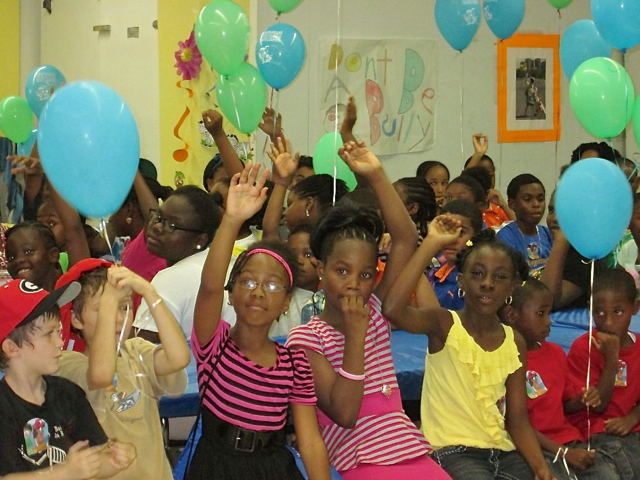 St. John celebrated reading Saturday when more than 100 children gathered at Julius E. Sprauve School for the annual Governor's Reading Challenge party. The students were tasked with reading at least five books over the summer to participate in the party.
"Fifteen books," Ashaun Hedrington, 8, said as he talked about his favorite books – "Charlotte's Web" and "The Island of the Blue Dolphin."
Florentino Juste, 11, said he read 10 books, and is currently reading "The Snow Spider." He obviously paid attention to what he was reading because he was able to discuss the plot in great detail.
"It's about a boy named Gwyn who lives in Wales," he began.
Florentino said he likes to imagine himself "inside the actual story." For example, he said when he's reading a book about a war, he imagines himself as the main protagonist.
A Sprauve School student, he said the school has a wide variety of books for him to pick.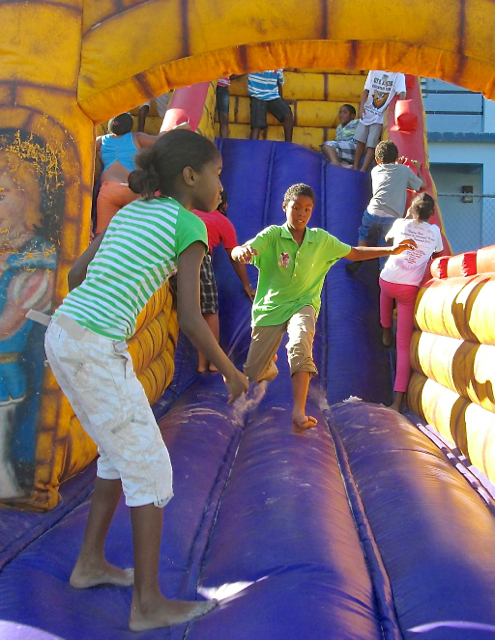 Kahlifah Powell, 12, said he read 20 books.
"It builds up my vocabulary and it's interesting," he said, adding that Harry Potter books were his favorite.
Arthur Lookshin, 9, said he finds books interesting, especially those about outer space.
The party began with a parade from V.I. National Park ballfield to Sprauve School with Gov. John deJongh Jr. in the thick of things. A few speeches followed.
"The more you read, the smarter you get," Alice Krall, who spearheaded organization of the event, said.
It was the governor's turn next, and he took a poll of hands to see who read how many books.
"Who read more than five books?" he asked, with almost all the youths raising their hands.
The party featured a bouncy house and slide, crafts, face painting, food, and a goodie bag filled with items from the Tourism Department and others. The bag included a deck of Caribbean Play and Learn cards developed by author Mario Picayo. The cards include questions about the Virgin Islands and Caribbean countries.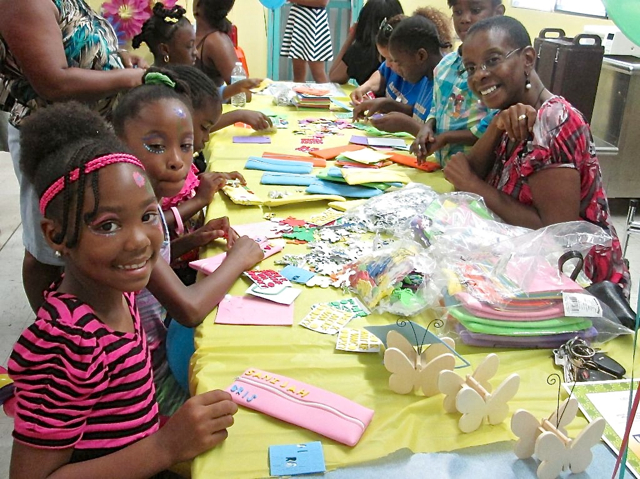 "It opens with a map," he said, taking the cards out of the pack.
Picayo wrote several books distributed to students to read over the summer.
The party also gavce out prizes, including a half dozen Kindle e-readers and an I-Pad donated by local businesses. Samantha Jean-Jacques, 6, had her name drawn out of bag to win the first Kindle. She said she read 10 books.
"'The Three Little Pigs was my favorite,'" she said.
While the youths were enthusiastic about the party, adults saw the bigger picture.
"I'm committed to anything that promotes reading and literacy," Guy Benjamin School Principal Brenda Dalmida said.