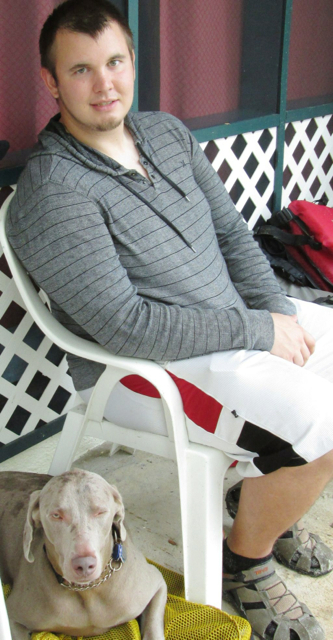 The weather hasn't been the best, with plenty of rain during Team River Runner's visit to St. John this week, but the 15 people camping and kayaking at Cinnamon Bay Campground were philosophical as they honed their leadership skills.
"I enjoy the weather, rain or shine," said U.S. Army National Guard Staff Sgt. John Deitle, 38, of Fort Belvoir, Va., as he chatted on the front porch of one of the campground's cottages.
A career military man who grew up in a military family, he spent the first dozen years of his service in the U.S. Marine Corps before switching to the Army National Guard. He co-chairs the Team River Runner chapter at Fort Belvoir.
Team River Runner teaches paddle sports to current and former members of the military who were injured or otherwise disabled during their service. This year's trip to St. John was the fifth in six years. On past trips, many of the veterans bore more visible injuries, such as missing limbs. Team River Runner director Joe Mornini said this trip's participants suffered from post-traumatic stress syndrome as well as brain and spinal injuries.
This trip was geared toward helping the participating veterans become leaders, able to help other veterans learn paddling skills and move forward with their lives.
"There are going to be bumps in the road," Mornini told the veterans Wednesday morning as they gathered under dripping skies for their daily infusion of leadership skills.
Deitle said he knows that no two paddlers are the same. He said each person is dealing with their own "evils" and kayaking is a way to overcome them.
Sgt. Major Bob Gallagher, 51, plans to retire from the Army in January. A Toms River, N.J., native, he's now stationed at Fort Belvoir. When he's done with Army life, he plans to open up his house in Savannah, Ga., start cutting the grass again and form a Team River Runner chapter. He'll use the skills he's learning this week to make that happen.
"The paddling is a just a vehicle. You're there to help others who might be struggling," he said.
Brandon Figueroa, 26, is a Patchogue, N.Y., native who now lives in New Holland Penn. He got out of the Army in April and expects go back to school and help form a new Team River Runner chapter.
He credits his involvement with Team River Runner with helping him out.
"Kayaking helped get me out of my head and I learned something new," he said.
Kevin Wilson, 25 and medically retired from the Army, is at Cinnamon Bay with his Weimaraner dog Samson. Wilson, an Anchorage, Alaska, native who now runs a Team River Runner Chapter in Portland, Ore., is going blind due to a war injury. He served in Iraq and Afghanistan.
"He'll be my seeing eye dog," he said of the two-year-old dog.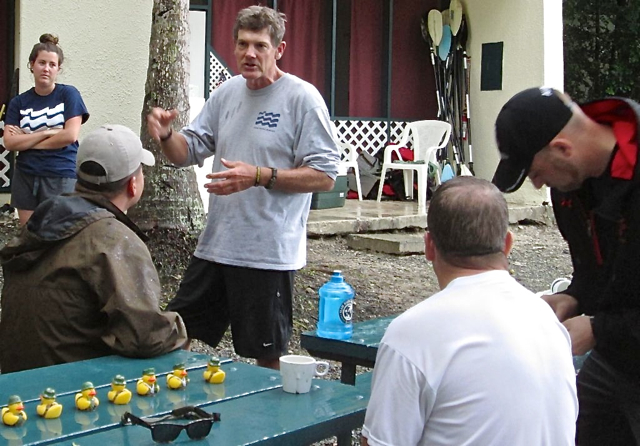 Wilson said he gets a world of service from Samson, who was trained for the job. Wilson said when he's about to have a seizure his scent changes. The dog alerts him to what's coming by barking and jumping on him. This enables him to take medication to stop the seizure. Wilson said the seizures are causing the blindness, and by preventing the seizures, his sight will last longer.
Should he have a seizure, he said Samson is trained to roll him on his side so he doesn't choke if he vomits.
Team River Runner is on St. John thanks to the efforts of the island's residents. A Chaotic Kayak Race in July raises significant funding to pay expenses and community organizations and businesses kick in with food, entertainment and transportation.
Team River Runner holds eight leadership clinics around the country, but the one on St. John is unique, Mornini said. "This is the only one the community self sustains."
Many members of the community will turn out Saturday for a potluck spearheaded by the St. John chapter of AARP of the Virgin Islands and Viggo E. Sewer Post 153 of the American Legion.
Team River Runner participants, who arrived Nov. 3, will head back home Sunday.
More on Team River Runner is available online at www.teamriverrunner.com.