Week three of the 4-H/V.I.Pace Runners Cross-Country Series took place on Wednesday afternoon at the University of the Virgin Islands, St. Croix Campus. Hosted by the 4-H Program of the UVI Extension Service and organized by The Virgin Islands Pace Runners and The St. Croix Track Club, roughly 300 runners, representing most of the public and private schools on the island, showed up to run distances from one mile to 3.1 miles while deciding this year's St. Croix champions.
This event also functioned as the St. Croix Interscholastic Cross-Country Championships for elementary, junior varsity and varsity boys and girls in the St. Croix public and private schools.
Varsity Boys:
Winning his third race in the series, Malique Smith of the St. Croix Educational Complex High School took first place in the varsity boys championship 3.1-mile race going away as he covered the distance with a personal record 17:57; Riss Motta of Good Hope Country Day School (GHCD) was second in 21:45; Karimim Jno-Fin of SECS was a close third in 21:52; Duncan Coles of GHCD was an even closer fourth in 21:53 and Lex Devlin of GHCD was fifth in 22:53.
Varsity Girls:
In spite of not feeling so well before the race, Deana Roumo of SECS recovered enough and won the varsity girls championship with a time of 24:47; her teammate Karen Dascent was second in 25:20; Shequila Kylvert of St. Croix Central High School was third in a photo finish in 25:21 and Ashley Paddie of SECS was fourth in 26:51.
Open 3.1
A small group of open male runners took on the 5K distance with triathlete John Salo giving Malique Smith a challenge, and he finished first in the open division and second overall in the race with a time of 18:13; Kelvin Benjamin of the St. Croix Track Club was second in 20:47; Randall Nielsen was third in 20:59; Scott Fricks, president of the V.I. Triathlon Federation, was fourth in 23:08 and Roger Hatfield, vice president of the V.I.T.F. was fifth in 24:34.
Junior Varsity Boys:
The boys from SECS took the first three spots in the JV Boys two-mile race with Rodney Griffin winning the race for the third week in a row with a time of 11:30, a personal record for the course; his teammate Barthelemy Peter finished second in 12:37; Sandro Carpio finished third in 12:54; Shevon Phillips of St. Croix Central High School finished fourth in 13:33 and Renaldo Santiago of Arthur Richards Junior High School finished fifth in 13:46.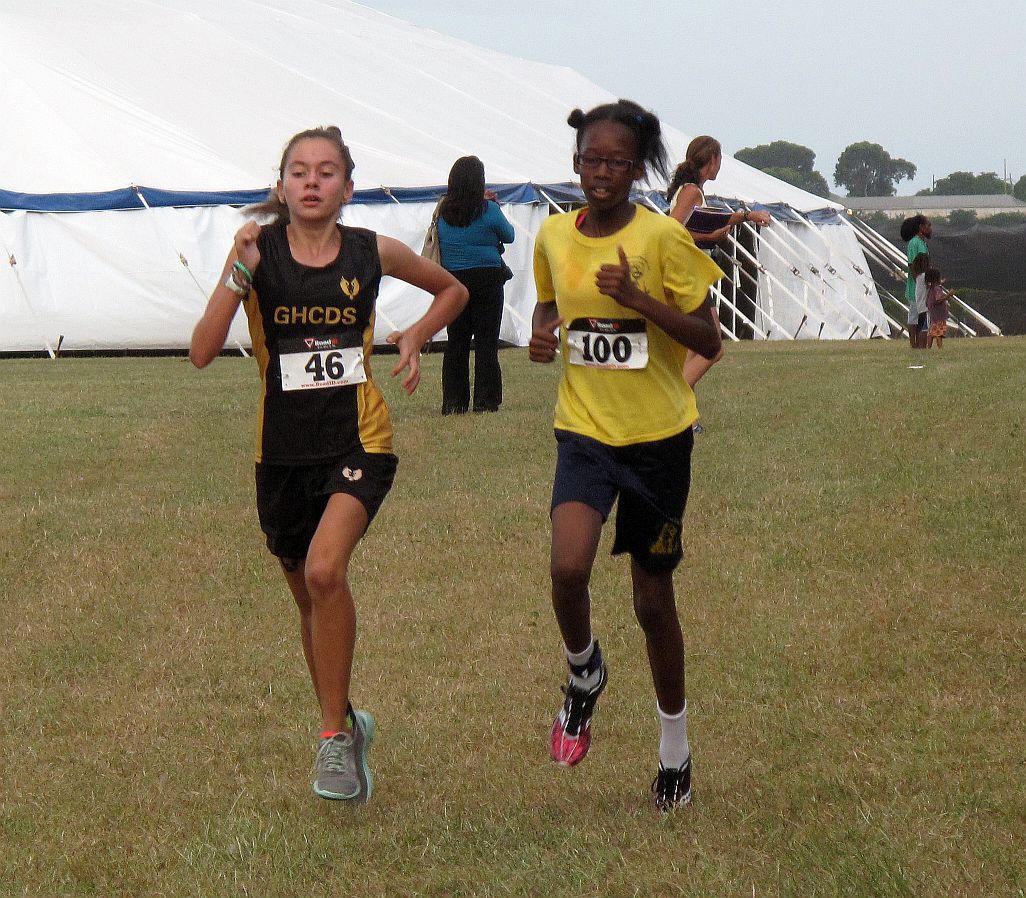 Junior Varsity Girls:
In a very competitive series between the two top girls in this category, Mikaela Smith of Good Shepard School took first place over Rachel Conhoff of Good Hope Country Day School with a personal best time of 12:57 to Conhoff's 12:04 over the two-mile course. Conhoff was the victor over Smith in the two previous races. Krystahl Gordon of SECS was third in 15:45; Nia Jack of SECS was fourth in 15:57 and Emma Logan of Good Hope Country Day School was fifth in 17:10.
Elementary Boys:
Angel Tores of Guanita Gardine School is the St. Croix Elementary Schools' Boys Cross-Country champion. He won the one-mile race with a time of 6:25; in a close race for second, Jael King of Alfredo Andrews School took it in 6:33; Osaze Williams of Ricardo Richards was third in 6:35; Elton Richards of Freewill Baptist School was fourth in 6:43 and Tyrique Parris of Ricardo Richards School was fifth in 6:47.
Elementary Girls:
Jusenia Tuitt of Claude O. Markoe School took first place in the Elementary Girls one-mile race with a time of 6:42; Tyanah Lake of Alexander Henderson School was second in 7:08; Nabaria Ritter of Claude O. Markoe School was third in 7:21; Michelle Smith of Good Shepard School was fourth in 7:22 and Batoul Abdallah of Pearle B. Larsen was fifth in 7:25.
Team Champions Boys Elementary Schools:
1. Freewill Baptist 38
2. Good Hope Country Day 77
3. Alefredo Andrews 98
4. Ricardo Richards 98
5. Pearle B. Larsen 147
6. Juanita Gardine 239
7. Eulalie Rivera 251
8. Alexander Henderson 254
9. Evelyn Williams 277
10. Claude O. Markoe
11. AZ Academy
Team Champions Girls Elementary Schools:
1. Claude O. Markoe 42
2. Alexander Henderson 59
3. Pearle B. Larsen 96
4. Ricardo Richards 136
5. Alfredo Andrews 207
6. Eulalie Rivera
7. Good Hope Country Day
8. Juanita Gardine
9. Freewill Baptist
10. Evelyn Williams
11. Good Shepard
12. AZ Academy
The next race on the V.I. Pace Runners Calendar is the annual Veterans Day 5K/V.I. Cross-Country Championships to be held on Saturday, Nov. 1. Invitations are out to all runners to compete for titles of V.I. Cross-Champions in various categories including: Male and Female Under Boys and Girls 13 and under 1-Mile; Boys and Girls 16 and under 2-Miles; Male and Female under 20 3.1-Miles; Male and Female Open and Masters Male and Female 3.1-Miles. These races will decide the 2013 Virgin Islands National Cross-Country Champions in male and female categories as designated.
The top St.Thomas-St.John runners have been invited and are expected to compete. The time for the start of each race will be decided relative to the arrival of runners from off-island.
For information, contact the Virgin Islands Pace Runners: 643-2557; logon to: http://virginislandspace.org or e-mail: wallacewilliams@msn.com