At the annual Take Back the Night rally at Sunday Market Square, the V.I. Police Department's Domestic Violence Unit supervisor became emotional as she commented on the number of names she recognized being remembered.
"This list of names brought back memories of going from crime scene to crime scene," Sgt. Deborah Jack said as her voice cracked.
Jack was accepting one of the Women's Coalition Shero and Hero awards given out to show appreciation to people who work for victims. Detectives Moses Francis and Gregory Charlery, also part of the Domestic Violence Unit, were recognized.
Lynn Spencer, past executive director of the Domestic Violence and Sexual Assault Council, was recognized for her years working to end domestic violence.
The team of attorneys at Legal Services of the Virgin Islands St. Croix also received an award.
Women's Coalition Executive Director Clema Lewis said the coalition owed a lot to Legal Services.
"If not for them some women wouldn't have legal representation," Lewis said.
Richard Austin, executive director of Legal Services, said the organization believes in equal justice for all, particularly those of domestic violence.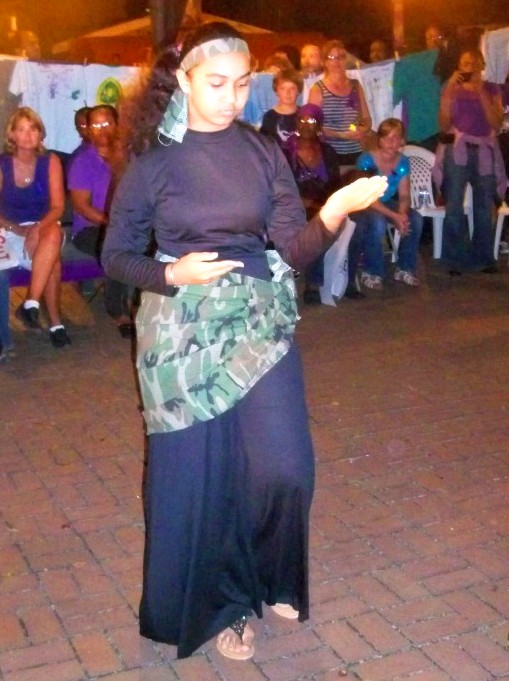 About 200 people took part in the 32nd annual Take Back the Night silent march and rally Thursday that started at Church Street and continued on Company Street to Market Square.
People of all ages clad in purple marched in silence and carried white candles. And 63 of them carried small signs with names of people who died as a result of domestic violence.
Delegate to Congress Donna M. Christiansen took part and carried a sign. Sens. Judi Buckley and Sammuel Sanes joined in showing support.
Tammy Zolner and Burton Payne, who died as a result of domestic violence, were honored at the event.
Zolner, 43, was killed in May by her girlfriend, Cathy Weikel, who then committed suicide. Payne, 38, was shot by his boyfriend, set on fire in his car, and left for dead in October 2006. He died months later from complications.
Khnuma Essanason, executive director of DVSAC, encouraged people to stand up for love, compassion and respect.
Young women dressed in black and camouflage from the New Testament of God Church Dancers of Praise did a spiritually moving dance to the song "Break Every Chain" by Tasha Cobbs.
Names of deceased were called out in remembrance as family members and employees of DVSAC and the Women's Coalition placed 63 pairs of shoes in the center of the crowd gathered in front of the St. Croix Foundation offices.
The rally wrapped up with the Countdown Against Violence where people all joined hands forming a circle and a numerical count began with Lewis and ended at 194.
October is Domestic Violence Awareness Month.
The Women's Coalition of St. Croix is a multicultural, nonprofit organization whose mission is to end all forms of violence. Since 1981 it has addressed the issue of violence against women, men and children in the community through education and advocacy.