Silicone Valley met the Virgin Islands on Mondaynight at the University of the Virgin Island's Administration and Conference Center on St. Thomas, when UVI students, faculty, staff and community members gathered to listen to Dennis Kimbro's lecture on the success secrets of black billionaires.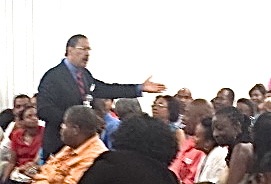 Kimbro, a researcher, lecturer and the author of "Think and Grow Rich: A Black Choice," told the audience to adopt the Silicon Valley mindset – have big dreams and achieve them using available resources.
"Money doesn't make money," he said. "Dreams make money."
In researching his own book and while completing an African American perspective on Napoleon Hill's 1930 bestseller, "Think and Grow Rich," Kimbro compiled a list of traits common among the entrepreneurs and moguls he interviewed. Common denominators, he said, included punctuality, spirituality, having a plan and having the determination to see it through.
"Attack the things that cannot be done," he urged.
One bar to determine success is the way one handles finances, according to Kimbro.
"If you can't save 10 to 15 percent of your earnings, the seeds of greatness are not in you."
Audience members scribbled notes and several stayed to ask questions following the lecture. One attendee, UVI administrative assistant Amorelle Potter, found inspiration in Kimbro's personal life.
"He maintained that his own greatest success was that of being a husband and a father," she said. "I appreciate his humility and the way he answered our questions. His answers were consistent. He is inspiring and he really brought the message home."
The lecture was part of the annual 13D lecture series at UVI.